What I Did For Love.
The Lover's G attachment takes a universal G-spot design, that is known to please, and twists it into something new and exciting. Made of super silky silicone, this attachment is designed to work with the Couture Inspire wand. However, it makes an excellent vaginal and anal dildo. I wish there were more color choices, but I can't complain when the overall performance has blown me through the roof over and over again.
Published:
Pros:
Silicone, Wonderful for those shallow G-spots, Filling, Pink, Inexpensive, Can be used by itself
Cons:
Will not please everyone's G-spot
Vibrations don't travel well to insertable portion
Packaging:
The packaging is very flimsy, but effective nonetheless. It isn't discreet thanks to the see through window on the front. This allows the attachment to be seen by anyone. The back has some information regarding the attachment, but there isn't any detailed information included. The box can be reused for future storage, but mine is stored with the rest of my Couture Inspire set. It can collect lint and dust, so storing it in a bag or box is strongly suggested.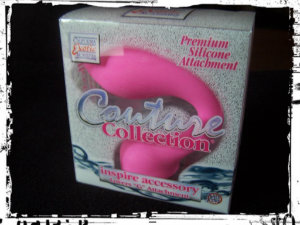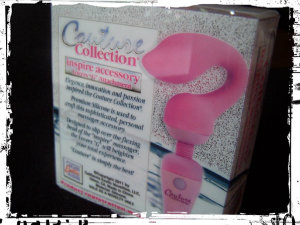 Material/Texture:
The G lover's attachment is made out of 100% silicone. Silicone is non-porous, hypo-allergenic, and latex/phthalates free. The attachment is seam free, which is absolutely wonderful! This attachment is flexible only at the base (where it attaches to the Inspire wand) and at the slim neck. The insertable portion is very, very dense and rigid. This arrived without any weird smells or tastes. As for the usual silicone drag, this has absolutely none. It is very silky and buttery smooth. A little water based lube will go far when playing with this as either a wand attachment or a regular G-spot dildo.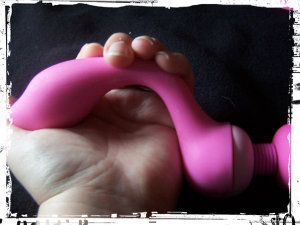 Design/Shape/Size:
The overall design of the Lover's G attachment is very simple. It is a shape that is commonly seen in G-spot vibrators and dildos, and this shape is known to be very effective. It all starts out with a little bulbed tip, and then it quickly swells out to a 1 1/4" diameter. This is small enough to allow anyone, even beginners, to use it comfortably. After the widest part of the G-spot shaft, it tapers down into the 1/2" thick neck. The overall attachment is curved to give amazing G-spot stimulation. The curve plus the dense swell in the shaft delivers for me, but it will not work for everyone. The bottom cap portion that covers the wand's head is thin and carries the vibrations extremely well.
To attach this onto the Inspire wand, simply line up the grooves until you hear a popping sound that signal that they are now connected. As an attachment, this one definitely has its good and bad factors. When on the wand, the vibes do not travel to the insertable portion that well. When on a medium, the bottom or the clitoral portion vibrates at a 4 vroom while the insertable portion vibrates only at a 2 vroom. I don't mind but others might. I am the kind of person who likes to have a dildo or penis inside of me (either being held still or moving slowly in and out) while I play with my clit. I feel like if something is vibrating inside of me, it kind of takes away from my clitoral orgasm. I much prefer a non-vibrating toy in me so that when I do have a clitoral orgasm, I can feel my muscles clenching and tightening around the toy. However, this is not the attachment to use for thrusting. It is best to put it in the vagina and leave it there while the wand is being rubbed over the clit. If using it for thrusting, this will not hesitate to pop off the wand. I think it is because it is so top heavy, and the neck is so flexible. It can't be inserted and then tilted toward the G-spot either. At least, not very well. Again, it will pop off. This can happen at any time when attempting the aforementioned things, but it espescially seems to occur right before and during orgasm. Once the muscles start contracting, it does not want to let this attachment go! My hubby inserts it, and he proceeds to torment me by touching it to my clit. This requires very little movement from him, and he could torture me for hours. What is more fun than that?
If you wanted to use this for thrusting, have no fear. It can be used as a vaginal or anal dildo all by itself. The bottom cap portion can function as a safe flared base and a handle to hold onto for thrusting. While it still isn't the best to use for thrusting, it works better this way than if it were connected to the wand. I have used this as an anal dildo, and it works perfectly. The curve makes the handle go upward, and it doesn't get it our way during double penetration play. When it is attached to the wand, the crazy vibrations stimulates the heck out of my anus. I simply love it!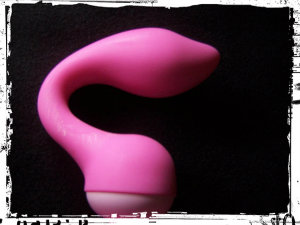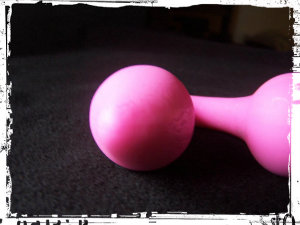 Experience
Cleaning:
All of the Couture Inspire attachments are made of silicone, which means they can all be disinfected. They can be cleaned with warm water and antibacterial soap, 10% bleach solution, boiling, or sticking it in the top rack of a dishwasher (no soap). For a quick clean up, simply wipe it down with a toy wipe. Be sure to stick with water based lubricants only as silicone lubes can degrade the material. If sharing with a partner, which is very fun to do with this toy, please be sure to take the necessary precautions by putting a condom over the insertable portion of the attachment.
Side Note:
Keep in mind that this can be used as a G-spot dildo alone, and it works very well that way. However, this was made for the Couture Inspire wand. It is made as an attachment of this wand, so that way people can use the wand as an insertable toy as well as a clitoral toy. I know this review is kind of short, but any questions regarding the Couture Inspire and the attachments that come with it can probably be found in my
Inspire review.
This product was provided at a discounted price in exchange for an unbiased review. This review is in compliance with the FTC guidelines.

Thank you for viewing
Inspire lovers G attachment
– vibrator accessory review page!