White Nights: A solid starter selection
This is an great beginner's kit that allows new users to try out a range of products for a decent price. The packaging is lovely and makes this a great gift idea. Anyone who already has a solid toy collection at home will want to pass this one up, but as a starter kit this is a great buy.
Published:
Pros:
Variety of items, attractive packaging, waterproof, non-porous
Cons:
Potential long-term quality issues, a little noisy
The White Nights Kit is an excellent starter kit for anyone looking to try out a few different styles of vibrator. The kit contains four pieces and requires 5 AA batteries if you have everything powered up at once. That would be a pretty vibrational time. Could you even use them all at once? Do you have enough hands? HMMMM.
Fresh out of the package, everything smells quite strongly of plastic. This is to be expected, I suppose, as the three vibrators are all made of non-porous velvet-cote plastic; within a few washes, the smell does fade. As far as the velvet part of velvet-cote goes, it's an apt name. The toys are quite velvety to the touch, and they even leave a velvety residue on your fingers. I think one notch lower on the velvet scale would've suited me fine. Luckily, this feeling fades somewhat with washing, like the smell. Each piece is labelled with the Doc Johnson logo in case you forget what company made each item. Thanks, Doc Johnson.
These toys can be used with any lube, and cleaning them is as easy as soap and water. All three vibrators passed the submersion test, so the waterproof claim is happily accurate and this makes cleaning these super simple. The remote that controls the vibrating bullet should not be submerged, however. If you want a bath toy, you may want to stick with one of the other two vibrators included in this kit.
The packaging is great for gifting, but a bit bulky and flimsy for storage. The box's shape starts to get a bit wonky after a number of opening-closings, and the plastic is the sharp, unforgiving kind when it tears. The flaps at the top are the first to go. Watch your fingers.
7" personal multi-speed vibrator – 2 AA batteries
This vibrator is meant to be used internally, and it's the classic design that most folk imagine when they think "vibrator". It's slim (3.5" circumference), straight, and has some decent length for thrusting. I found the shape pleasant, though a bit boring. I tend to want either g- or a-spot stimulation from my internal toys, and this provides neither. That said, I'm not really the target market for this toy. Anyone new to internal toys will likely be satisfied with this vibrator, despite the lack of bells and whistles.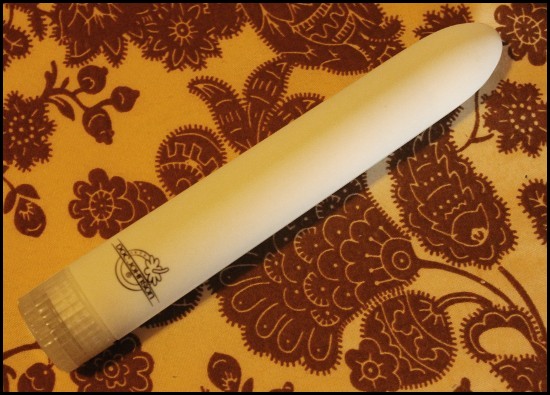 Literally straight-forward
The dial-turn base of the toy controls the vibrations for a gradient of speed spanning 1-3 vrooms. The vibrations are fairly focused in the tip of the toy, so this can be used effectively for clitoral stimulation if you prefer it for that purpose over the other toys in the kit (which you might, since it's smooth in texture where the pocket rocket is not, and more comfortably held than the corded bullet). Sound-wise, it's fairly noisy out in the open but sufficiently silenced by blankets and a closed door. All told, this vibrator is super beginner-friendly and a great introductory toy.
Multi-speed bullet and controller – 2 AA batteries
The Multi-speed bullet and controller is a four-speed vibrator with simple up and down control buttons. The initial upwards press to turn the toy on was sometimes a bit glitchy – pressing ON sometimes just made level 1 light up briefly but not start. I had to press it countless times before it finally turned on for real. This issue doesn't happen every time, but often enough to be concerned about the quality. It reminds me of revving a lawnmower before the engine takes, which is not exactly what I want from a vibrator.
Once the thing does turn on, things are generally pretty good. The bullet has rumblier vibrations than the other two toys in this kit, ranging from 1-4 vrooms. I love the feel of the vibrations and the ease of the remote, but having to hold the bullet onto myself makes my hand distractingly numb and tingly, and ultimately was too annoying to want to use this for long. Other options for use that don't include having to hold the bullet with your hand include a) clamping your thighs closed around it, (but then it can't be used in tandem with any insertables), or b) the ol' "tape a vibrator to yourself" trick, which I don't really recommend. You could also try convincing a partner to use the toy on you instead, therefore numbing their hand rather than yours.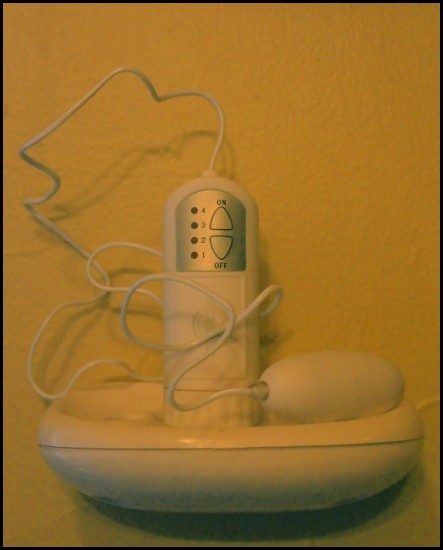 By my measure, the cord stretches to 32" in length, which allows for offering the controller to someone else a full arm's length away: a sexy and tethering invitation. While the bullet is technically insertable, but I think the best use may be an external one. You don't want to be pulling too hard on the cord for retrieval, really.
Experience
Pocket rocket – 1 AA battery
Previous to this kit I had never tried a pocket rocket, and I was intrigued to give this item a try. However, I had assumed that the plastic spiky cap would be removable, and this is not so. Those spikes are permanent. My next surprise was that I didn't actually mind them: testing the vibrations on my hands somehow felt much spikier than when used genitally, where the feeling is somehow transformed into a more subtly textured massage. It's really quite enjoyable. When you hold the vibrator stationary, the spikes keep the vibrations vibrant. Obviously, you can move toy around for even more stimulation from the texture.
The pocket rocket has an open/off/on turning switch as its controls – you choose your option by lining up that word with the arrow pattern on the bottom piece of the toy. This means the vibrator has only one setting: "on" amounts to maybe 2 vrooms, making this the weakest toy of the pack. Still, it's small and makes a great travel toy, and is less noisy than the other vibrators in the open air, so it's not without its merits.
One note: make sure to line up the arrow with the "open" setting when you're closing the battery compartment or else it can get stuck and you'll have to really crank it to get it back open again. I sort of feel like I'm about to break it whenever I'm opening or closing the battery compartment even when I'm careful, which makes me worry about the quality of the toy. So far, so good, though.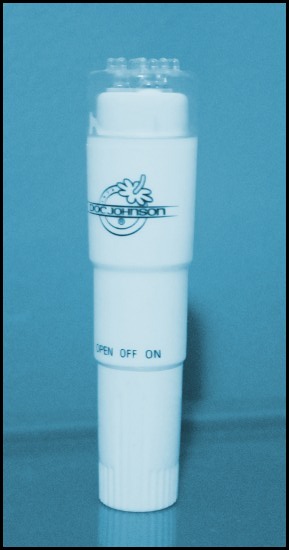 Can you spot the subtle arrow pattern? It's pointing to "off"
1oz tuberose massage oil
I was expecting the massage oil to be something I'd toss out immediately, but was pleasantly surprised to find that the ingredient list consisted of 7 kinds of natural oil, plus fragrance and a couple of colouring dyes. I could do without the latter ingredients, but was glad for the absence of parabens or other unnecessary additives. The oils listed are canola, safflower, sesame seed, almond, avocado, grape seed, and apricot kernal. Massage oil isn't lube, of course: keep oils away from female genitals!
The fragrance is quite nice, and reminds me a bit of bubblebath water. It isn't overpowering, but it does stay on the skin after being massaged in – I could still smell it on my hands for a couple hours after the oil had been fully absorbed, even after washing them. I really enjoyed how soft my skin felt after, and that the oil never got sticky or dry like cheaper massage oils often do. Though the oil does absorb into the skin eventually, we found that it lasted well enough for a massage and we didn't have to keep re-applying an outrageous amount. The oil is quite thin, though, and not really all that super-slick, so you do need to use a fair amount of it to start with. With only 1oz included in this kit, you might get two or three massages out of this bottle, though it of course depends on how big an area you're massaging.
This product was provided free of charge to the reviewer. This review is in compliance with the FTC guidelines.

Thank you for viewing
White nights pleasure kit
– vibrator kit review page!