Yeah, Pretty. Thats about it.
The pretty pastel is a beautiful colored toy with a beautiful design. The vibrations are not enough but if you want a toy based on the way it looks than this is a delightful addition. If you are looking for something that can perform well and still look beautiful, I'd advise you to look elsewhere.
Published:
Pros:
Nice texture, Pretty color,
Cons:
The tip, Weak vibrations, kind of loud.
I do not know what it is, it seems like my favorite companies are just punching me in my face. First, evolved and now California exotic. It is been a tremendously depressing couple of weeks. This toy was just so funky. I do not write reviews this fast but, I'm about to throw it into the closet, and it is never going to see the light of day in an exceedingly long time.
When I received the pretty in pastel, it comes in the same old see through casing. You can see the toy in full view. Do not get me wrong it is a truly beautiful toy, but it is not perfect for gift giving. The toy is pictured all over the box. On the back, of the box it points out some key point information, nothing that actually is not common sense. When you open it up, the toy is sitting inside of a clear plastic try. You can reuse both for storage if you need.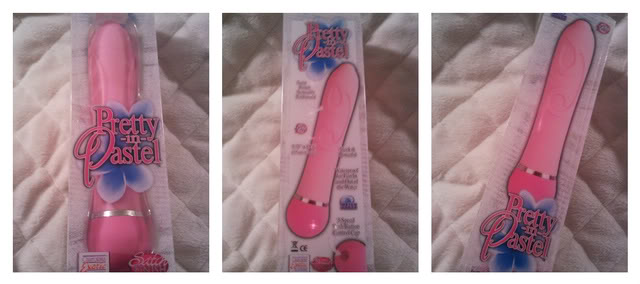 The pretty and pastel is a pretty pastel colored traditional vibe. It is extremely hard and has no give to it at all. It also has a lite drag to the texture when you run your hands over it. It is made out of plastic, so you can use it with water, oil, and silicone based lube. The pretty in pink does have texture. It is not too much. At least I do not think so. The pretty in pink has this extremely lovely design to it; it is like a swirled patter on each side. The patter is raised well enough; you can feel it when you are using it. It is not a problem, even for people who are not into too much texture. It also has this weird tip. It does not come to a point it is more like a bubble attached to the end. It does not feel too good when used for pinpoint stimulation.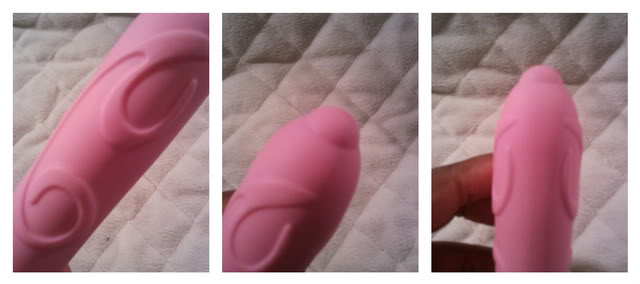 The pretty in pastel is slightly larger than the normal, traditional vibrator. It is not too large, so I do recommend it to beginners and the more advanced. On the size and texture alone, as far as performance that is a whole different story. The girth is noticeable. It is not something that is going to give you a full feeling, but it is thick enough. It has a length of 7 inches and an insertable length of 5 ½ and a diameter of 1 1/4th.
The vibrations on this were a colossal disappointment. It was he normal low, medium, and high, nothing to get excited about it. They are more of a rumble vibration rather than a solid vibration. They are mostly felt at the end of the toy, which if the tip was better shaped would have been perfect for pin point stimulation. At the highest setting, you can hear it though the cover, but I doubt you could hear it through a closed door. At the highest setting, the vibrations are not that strong. They more so feel like a medium. It is operated by one single push button at the bottom and runs on two double A batteries.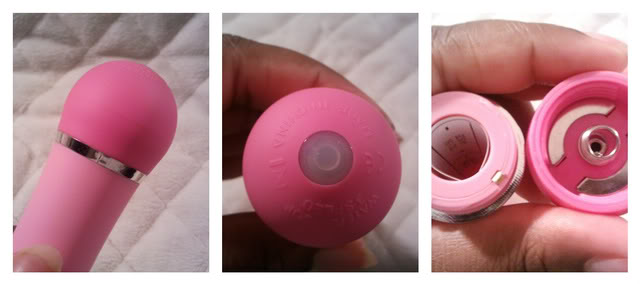 It is waterproof, so you can take it into the shower or bath tub. The vibrations are died down when using it in the tub. Which is a considerable disappointment; I do not have that many toys that have this problem. When cleaning you can fully submerge it or just wash it with you favorite toy cleaner. When sharing I would recommend that you use a condom. This cannot be used anally.
Experience
I just disliked this thing. I wanted to like it. I never want to not like a toy, but this just made me want to toss it out of the window! The vibrations were so weak, and they were not solid. I loved the texture, and the all-around feel of it. It is a beautiful toy, but it has its down fall. The texture feels amazing when used internally. The vibrations are not strong enough to be felt too deep internally. I tried using it twice and each time it left me frustrated and annoyed. I plan on just putting it away. I honestly do not want to give this another try; because I know the ending result is going to be the same.
This product was provided free of charge to the reviewer. This review is in compliance with the FTC guidelines.

Thank you for viewing
Pretty in pastel
– traditional vibrator review page!