Best snack-pack ever?
I was a bit nervous that I'd fuck it up and might not be able to find anything to write about since I don't speak the language and Japan is somewhat conservative. I mean, it isn't as if you just walk off the plane and strange sex stuff just happens.
Except when it does.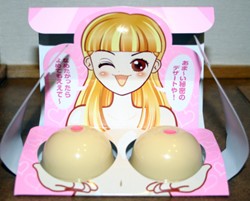 Oh Japan. I have underestimated you.
PS. That's *pudding*, y'all. *For real.*
PPS. I asked the woman what flavor it was and she just looked at me blankly, so I said it louder like that would help and she just shook her head and I told her not to worry about it because I'll just assume it was "boob flavored". Then a Japanese woman nearby felt sorry for me and asked the clerk in Japanese what flavor it was and after a short conversation the translator turned to me and said "BALL FLAVOR" and walked away. I could not even make this shit up.
PPPS. I just tried the pudding. It's like... *totally* ball flavored. What the fuck? I blame the 14 hour flight and jet lag that makes me feel like I have a hangover even though I don't actually get hangovers. Also, it's almost midnight and I'm hungry for lunch. And for more ball pudding. Japan is starting to affect me.
PPPPS. My next post will make much more sense because I probably won't be suffering from extreme sleep deprivation *and* I'm kind of dressed like a prostitute in it. Plus, it's not about ball pudding. Mostly.