Butt Plugs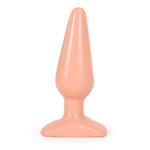 Butt plugs are simple really. Take an insertable shape, add a smaller neck and an anal safe base, and you have a basic butt plug. Now, the hard part with butt plugs is this: They come in all shapes, sizes, and materials. At
EdenFantasys.com
(the link will take you directly to the butt plugs) there are 120 different butt plugs. These range in size from less than a half inch thick to just under 3 inches.
Now, you might want to know: Just what is the point of butt plugs?
Reasons most people wear/enjoy butt plugs:
-Sensation of fullness
-In men, pressure on the prostate
-Better anal muscle control
-To relax and stretch the ass before anal sex
Your reasons may vary, but the basic idea is the same. Take an object and insert it to both fill your ass and to hold it open.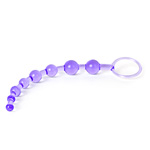 Anal beads are pretty simple too. You generally have a "string" with several beads on it, and the beads are pushed one by one into the ass. As with butt plugs, anal beads come in a plethora of shapes, sizes, and materials.
Eden Fantasys carries only 21 different
Anal Beads
(link goes directly to Eden's anal beads), but there are plenty of options to choose from.
Anal beads are wonderful for slowly working a single bead in and then pulling it back out just for a little slow stretching, but are absolutely out of this world if pulled out right at the precipice of climax. If you pull them out at the perfect time, it is like pulling the ripcord on a parachute: The parachute explodes all over the place and you get to drift back down to Earth!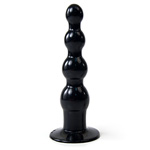 Anal probes also come in a variety of shapes, sizes and materials. The
EdenFantasys.com Anal Probes category
has 73 different anal probes, and they all serve the same purpose: Slow rhythmic thrusting in and out of the anus can feel absolutely wonderful when done right. Different materials, sizes, and textures will provide some very different types of sensation, so you may have to explore to find what is right for you. Start small, and work your way up!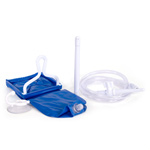 Cleanliness is the main idea here, but some also enjoy the wonderful sensation of having a rectum full of liquid. You simply fill up the fluid reservoir, lube up the tip and fill yourself or your partner up. When you can't stand it anymore, you simply empty your bowels.
EdenFantasys.com Douches and Enemas
has only six offerings in this category, but you can also find these at any drugstore or even your local big box store.
Be careful with water temperatures, and make sure to pay attention to your body. Too much liquid could cause some major cramping!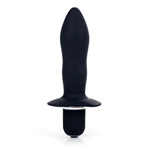 Anal vibrators are often the wonder child of combining vibrators with any other anal toy. There are vibrating anal beads, vibrating anal probes, and vibrating butt plugs to be had for anyone looking for new additions to their toy box.
EdenFantasys.com Anal Vibes
has 63 different anal vibrators available, and they range in price from about $9 all the way up to nearly $200. Find something that works for your budget and give them a shot!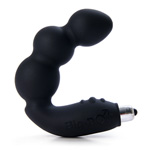 Prostate massagers are a toy designed primarily for the stimulation of the prostate in men (the male equivalent of the g-spot), though that doesn't mean they are only for men. Often L or C-shaped, prostate massagers put wonderful pressure on the prostate (and in some woman even provide stimulation to the g-spot through the vaginal/rectal wall). In addition, some prostate massagers are also wonderful for g-spot stimulation when used vaginally, but they should
ALWAYS BE SANITIZED IF USED FOR BOTH ORIFICES
.
The
EdenFantasys.com Prostate massagers
category has 65 different products available, and that leaves your choices wide open. Find something that you think will work for you and try it out!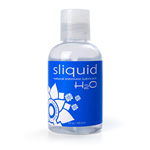 Lube is an absolute necessity when it comes to anal play. If you don't have lube, chances are you will be experiencing some pretty serious pain.
EdenFantasys.com lubes
has 217 different lubes as of this writing. The Eden community's two favorites for anal play are:
Maximus by Bodywise Limited
and
Sliquid Sassy Booty Formula by Sliquid
.
Pay attention to what you need, and don't be afraid to use plenty of lube. Your body (or your partner's) will be very thankful.