Tuesdays With Nina: Husband is Impotent and Won't Seek Help
January 31, 2012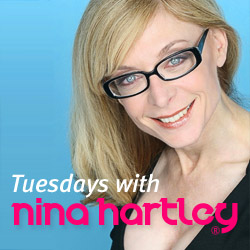 Everybody makes jokes about how once you get married, you stop having sex, but it's really no joke when a couple struggles with issues that prevent them from having a satisfying sex life or in the case of some couples, any sex life at all.
Nina's received a letter from a woman who is desperate to enjoy sex with her husband, but because of several issues resulting from bad circumcision, he refuses to participate in their sex life. He won't seek help from a doctor to overcome these issues and he won't participate in his wife's pleasure. She seeks satisfaction on her own, but is asking for advice from Nina on how to cope without intimacy from her husband.
Got something you want to ask Nina? (Of course you do.) Drop her a line at
tuesdayswithnina@gmail.com
. Now, while we can't promise that every question received will get a personal response, however, those that do will be answered frankly, entertainingly, enlighteningly and, if we know Nina, in the spirit of happy, healthy sex and a satisfied libido.
SexIs magazine RSS Feed
Continue Reading "Tuesdays With Nina: Husband is Impotent and Won't Seek Help"