Green Is the New Red
February 14, 2013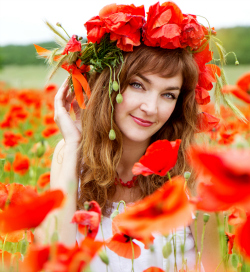 © PonomarenkoNataly/Shutterstock
If you want to do something unique this Valentines Day, reconsider your carbon footprint and go green. Not with envy but with love. Romance that is healthy, eco-conscious AND sexy is the way of the future, in case you hadn't heard.
One billion Valentine's Day cards. 36 million heart-shaped boxes of chocolate. One hundred million roses. All told, that's a lot of stuff that ends up in our landfills each Valentine's Day; enough to "make single people cringe and couples sweat,"
as one blogger put it
. This year, do the ultra chic thing and romance your partner in ways that are sexy, meaningful and eco-friendly.
If eco-romance is new to you, I know what you are thinking. Really? We already reuse, recycle and reduce outside of the bedroom. What can possibly be done to sex to make it greener and safer without compromising pleasure and performance?
The answer is plenty. Eco-sexy loving is the newest trend in intimate encounters, and I've spent the last few years sharing my passion for all things that are green and sexy with anyone who will listen. This is the paradigm shift waiting to happen, and it's time to find your e-spot!