She Plays, He Plays: The Strong Toy
March 12, 2013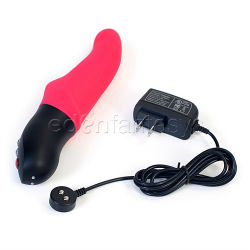 We're sure you've heard about the Fun Factory Stronic Eins. New technology wrapped in Fun Factory's dense, plush silicone? What? So we sent one to Rydell and Susan to see just how different it was. Read on to see what they thought.
For approximately two-and-a-half minutes, I felt sort of bad about not having a romantic scene with which to frame this particular review. But then I realized that the Fun Factory's Stronic Eins isn't really a romantic toy. It's more of a …
"It's a fuck machine!" Susan says, with more enthusiasm than I can possibly get across in mere text. "It's not a romance toy; it's a fuck toy, and it's cool as shit, and tons of fun!"
How can I possibly follow that discerning and insightful commentary with any of my own? "You don't need to," Susan says. "Let me talk.
"You know that contraption you sometimes see in porn movies? A dildo attached to a long mechanical arm attached to a motor sitting on some cart in some sex toy laboratory or sparsely decorated bedroom? A woman lies down in just the right position — and, apparently, at the perfectly calculated distance — and then the motor-driven dildo does the rest. That's a fuck machine, right? I admit, it's somewhat intriguing, but once you put any actual thought into the logistics and mechanics, it gets rather ridiculous pretty quickly.
"The Stronic Eins has all of that intrigue, but none of the ridiculousness."