The other night, after toasting the end of another day of real-world responsibilities with a couple glasses of Glenfiddich 15, Susan called me up to our bedroom. It was dark when I walked in, the only light flickering from a bank of candles set up on one of the windowsills. Susan was wearing a pair of tall, knee-high boots and … nothing else. But I had no time to enjoy the view. Before I could verbally express my delight, she blindfolded me. And then escorted me to the bed, stripped me naked, and laid me down.
"Then I got the feather tickler out," Susan says.
Which was definitely unexpected. She swept it up and down my chest and abdomen, and along my thigh. Next, she traced the same pattern across my torso and down my other leg. Occasionally she'd take it away altogether and I'd squirm for more.
"I was teasing my own nipples whenever I did that!" Susan says, still beaming about her conquest.
That explains why the duration of those pauses seemed to continually increase. Robbed of my vision, I was at Susan's mercy as to when and where she'd get back to work with the tickler. I'd anticipate a brush down my arm and instead she'd gently stroke my cheek. It was invigorating on several levels. And then, for the first time that night, she caressed my member with the feathers, and I thought I was finished.
"When I 'dusted' along his shaft and down to his balls, his cock actually surged," Susan says. "So I dropped the feather tickler and grabbed the last item from the set, the LELO Noa. I turned it on and put it in, but right before I slid myself down on Rydell's cock, I yanked the blindfold off!"
It was an incredible scene that left me completely powerless to practice any sort of climax control: The blind buildup with the tickler, the black boots, my wife — outfitted with a wicked smile across her face and a couples' vibrator already buzzing her pussy — straddling me. Indeed, I was finished.
"The stereotype is that women never want a man to come quickly," Susan says. "Let me explain something to you. After 16 years of marriage, I'm proud as hell that Rydell still gets so excited by me that sometimes he just can't hold back."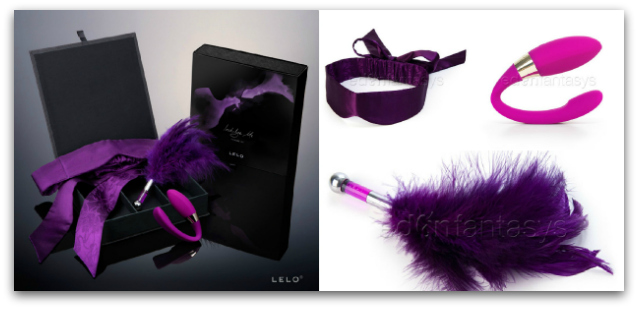 Sometimes I just can't. Especially when Susan goes into full-on temptress mode with an arsenal of arousing tantalizers and toys at her disposal.
"This was a great kit for us, for sure," she says.
The kit in question is
LELO's Indulge Me Pleasure Set
. Yes, it's sort of a longish name, but the three-piece collection lives up to both indulging and pleasuring me so I'm okay with the elongated moniker. It includes an
Intima Silk Blindfold
,
Tantra Feather Teaser
, and a
Noa
couples massager.
"All stuff we really like," Susan says.
True, but looking back over the course of 16 years, I bet it wouldn't take two hands to count how many times we've actually played any blindfold games. I'd also be willing to bet that our lack of participation stems from the fact that so many blindfolds seem so cheap and flimsy. The last one we tried had a permanent upward fold in the material that left one eye almost completely uncovered. It was more like wearing a pirate's eye patch. Sort of defeats the purpose, right?
That's not the case with LELO's Intima. It's silk and it's sturdy, and the elastic is industrial grade. In other words, once you put it on, you're not seeing anything. To be perfectly honest, it's right on the precipice of being uncomfortably tight. But we dig that. It's a no-fuckin'-around blindfold, and after so many rinky-dink versions, the Intima was an exhilarating upgrade.
The same can be said for the Tantra Feather Teaser. "I love feather toys," Susan says. "I'd lay there all night and let anybody who wanted a turn run one up and down my body. That's why I kept getting distracted while I was using it on Rydell.
"This one is easily the best we've ever had. The feathers are basically what you'd expect, but the handle actually has some substance, some weight. It's a robust feather teaser, and trust me. It makes a difference."
The final item in the Indulge Me kit makes a difference by not being too different. Perhaps you've read our reviews of LELO's
Tiani
and
Tiani 2
. The Noa essentially is a Tiani 2 without the SenseMotion remote control (though, it does work with that remote if you have one) or the extra non-vibrating arm. Instead, the Noa works by simply pushing the on button and then pushing it again (and again) to cycle through the six modes, and comes standard with what is known as the "full-feeling attachment" that slides inside the vagina, presses on the g-spot, and helps keep the business end of the horseshoe-shaped toy directly on the clitoris during sex.
"The very first time we used a Tiani, I was anxious about the toy and Rydell being in my pussy at the same time," Susan says. "I thought it might slip out with his thrusts or something. Since then, we've discovered that it works best for us when I'm on top because that makes it totally hands free, and the vibrations stay right on my clit. I can lean forward or back to increase or decrease the pressure. So that's what I did that night with the Noa. Well, I only got to increase and decrease the pressure a couple times because … you know."
Okay, I'll say it, because LELO's Pleasure Set had already indulged me.