The Halloween Evolution
Every fall, sometime between mid-September and early October, I'm reminded of why Halloween has evolved into one of my favorite holidays. It starts with the arrival of the fall
Frederick's of Hollywood
catalog, which always features the latest and greatest (or at least the sexiest) women's Halloween costumes. This year, highlights included Shanghai Girl; a Provocative Pirate; the ever-popular Naughty Nurse; Gangster Girl; and the Queen of Hearts. All outfits feature cleavage-friendly tops and micromini hemlines—you supply the high heels.
Just when or why did Halloween costumes go playfully XXX? Of course, the current ubiquity of porn has something to do with it, but there are other forces at work, as well.
"It's really this manifestation of our other side that we're usually not allowed to have," says certified sexologist Veronica Monet, ACS, CAM (who is also the director of content development for
the Sex Talk Radio Network
and
SexIs' newest contributing sexpert
). "A lot of women do have this slutty, whorish side that they would really like to cut loose and let out of the box, but, unfortunately, there are a lot of repercussions for doing so."
Monet points out that many men have a feminine side that they enjoy exploring, but don't have permission. "Both genders are out of balance the way our culture has it arranged. Halloween is a time when people sort of get to balance that out and be more whole—and it's a time when society tends to embrace and celebrate things that it might ordinarily find a little off-putting."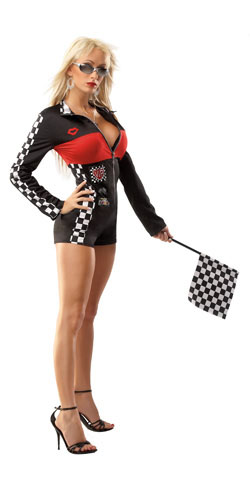 The flag is up!
(Click costume images for more info)
Monique, a just-turned-30-again mother of three, describes the current trend as "slutty …
whatever
." Don't take her analysis the wrong way, though—she's all for it. "People complain about getting invited to costume-required Halloween parties because they think, 'Oh, it's such a pain in the ass to put something together,'" she says. "No, it's
not
. Just go as a slutty …
whatever
. You can be a cowgirl or a chef or a lawyer. It doesn't
matter
. Just sex it up and you're good.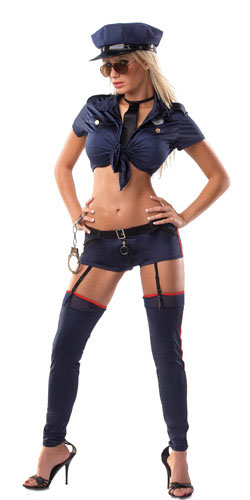 Read him his rights... or wrongs.
"There's really no judgment," she continues. "It's the one day of the year I can wear stuff that I think is
so
fun, and almost
nobody
will give it a second thought.
"A couple Halloweens ago, I was a witch—had the hat, a short dress, and green and orange thigh-high stockings with some spider webs. In my attempt to be festive all day, I put it all on in the morning—but then realized my 8-year-old son had a basketball game right before lunch. I didn't want to change, so I decided,
Fuck it, I'm going like this.
"I walked into the gym and got a couple double takes from the dads, which I expected, but then the moms all told me how cute I looked, how much they loved the spider web stockings, and on and on. I did not expect that.
"Any other day of the year … I walk in there flaunting my thigh highs? No way. The cat claws would come out and we'd be disavowed from the league!"
This situation brings up all sorts of fascinating philosophical possibilities. For example, in the eyes of society, is it okay for Monique to dress this way
only
because it's Halloween? Or, as a society, are we actually more accepting than we typically let on, and is it that Halloween gives us the collective courage to not be bothered by how Monique dresses?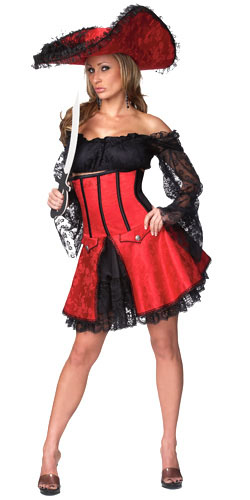 Care to walk the plank?
"Who cares?" says Franklin, whose wife describes him as an overworked 43-year-old businessman from a small town in the Midwest.
"He's wound up so tight all year," explains Franklin's wife, Shelly. "There's pressure from work and he's expected to be this 'pillar of the community' because of his business. It all adds up. Plus, there's not much opportunity for any release—or an escape from reality—around here."
Not until the calendar flips to October, that is, and Franklin starts planning for the annual Halloween party that's hosted by a friend a couple of towns away. "They clear out a warehouse and decorate it, hire a DJ, everything," Shelly says. "Honestly, it's the one night a year that Franklin really allows himself to cut loose, when he actually lets his guard down."
As a matter of fact, his unguarded costumes have become legendary because they are so far removed from his everyday buttoned-up, shirt-and-tie life.
"My favorite was probably the giant vagina," Franklin says. It was six feet tall and anatomically correct, complete with
labia majora
and
minora
and, of course, a clitoris.
"Oh, my god, that thing," Shelly exclaims. "His grandma handmade if for him, sewed it together piece by piece. Can you imagine? When we walked into the party, people lost it. Everybody wanted their picture with him—these are neighbors, clients, people from our
church
—and I'm thinking,
Who in the world are you going to show that photo to?
"
"Come Monday morning, I put on my slacks and dress shirt and went back to work," Franklin says. "But I had my night … and I will again this year."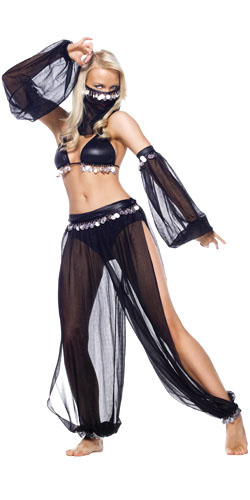 Rock the Casbah...
While Halloween is the perfect opportunity for a Franklin-esque night of escape, it can also be the catalyst for a little exploration. Fifty-something-year-old Petra recalls a party that she helped to host that centered on a simple, all-interpretations-welcome idea: "Come as You're Not."
"There was nothing more specific to the theme than that," she says. So, after some discussion about what they definitely were not, Petra and her then boyfriend decided to swap genders for the night. She would dress as a man. He would go as a woman.
"I strapped my chest down—which is no small feat, they're DDD's—donned a suit and tie, and put my hair up under a hat," Petra says. "My boyfriend borrowed a nightgown. It was very stretchy fabric, sort of a black satin with silver threads running through it … very sensual to the touch. We did his hair and makeup, and I lent him some costume clip-on earrings.
"Damn! He was one hot woman."
The allure of Petra's new faux female partner took her a little by surprise. "I've never had a bisexual experience, but I was hugely attracted to him as a woman. I knew it was a façade, but still … I couldn't keep myself from surreptitiously fondling his 'package' through the fabric over the course of the evening.
"When we climbed into bed that night and made love, he left the nightgown on. We removed the binding from my breasts almost like a striptease. Slow. Deliberate. I remember this almost mind-altering
frisson
of what seemed like girl-on-girl sex. Absolutely amazing."
Tell us where it hurts...
Whether it's these moments of mind-bending fantasy sexual encounters, the opportunity to shed your straight-laced business persona in favor of being a giant party vagina, or rocking a "slutty …
whatever
" outfit to the neighborhood basketball gym, Halloween is an amazing event that allows us to explore, escape, and express ourselves.
As exciting and liberating as the days leading up to Halloween can be, Monet also suggests that it doesn't have to be seasonal. "You don't have to wait until October 31st," she says. "You can make it Halloween any day of the year behind closed doors. It's fun—and healthy—to have a collection of costumes and favorite role-playing scenarios to act out with your partner. So, celebrate Halloween year 'round."
Hmm. Wonder if that means I can leave my animatronic
Night of the Living Dead
zombie in the front yard all year, too?
The Naked Reader Book Club
Selections for October 2010
Fairy Tale Lust
edited by Kristina Wright
In Sleeping Beauty's Bed
by Mitzi Szereto
The Sweetest Kiss
by D.L. King