New Jersey, my home state (and where I shall will always reside) has taken more than a few knocks lately. Known more for
The Situation
, Snookie and those beastly housewives who overturn tables than for our sprawling farmland, seashores and tomatoes, my "Garden State" also hosts one of three countrywide EXXXOTICA conventions.
Filled to the rafters with famous porn stars, toy manufacturers, clothing designers, even adult-minded bible pushers (a.k.a. the Jesus Loves Porn booth),
EXXXOTICA
's three-days was the place to be for any self-respecting adult scribe and porn fan.
I happen to be both.
Described as "The country's largest adult event" the EXXXOTICA Expo rolled in once again to the New Jersey Expo Center in Edison last week. The 2010 event was slated to bring together the largest number of adult stars ever in EXXXOTICA'S history. This year's roster featured in "eXXXess" of a hundred adult stars, including Jesse Jane, Teagan Presley, and Gina Lynn, plus tabloid favorites Amy Fisher and Tiger Woods' mistress Joslyn James, and legendary performers Jasmin St. Claire, Nina Hartley, Mr. Marcus and Tabitha Stevens—and as always—porn icon Ron Jeremy.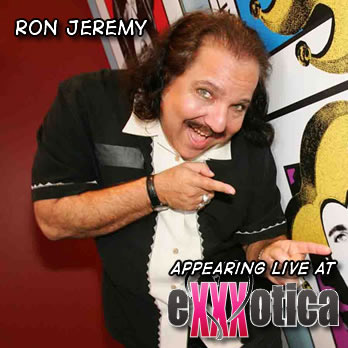 Perennial crowd pleaser, Ron Jeremy
The history of this particular Garden State convention has not been without its controversies. In 2008, Secaucus Mayor Dennis Elwell refused to hold EXXXOTICA at the Meadowlands Expo Center in "bucolic" Secaucus, N.J. (a mere half hour north of Edison). As a result, organizers moved to the convention to its current New Jersey Expo Center home, where it's been held for three years running.
Just this September, the EXXXOTICA New York Corporation filed a lawsuit over the 2008 venue change, claiming that moving the event resulted in significant losses in revenue. Mayor Elwell, the City of Secaucus, and the Meadowlands Expo Center were named in that suit.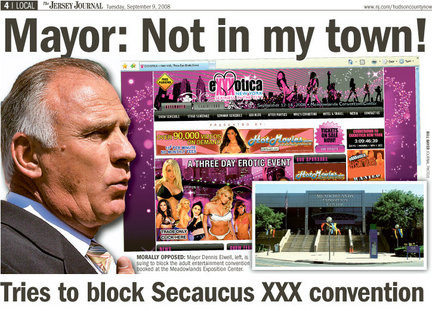 Though certainly a fan's convention first, EXXXOTICA also offers B2B seminars for those "in the biz." Companies such as convention sponsor HotMoviies, plus L.A. Direct Models, AEBN and Zero Tolerance provided networking opportunities amid the tumult of the crowd. There were also seminars, such as
Naomi Wilzig's
"How a Nice Jewish Grandmother Became The Queen of Erotica" presentation, author Monica Martinez couple's symposium, "Keeping it Hot and Sexy," as well as B2B fare such as "How To Find Talent & Shoot Content Legally" and "PR and Marketing in the Adult Biz and Beyond."
I made my way down the bright pink-carpeted alleyways of the cavernous Expo Center, more or less getting a lay of the sexy land. This year, the convention was sharing space with a bunch of tricked-out hot cars. A good idea, as last year, things looked a bit barren beyond the booths. Even though it was the earliest part of the day, all the cars were parked, open and ready, just waiting for the girls to pose near them and guys to take pictures when they did.
As the day went on, place started to fill up with exotic dancers, members of the press and adult business entrepreneurs. Dancers, in various stages of undress, set up their acts in anticipation of the admittance of the general public at 4 p.m. The DJ began pumping music from the stage that would later feature the Dan Diamond Opening Performance, the Bacci Lingerie Fashion Show and the Ms. EXXXXOTICA Competition. Manning (womanning?) almost every area were girls in a variety of bikinis and thongs, some advertising Hedonism get-aways, others hawking teeth-whitening and laser hair removal and corsets (not at the same booth!).
Scenes from the recent Miss EXXXOTICA Competition
I came upon a few more booths setting up, like the soon-to-be crowded FleshDrive, a plug-and-play adult content drive,
Dancin' Lady
magazine, a great tri-state area stripper's listing digest mag and Cockolate Pops, with their array of naughty-shaped sweets. Sucker that I am for a pretty face (and great body) I finally steeled my nerve, swallowed the mint chocolate cock I was munching on (how often can one say that?) and made my way over to the big LA Direct Model area to grab a word with beautiful Alexa Nicole.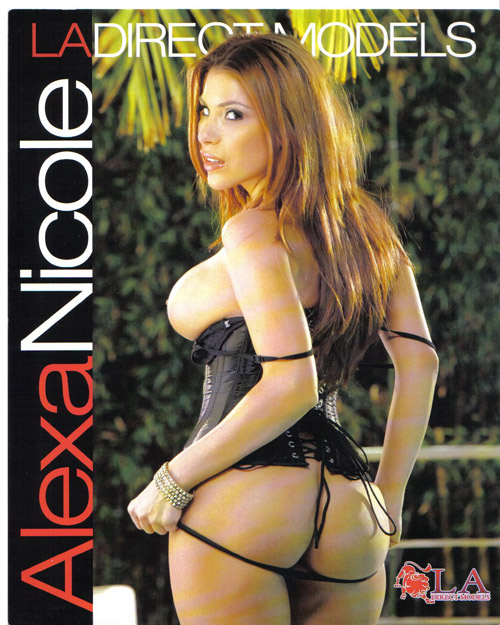 Now, I've interviewed contract girls (those signed exclusively to a single studio) before, but I didn't know the skinny on performers like Alexa, who are represented by an agency, but are, for all intents and purposes, freelance. I wondered which was better.
"Obviously, it's a huge privilege to be a contract girl," she explained. "To have a name and be able to say, 'Hi, I'm a contract girl [for so and so].' That's a huge advantage and the pay is great, but then again, like this I am able to work with different companies and am not obligated to just one."
As much as I hated to, I just had to ask her what she'd thought of the recent HIV scare that shut down major players like Wicked and Vivid (who just announced they are beginning production again). "I got saw a few shoots postponed," she said. "They wanted to be wary, wanted to make sure they didn't put anyone out there to work while the companies looked into it. And they took care of it, tested all the people that could have been infected."
Grabbing a quick glossy from the fetching petite star, I snuck my way past a still-quiet Hotmovies.com area and back to the center of things to reconnoiter the rest of the day's events.
(Coverage continues tomorrow with Honeybears and Jesse Jane.)