As the booths were in the final stages of setting up, I meandered over to one that was more ready than most, Honey Lube (a Mayo-clinic approved lubricant whose honey-bear shaped packaging is immediately recognizable), and managed a few minutes with their CEO, Maxx Appleman—a young Jersey guy, of all things!
"How does a nice Jersey boy get into the sex lube business?" I asked.
"I used lubricants," Appleman admitted, "but when I'd go to the store, I'd never know what to buy." One day, as Appleman was walking around a sex shop, he had a "supermarket" epiphany, "I figured if you had lube in a 'honey bear' bottle, who
wouldn't
buy it?"
Good point.
After taking my leave of Appleman, I made my way to center of the action—"Fantasy Island."
Nothing says "sexy" like a giant, pink penis bull ride…
The single podiums set up side-by-side in a long rectangle were festooned with all manner of banners. This was the spot the major porn stars of the day were setting up to sign for a crowd of professional photographers, media folk and fans alike, all vying for a minute of time with the likes of Michelle "Bombshell" McGee, (the gal who broke up the Sandra Bullock-Jesse James marriage), Long Island Lolita Amy Fisher, Tiger Wood's mistress Josyln James, and Jesse Jane, with whom I'd arranged an interview later in the day.
The Burning Angel alt porn crew
I'd spoken the bright-eyed blonde over the phone before, but we had yet to meet in person. At just about 5 p.m., she came in with her hubby to set up her wares amidst the hubbub now a
hub-bubbling
.
Jesse is a very popular gal, and I didn't want to seem like a stalker, but once I introduced myself to her husband (who absolutely could not have been nicer to me!) we walked back to a cordoned-off staging/dressing area to chat.
I'd originally met Jesse via Digital Playground, but I could see she wasn't here today representing them exclusively. "I am a Digital Playground contract girl," she explained, "but I am here on my own. I'm just signing today—and tomorrow night, I host the Miss EXXXOTICA Pageant—and that's perfect 'cause I love hot girls!"
Under the circumstances, I felt I had to ask this self-professed "grandma in porn " (as she jokingly refers to herself regarding her eight-year stint with Digital Playground), about the recent HIV scare.
"Luckily with me being a contract girl, I shoot five to six movies a year, then two big digital movies a year. I don't even shoot that often," she told me. "I work with the same people over and over again, and before I shoot, everybody has to test three days before they work with me. When the list [came] out, I was very lucky indeed that nobody I'd ever worked with was on the first generation list, or second generation list, that's why I really don't want to work with any new people."
Finally, I asked her what was coming up for the Jesse Jane brand. (Yes, Jesse Jane is actually trademarked.) "Jessejane.com is
finally
going live, we're getting ready to launch," she laughed. "Digital Playground just wrapped a huge movie—it's called
Top Guns
—we're going to release a trailer in January, and I'm going to Sexpo in Cape Town in South Africa in a couple weeks."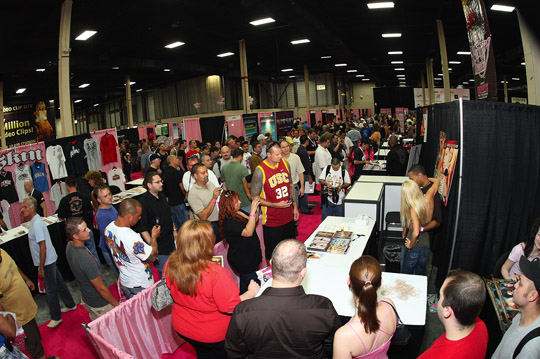 Vendors and strippers and (honey) bears! Oh, my!
As nice—and busy—a girl as Jesse is, it was getting late and the Expo center was becoming crowded, indeed. (In fact, things were going so well, EXXXOTICA extended their ladies-free policy the remaining days.) There were the usual hotel "after parties," the "Sassy Ass Fashion Show" on Saturday, as well as the "Master Domains Bondage and S & M" show. In addition, attendees were treated to Nina Hartley's weekend-long "Healthy Sex" seminars and some private sessions with Sean Michael.
How anyone—from semi-perv (one of my favorite terms of endearment) to full-out porn fan—couldn't have a good time at EXXXOTICA, I'd be hard pressed to know, but it was an amazing to bask in the sunlight of all these beautiful people who keep the adult business alive and well—and on display once a year, here in of all places—New Jersey!