Just a few weeks prior to visiting
Studs Theatre
in West Hollywood, Cal., I spent some time in a tiny cabin in the woods. Each day I'd wake up, step outside, and listen.
Small animals would shuffle along in the leaves; tree branches would shake and sway under the weight of well-fed squirrels. I'd detect movement out of the corner of my eye, but never caught more than a glimpse of anything. Something always seemed to be happening just out of my line of sight.
Sitting at Studs, an adult cinema specializing in gay male porn, is very similar. The two men hard at it on screen are hard to ignore, but if you
really
listen, the constant squeak of the theater chairs; the wet noises and muffled moans coming from those seated behind you; and the stream of men shuffling up the aisles of the cavernous theater make you wonder just how much is going on just beyond your line of sight.
Four years ago when it was the TomKat, I went to this very theater with my best friend. As before, I was the only girl in a building filled with men, a majority of whom were looking for anonymous sex with other men. The TomKat was dank and seedy. The bathrooms had no doors. The entire place smelled of sex and semen. Everything looked sticky and out of date. The young guy working the register asked if we wanted to watch straight, gay, bisexual, or transgender porn. We settled on bisexual, but as far as I could see, all patrons were funneled toward the same screen where gay porn seemed to play on a constant loop 24 hours a day, seven days a week.
It wasn't always this way. Built in 1940, Studs was a grand movie palace. And so it remained for more than 20 years, until film exhibitor Dan Sonney and sexploitation filmmaker Dave Friedman began buying up movie houses in Southern California for an adult chain of multiplexes known as The Pussycat Theatres.

Despite being porn venues, Pussycats weren't intended for the raincoat crowd. In the late 1960s when businessman Vince Miranda bought a 50-percent share in the chain, he outfitted each theater with crimson carpeting, velveteen fixtures and crystal chandeliers. At its peak in the '70s, Pussycat operated 47 California houses.

The location on Santa Monica Boulevard quickly became known as the "Monica Cat." On November 17, 1972 it hosted a showing of the now iconic Deep Throat. It was a ballsy move, as theater owners all over the country were being arrested for showing the controversial film. A month later, the theater was issued a citation and the Monica Cat location was the first in the Pussycat chain to be raided.



All of this, of course, was a long time ago. The Monica Cat eventually became the TomKat, which is now Studs. As a way of paying homage to the theater's former life, Studs has a "Pussycat Lounge" featuring straight porn. The couches in this small area serve as an ideal hookup spot for men and the place to see and be seen jerking off.
I'm at ease with sex and believe no one's kinks are any stranger than another's, but I still felt uncomfortable at Studs, stripped of the liquid courage I had on my previous visit. It wasn't because I was the only girl there, and it wasn't because I felt unsafe. It was because I felt unwelcome. I felt as if I were being invasive, intrusive—like I'd crashed a party to which I wasn't invited. The men in Studs were not hostile, but my presence was a buzz kill—a reminder of an outside world that judged them.

It was hard to make sense of the scene. The patrons seemed random. Two small men sat in the lobby, seemingly bored, despite being seated in front of a large television playing hardcore porn. Inside, during a particularly well-lit scene, a 70-year-old with a large hump on his back walked across the row of seats in front of me. A man with bulging muscles casually cruised the theater until someone eventually followed him behind a curtain. They exited separately moments later. There was the young, handsome hipster. There was the man who spoke to me loudly, placing his hand on my shoulder, asking my friend and I if we were going to get naked. When we failed to engage him, he sat across from us and began jerking off. I took that as my cue to exit.
I left wondering why men were still having secretive, anonymous sex in a city like West Hollywood, easily one of the most gay-friendly in the country. I wanted to know if the sexual activity that routinely occurs inside Studs' blackened doors could be healthy, or if establishments like these are considered harmful to the gay community.
I spoke with Ismael Morales, Director of Health Services at The Gay and Lesbian Center of Greater Long Beach, to provide much-needed perspective. The most important thing I learned is that what occurs at establishments such as Studs isn't about
gay
sex, but rather,
public
sex. "When homosexuality wasn't as widely accepted, gay sex occurred in alleys and parks. It was adventurous, secretive, and dangerous," Morales explains. "Now that it's not necessary to have sex in secret, it's exciting.
"Public sex is a fetish, it fulfills a fantasy. This is why you're bound to encounter a huge cross section of men at places like Studs. Some identify as straight, some as bi. Some are gay, some are voyeurs. Some are married, some are in relationships. The only thing they'll have in common is the fact that they're all cool with what's happening inside."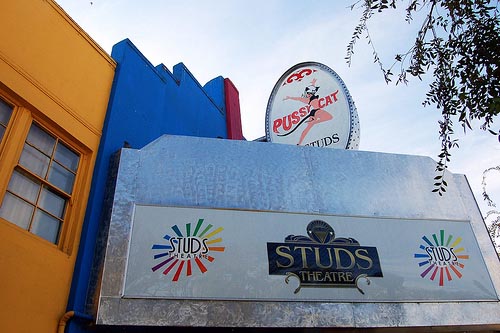 The Studs Marquis today.
Morales was quick to point out that gay men are incredibly limited in terms of where they can be openly sexual. Gay bars, gay clubs, and places like Studs are pretty much the extent of it. These theaters provide a refuge for men to act out their fantasies in a way that's not harmful where there is no risk of being arrested, gay bashed, or threatened.
On the other hand, as the director of health services, Morales is all too familiar with the consequences of anonymous sex. "Having places like Studs is kind of a double-edged sword," he says. "It's great that men have a safe place to go to fulfill their sexual fantasies, but you can't look past the risk of STDs and HIV. There's no way that these men will ask the person they're about to hook up with if they have anything. It ruins the fantasy, and the person who does disclose [such] information would either be stigmatized or shot down sexually."
Morales cautions that for those who engage in this behavior, it's absolutely necessary to use condoms. He also recommends limiting the types of activities you participate in. Anal penetration and allowing someone to ejaculate in your mouth should be avoided. For some, voyeurism or mutual masturbation is enough, but even skin-to-skin can contact result in STD transmission. For those who touch rather than look, Morales suggests getting tested at least once a month.
(Editor's Note: The Gay and Lesbian Center, and places like it, provide a venue for people of all sexual orientations to meet, bond and educate themselves. In addition to HIV testing, The Center also hosts movie screenings and other activities to bring the gay community together in a way that doesn't involve the consumption of alcohol. For more information, visit them here.)