For four seasons now the witty, catty, hyper-feminine glamazons of
RuPaul's Drag Race
have had gay America glued to the television screen with campy competitions and surprisingly heartfelt moments, creating in instant cult following and further solidifying the drag queen's spot in pop culture history. RuPaul may very well be single-handedly responsible for the mainstreaming of queen culture, as you'll be pressed to find anyone over the age of 25 even slightly in tune with popular culture who couldn't identify the leggy and impeccably dressed drag diva as Ms. RuPaul herself.
With all of this drag queen love emanating from gay
and
straight circles, you have to wonder: Why aren't drag kings being embraced with equal excitement?
As
Judith/Jack Halberstam
, Professor of English, American Studies and Ethnicity and Gender Studies at USC, pointed out in her 1998 book
Female Masculinity
, audiences are, and historically have been, willing to pay good money to be entertained by men in drag. As evidenced by the popularity of RuPaul-related programming (
Drag Race
has resulted in several spinoffs), it seems as if there's a growing audience for gender-bending television shows that highlight the different aspects of the gay community, but again, where the hell are the drag kings in all of this?
According to Halberstam, male impersonation has been a theatrical genre for well over 200 years, but the drag king is a recent phenomenon that really exploded in New York and San Francisco club scenes during the sexual revolution of the 1990s. Obviously, the kings failed to catch on like the queens did and part of the problem, according to Halberstam's book, is that drag kings never learned how to turn masculinity into theater. That may have been true then, but that's certainly not the case now. One only needs to attend a Landon Cider show to know that kings can serve it up just as well as the queens.
Landon Cider is an exceptionally good looking drag king who was recently named MIX Male Illusionist of the year, but he is actually Kristine Carr, a server and bartender in Long Beach, CA who performs as Cider several times a week.
After watching drag queen shows in the area, Carr, a limelight-loving 31-year-old, was attracted to the theatrics of drag. In 2009, despite having little to no experience with drag king culture, she made her drag king debut at a
Hamburger Mary's
open talent night performing to Lynyrd Skynyrd's "Free Bird." Carr describes the experience as transformative and she immediately became addicted to drag, believing it to be an artistic outlet that encompasses many passions, from clothing design and makeup artistry to theater and dance.
Despite doing drag for just three years, Carr is now considered Southern California's premier drag king, as she is perhaps the most convincing male impersonator working today. Her character Landon Cider makes women – and men – swoon with his perfectly coiffed hair, pec-revealing clothing, and sexy, morning after stubble.
"There's this misconception that all drag kings don't work as hard on their appearance and their act as queens," Carr said. "I work just as hard as queens. My transformation into Landon takes three or four hours and with each look, I'm performing as a totally different person, which requires different mannerisms, different music, different everything. Sure, there are some kings who just draw on facial hair, throw on a breast binder and baseball cap, and then lip-sync to Limp Bizkit, but I work on every aspect of my show and it's definitely comparable to the amount of work queens put in."
It's true that kings of Carr's caliber aren't commonplace, which is why she urges them to step up their game because the more they do, the more it benefits everyone.
"The more serious we take our craft and the more professional we become, the more we get paid, the more bookings we get, and the more doors it opens," Carr said. "That's the struggle for us to get to the next level. This is my art and my passion and each performance means something to me because entertaining people means a lot to me. Kings need to invest real time into their performances, even if it means sacrificing other aspects of their lives. Queens immerse themselves in their art and unless more of us do the same, we're never going to be given the same opportunities."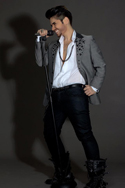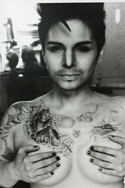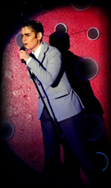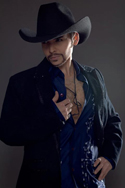 While countless gay clubs have drag nights, those nights don't encompass kings and even in incredibly gay-friendly areas of Southern California, like West Hollywood and Long Beach, Carr has trouble booking gigs because club owners don't believe kings can provide a show worth charging their patrons for.
Carr, however, has found a permanent home at Hamburger Mary's in Long Beach, where she and a troupe of other kings perform once a month. No matter your style or level of experience, Carr will do her damnedest to get kings on stage and performing, but her standards are obviously high and understandably so. The 31-year-old wants to be able to give up her day job and make a living off of performing.
Essentially, she wants kings to be as embraced as drag queens, but she and other kings find themselves in a frustrating cycle: Kings won't be given the same opportunities until their craft is more widely recognized, but their craft won't become more recognized until they're given more opportunities, on and on ad infinitum.
When performing as Landon Cider, Carr constantly has people coming telling her they didn't know drag kings even existed. What
would
give kings the platform they need is a show like
RuPaul's Drag Race
.
According to Cider, kings did try out for the first season, and there was interest in creating a spin-off, but the problem was that too few kings were performing at a high enough caliber to fill out more than one season. These limitations frustrate many in the king community, including Chrissy Casillas whose character Haywood Jablowme takes a decidedly more campy approach to her character, who is the "dirty ass dog" to Carr's ultra-suave Landon Cider.
Casillas is the co-host of the
Pink Kitty Radio
podcast, which covers topics pertinent to the LGBTQIA community. She is also one of the founders of the Kings of Long Beach, a troupe of kings who put on KING-A-Palooza every first and third Sunday at Ibiza Night Club in Huntington Beach, CA. These types of regular gigs are extremely coveted and incredibly hard to come by.
"Many people just haven't heard of drag kings, it's not really a big part of pop culture or gay culture," Casillas said. "The ultimate goal, of course, is to get more recognition. Everyone knows drag queens and if someone's familiar with drag kings, they think it's just dressing in boy's clothing and much more goes into it than that. If we were respected more and people were more familiar with us, we would perform in more venues."
Casillas' more light-hearted, fun approach to drag gets a strong reaction from her crowds. Jablowme, who she says is a gay cross dresser who sometimes performs in women's clothing, seems like the type of character fans of RuPaul's drag race would eat up, but only time will tell if the latest generation of drag kings will fade out or become a force to reckoned with, on par with the queens who until now, never had to share their spotlight.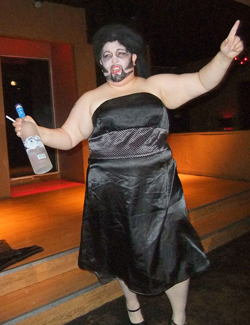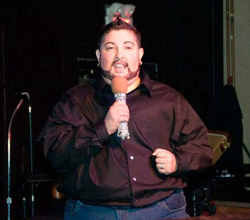 We'd love to hear what you have to say as well! Leave it in comments, or write a post of your very own!

Yes, that's right. We want YOU to write something for SexIs! See this post for details!