What is a bondage hood?
A bondage hood is an item that is sometimes used within BDSM play. It is a term used to describe a hood that covers your neck to the top of your head. It is hard to describe exactly what a bondage hood is, because there are multiple different styles of hoods.
Here is an example of a bondage hood: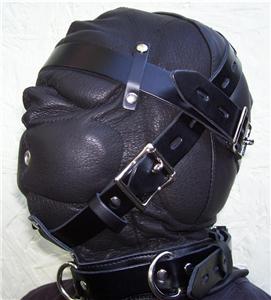 From: http://cdn100.iofferphoto.com/img/item/999/093/32/164736934_tp.jpg4
What styles of hoods exist?
So, as I just said, there are a variety of different bondage hoods. Each one creates a slightly different and unique experience. So, the most basic hood is one that covers your neck, the back of your head, and most of your forehead, while still managing to leave your face completely uncovered. The other styles of hoods get progressively more restrictive. Some of the different bondage hoods will cover your mouth but leave your eyes open, whereas others will cover your mouth and eyes. There really are many different types of hoods, all of which cover various amounts of your face. Some of the hoods will cover parts of your eyes. Some hoods will also have small mouth holes, while other hoods have large mouth holes. Some hoods will even have straps attached, so that the hood is more secure. If you Google bondage hoods, you will be able to take a look at all of the different styles available.
What materials are hoods made out of?
Bondage hoods come in a variety of different materials, each one having unique properties. So, you can buy latex hoods, which are very shiny. Latex hoods tend to stretch a lot, so you can get a very form fitting look. You can also buy leather hoods, which will be thicker and more confining. Leather hoods are also stiffer and less fitted. You can get Lycra hoods, rubber hoods, or cloth hoods, as well.
Why would someone wear a bondage hood?
There are many reasons why people enjoy hoods. The first is for aesthetic reasons; some people find the look of a hood to be very attractive. It also removes facial features, so it can make it easier to objectify and humiliate the submissive. Bondage hoods also create a very unique experience. They are confining, so you feel like your head is in bondage, too. They can really increase the feelings of submissiveness, as well, which a lot of people enjoy. Hoods also decrease your hearing, which forces you to concentrate on your other senses. They can remove your sight, too, which also forces you to concentrate on other senses (notably touch, which can heighten sexual stimulation).
Hoods that have a mouth cover can be used to silence a submissive. Hoods with padded ears can be used for sensory deprivation. The reasons for wearing a hood vary, but all of it revolves around the same mentality as being in bondage.
How can you use bondage hoods in your play?
EdenFantasy no longer sells bondage hoods at this time. Once upon a time, they sold a few, but they no longer do. I am not sure if they are ever going to bring them back, but I still want to concentrate on how you can incorporate hoods into your sexual play with just household items.
So, to make your own homemade bondage hood, you could make one out of leather, rubber, or latex, if you are handy and have a bunch of tools. Most of us (myself included) do not have the option to make a fancy hood at home, though. Instead, there are many other options; mostly notably, you could use any type of cloth material. There are two major cloth materials that come to find.
The first is either a toque, a balaclava, or a ski mask. Any type of winter item you can put on your head and pull down long enough to cover your face would work. If you do have a ski mask, it is easy to just turn it around, so that the eyes and nose holds are facing the back of your head. You could also just wear the ski mast the right way and then throw a blindfold over the top of it, if you wanted the mouth to be uncovered. To make this all even more intense, you could add earplugs with white noise playing; this will give the wearer a more authentic experience.
Another good option is using pantyhose. This is really a good choice for beginners, because will still be able to see and breathe through the material. The use of pantyhose will allow you to experience what hood play feels like without having to have such an extreme experience.
Safety
Finally, I want to talk about safety. The main concern with a bondage hood is maintaining speech, as well as an open airway. So, if you are covering someone's mouth, you are going to limit their ability to use a safe word. In this situation, you should pick a non-verbal one, such as shaking their head back and forth. Also, having their mouth covered will make it harder for them to breathe. So, you should just watch them carefully, checking in on them frequently to make sure that their airway is still open. Finally, some people do get claustrophobic, so keep that in mind. This can be an intense experience, so go slow the first time, and be prepared to get them out quickly. This pretty easy to do if you are using a ski mask, but it can be harder with a leather hood that locks. So, the first time you play, just make sure that you are familiar with the hood that you're using; make sure that you can get your partner out of it quickly if you need to.
I highly recommend trying out bondage hoods; they really heighten the experience, and they can allow for more erotic and sensual sex. If you are submissive and your partner is dominant, it can also really add to the D/s mindset.
As always, if you have any questions, feel free to ask them in the comments.