(Editor's note: Can't get enough of April? Check out her exclusive-for-print interview in the current issue of SexIs, available as a special supplement in the June/July edition of Bust magazine at retailers nationwide (or order your free copy here!)
April. The word springs off the page, conjuring images of resolute rebirth, of freshness. And not unlike her name, April Flores is something fresh—moreover, something fresh in a universe that could easily be described as clotted with sameness. Model, muse, cover girl, alt-porn actress and impetus for the world's first
voluptuous plus-size pussy love toy
, the flame-haired Flores puts an extra B in "BBW," and it stands for bold. In our exclusive Q&A, we dish on body image, open relationships and the sad, sad state of her bush…among other things.
Your love toy was recently the star of a show in which artists used the likeness of your girl parts as inspiration for their artistic interpretations … I have to tell you, my favorite was the clove-studded ham.
[Laughing] That was one of my favorites, too! It was really ingenious. And those are real cloves! The idea [for the art show] was my husband's (photographer/film director, Carlos Batts), who curated it. It is a sex toy, but it's also a piece of art, of sculpture—we were trying to play with those ideas.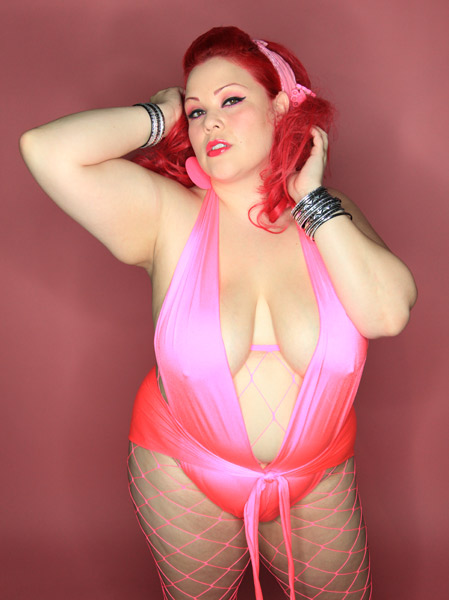 So, what kind of background does a woman whose mock vagina can be purchased for intimate home use come from?
My parents were strict, reserved, religious. I was taught that sex was… not necessarily "dirty," but it was totally something for marriage. It was not something that was discussed freely. I wouldn't say I grew up sheltered, but I grew up with a lot of rules.
Were you a rebel?
No! I was totally good, really quiet at school. To this day, I am a rule follower. I can't shake it. But when I turned 16, my parents got divorced, and they were so caught up in their own situation, they totally changed and didn't really give a "F" about anything we did. Before that, I always wanted to go out with my friends but mom had to meet everybody, I had to be home early, and it was just a pain in the ass, so I just didn't. Then all of a sudden, I could do whatever, but by that time, I was 16 and I knew right from wrong.
And so when you started to notice boys...
Oh, I liked boys from 5th or 6th grade, but I don't think I had a boyfriend until I was 17. I was shy. I was always a little bit chubbier, and when you're bigger you do tend to get singled out.
Were you teased?
Not
extensively
but there were a few comments. One time, in 7th grade, these kids were going around the room saying who was pretty or cute, and they got to me and the guys were like: "Oh, she's pretty, but she's
too fat
. She has to lose weight!" [Laughing] Another time, I was playing tennis and some boy was riding by on a bike and I bent over to pick up a ball and he yelled, "Fat ass!" [Laughing] It hurt me so bad. It did.
Did it make you think life would be better if you could just be one of those skinny girls?
My whole adolescent life I thought:
If I'm skinny, it'll be easier. If I'm skinny, I'll be thought of as attractive. I'll fit in. The boys will like me and want to talk to me.
That carried over into my teens and my 20s. And I heard it all from my family, too. My dad used to tell me I needed to lose weight. My mom always struggled with her weight, too. And you know, going shopping for bathing suits, you just look at your cellulite and learn to hide your rolls in your sweaters. So yeah, I wanted to be skinny because the skinny girls had all the attention from the boys.
Did you ever get skinny?
I went to college and lost
a lot
a lot of weight. I think my metabolism was faster at that time, and I wasn't eating at all—like once a day. I lost about 60 to 80 pounds without even trying! I was in a really tumultuous relationship; sometimes I wouldn't eat at all because I was upset. It wasn't a healthy way to lose weight, but I found myself weighing 120 pounds. And I looked nice. And I got more attention from strangers. Whatever. I realized in my head that I was still unhappy.
But you're happy now. How did the change take place?
At that same time, I was working at a coffeehouse and one of the regulars would come in and he was always in a good mood, always positive, and finally I asked him, "How are you so happy? What's your secret?" and he told me that happiness is a choice. It's not easy. You have to work on it. I really took that to heart and realized it's in my head. It's not my weight. It's not a number on the scale. I have to choose, in my head, to be happy, and from that point I worked on doing that … It was like flipping a light switch.
At that time I was in a bad relationship—always crying, always upset. I'd surrounded myself with people who were also in that stage, all doom and gloom. And when he said that, I was like,
Fuck this. I'm done!
I started focusing on the good stuff in my life: I have a job, I have a house, I have a car, no one in my family is sick, everyone I love is around me. I was just done with being sad. I was done with it. Eventually, the weight started to creep back, and people—friends and family—noticed and said things to me, but I just didn't care anymore. I was happy with myself.
(Next time, April dishes on coming to terms with her body, finding love and becoming the adult diva she is today.)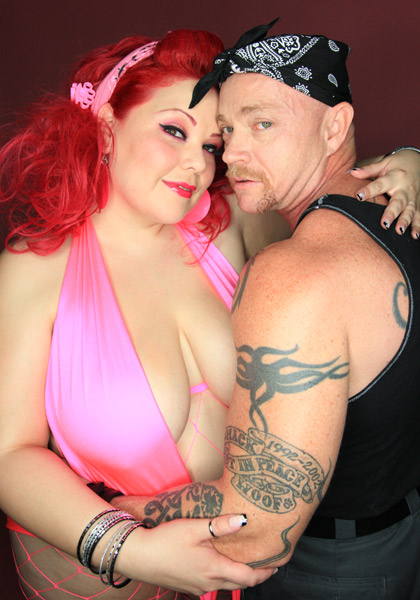 (April Flores pictured with Buck Angel. Photos by Carlos Batts)