To enter the home of Reverend Jen Miller is to enter another dimension. The front half of her rent-controlled apartment is the "Lower East Side Troll Museum." Hundreds of trolls line the walls, naked and bejeweled. Further inside, Rev. Jen's paintings hang on the walls — unicorns, aliens and fairies swirl in pastel colors.
Jen collapses onto a hot pink couch with her Chihuahua, Rev. Jen Junior, in her lap. "I just got out of the gym, so I don't have my ears on," she says. Jen perpetually wears pointed elf ears, attached with stage glue, when they fall off she buys another pair and the cycle repeats. This ritual is the inspiration for the title of her new memoir,
Elf Girl
which is about Rev. Jen's psychedelia-laced art-world adventures. The book is a follow-up to
Live Nude Elf
, which tracked Jen's work a sex writer for
Nerve
.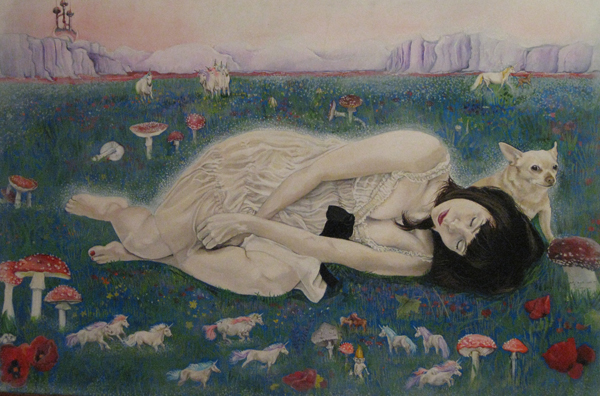 "So tell me about that, what are the wildest things you did in the name of experiential sex-journalism?"
Jen's first task was nude house cleaning. It was snowy and Jen trekked to the Upper East Side, to a posh apartment building. "You really can't look
that
sexy when you are cleaning house," she says, "But I washed his dishes, and he was like, 'you are jiggling enough for me!' Jen spent the rest of the session hanging out with him on the couch, naked — save for the dishwashing gloves — drinking red wine and talking about his ex-girlfriend. She did one more session with a different guy but it wasn't as much fun — "he just watched Pokemon the entire time!"
What else did she do?
There was the 70's style key-party Jen hosted ala
The Ice Storm
. She dressed like Sigourney Weaver and everyone got into the retro vibe, but when it came time to pull keys it was a mess. "Straight people were pulling gay people's keys and the two hottest people there pulled each others. They totally cheated."
Trying tantric sex is also among her favorites, "you start with meditation and aligning chakras. By the time you start including body parts, it feels like tripping on acid." Jen had good help with this — "I was seeing both a woman and a man at the time, they were roommates. She was a lesbian and he was straight and I had attention from both of them! Jen tells me the female roommate worked for the person that wrote
She Comes First.
"Who was that? It wasn't Betty Dodson...?"
"No, but I met Betty once. My friend Tom and I were at a party and she came onto him. I was like 'you should go fuck her! She's probably the best ever'!"
The columns also came easily to Jen because of her past with sex work. At 22, Jen worked at the luxurious Manhattan dungeon, Pandora's Box. Jen describes wandering into the gold-and-cream Versailles Room, with its rococo mirrors and plush carpeting and feeling like Alice walking through the looking glass.
Jen worked as Pandora's only pro submissive, which can be dangerous but Pandora's had rotating walls like a Scooby-Doo haunted house, "if a session went bad you could push on the wall and be in the next room" explains Jen. It wasn't until Jen started seeing clients privately at the Chelsea Hotel that things truly slipped down a rabbit-hole. "I think it was writers curiosity, I had to go to the darkest place that I could," she said.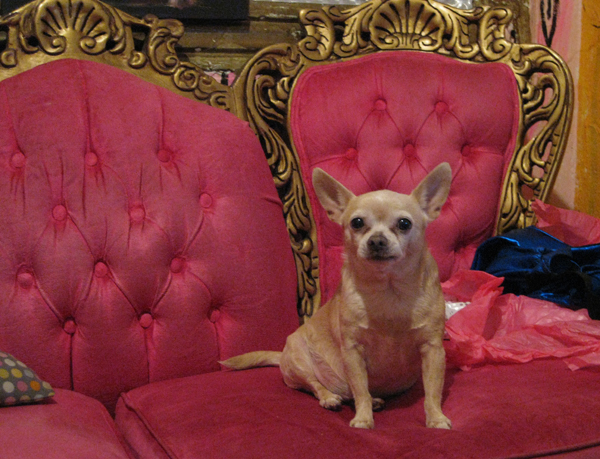 Years later when Jen started writing
Elf Girl
, she needed to pay her rent and, reluctantly, turned again to the adult classifieds, one ad caught her eye: "Sex therapist looking for a pretty girl. Must be smart, compassionate and open minded sexually." Jen responded and became a sex surrogate for an Oprah-famous sex therapist. A sex surrogate isn't a sex worker exactly... they work with a licensed therapist and engage in physical and intimate relations with the clients to help meet goals.
In the Park Avenue offices, Jen started with touch, "premature ejaculation and erectile dysfunction basically stem from the same thing, the men are sexualizing the situation, and thinking too much." The goal was to get them out of their heads and into their bodies. "These men didn't know that a hand down the hip-bone feels great, they have to re-learn all of that."
Later sessions involved deep breathing and masturbating the men, asking constantly where they were on a scale of 1-10 with 10 being orgasm. When they reached a 4, she would stop, take a break and start over. "The whole thing sounds very 1970's but it works," says Jen. There was no penetration, but they did use flesh-lights — "that was always hilarious and fun, but cleaning the flesh-lights was gross."
These sex work experiences are the fodder for Jen's next two novels. The inspirations for her paintings, however, seem to come from somewhere otherworldly. I point to a painting of cloaked aliens surrounding a Chihuahua, "I like this one."
"That was inspired by a dream. Rev. Jen Jr. was abducted by aliens and I had to go to outer space. When I got there, she was floating in the air and they were worshiping her like a Goddess. I was so happy."
Outside the windows, it is growing dark. Jen is going out tonight, and will wear a new shiny catsuit. "What are you going to wear it with?" I ask. "Six inch heels" she responds. The elf-ears are a given.