In the basement of a Brooklyn bar, the members of Schmekel are sitting across from me on a couch. A band called Girlcrush is playing upstairs, and Schmekel's up next. "Do you want to hear the names of our new songs?" Lucian Kahn, who does lead vocals, asks.
"Okay!"
"There is "You Are Not the Only Bear I Fisted", he says, counting them off on fingers, "The Binding of Isaac" which is about a guy named Isaac who is binding. And "Homotaschen" which sounds like
hamantaschen
, a triangular shaped Jewish cookie that looks like a vagina or an anus."
Ricky Riot, the band's keyboardist, interrupts —"why would your anus be triangular?" I try to be helpful — "well the anus could be like two triangles, you know like a star. Like a Star of David... that could maybe be a song title?"
A cute guy bolts down the stairs and mouths something at Lucian. "I'm doing an interview," he says and the guy does a sort of "jazz hands" move as if to say "ooooh!" Lucian gives jazz hands back, "that is my boyfriend," he says. The fancy hands are well deserved, the band have been getting press and were even profiled in
The New York Times
.
And not for nothing. The band is tight. Some songs recall 80's punk, "Dead Milkmen," I write in my notebook, and many of their other songs are more gypsy-punk, recalling Eastern European folk music. They are always hilarious; the band is witty on stage, their timing impeccable. Watching them, I jot in my notebook — "Woody Allen meets The Dresden Dolls?"
It's the focus on trans-issues that really makes Schmekel stand out. Usually, when one thinks of trans activism, jokes are not the first thing that come to mind. Lucian says for the band, this was natural.
"When I was first starting to deal with trans issues, I was bummed that most queer art and music was depressing and intense. I needed a way to get through the hard stuff that made it seem like life was fun and that the experience could be interesting. I think we all felt like we needed that, as a catharsis." The group nods in agreement.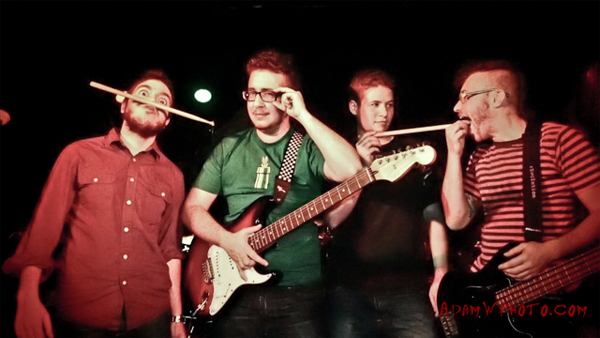 Nogga Schwartz, the bass player, adds: "Queer theory becomes something that is so inaccessible but queer theory is also so new. The theory these people are talking about is stuff a lot of us are actually living! It is not inaccessible, it is what we are dealing with everyday, and sometimes it is really funny."
It might be the novelty factor and their plucky attitude that helped Schmekel get noticed by the likes of
The Times
, but the band represents a larger movement — in small bars like this, Trans-Core is taking hold.
"It is becoming a real scene, especially in Brooklyn. We have bands like Novice Theory, The Clits, The Shondes, Glitterpunch, The Homewreckers," Nogga says. Talking about this, he traces it back to Riot Grrrl, the feminist off-shoot of punk rock which bled into Gay-Core, about gay fronted bands. That turned into Queer-Core, but with trans issues taking center front and visibility becoming stronger it makes sense that a trans movement would follow.
The crowd at the show looks like it belongs to a new movement as well. The look is young, hip and gender variant. An androgynous person in a leather jacket, tight jeans and 90's ball cap with a basketball logo turns my head. In front of me, a butch girl with a fresh dagger tattoo leads a taller butch girlfriend, who wears a denim vest with a Bart Simpson patch, to the stage. A tall blonde wears a patch that says "feminist chicks dig me."
"I think that is how a lot of revolutions have started," Nogga says, "through art and music. The queer community's hubs have always been in art, in being bohemian and on the fringes of society. That is where queer people have always found their space."
Schemekel is at the forefront of this movement, perhaps because they have the capacity to reach beyond a queer audience. In one interview, the band notes it seems Jewish people like them more than queer people. A lot of Schmekel's jokes would be lost on a crowd of gentiles. Take for instance, the lyrics to that song about binding:
"The synagogue's packed but I'm only binding. I look like I'm twelve — at least my face is not a pizza, but no one seems to know me on this side of the
mechitza
." (A
mechitza
is a partition that divides men and women in a synagogue — cue the "oohh!")
Nogga tells a story about playing a straight Jewish event, when afterward a group of bro-like dudes approached them, "they were like 'wow you guys are so funny! Suck my matzah balls! So are you trans or is that some kinda joke?' And we were like 'no, we are really trans... most of us were assigned female at birth.' And he's like, 'oh, but you are so dudely, you are dudes!'"
Singing about trans issues invites questions about trans-ness. In a way, Lucian says, this is good. "This band has made it easy for me to talk about being trans in a way that doesn't make straight cis people nervous. Because I can be like 'So, I'm in a comedy band. And I am also a transsexual. So, here is my comedy band!' And they listen to it and it's funny and we don't really have to talk about my being trans, they get a free pass."
Of course, this doesn't make asking personal questions about bodies or sexuality post-show okay, but anything the band sings about is pretty much on the table.
"I would feel okay if people asked me about fisting!" says Lucian.
Nogga agrees — "I am, in fact, an actual demo top in fisting. I do a workshop on how to properly fist. I am an expert!"
"For the record," Ricky cut in, "Nogga just made a hand motion that looked like fisting. I can't really describe it."
"It's kind of like when you make a little hand puppet, and you are about to make it talk," I say, trying to help Ricky out, "A talking fist puppet."
It has become tradition, during the last song of a Schmekel set, that the audience dance the Hora. Everyone holds hands and dances in a cheerful, jumpy way, toward the right with the left foot, and then right follows left.
There are some people who are singing along, eyes closed and leading, and others who are laughing, doing the dance for the first time. If there is a new movement happening, a movement based on being trans, some sort of trans-riot, I hope this attitude could be it's core. This embracing and openness toward culture and tradition and change; this above all: remembering to keep things light and not always take it all so seriously.