Karina Samala, who purchased the rights from the original owner in 1998, produces the Queen USA Pageant each year. With Samala's hard work, the pageant is now considered one of the most preeminent in the country, but it's also one of the most unique: It's a beauty pageant for male to female transsexuals.
Many use pageants as a way of familiarizing themselves with the person they want to be, as opposed to the character they've been forced to play and this was especially true for Samala, who felt as if she was living a double life after coming to the U.S. from the Philippines. In the morning she'd trudge to work at Northrop Grumman in a suit and tie and earn a comfortable living as an engineer. At night, Samala transformed herself into a woman and after the urging of a friend, decided to enter her first pageant at a small West Hollywood bar. To her great delight and surprise, she won.
"If it weren't for the pageants I participated in when I was still living as a man, I would have never transformed. I don't think I would have found the courage to be who I was meant to be," Samala said.
It's difficult to imagine the feeling of having been born in the wrong body or the resulting internal chaos that ensues at puberty when your body in no way represents who you are on the inside, how your brain operates, or who you're supposed to be and what you're supposed to look like. The suicide rate among transgender people only further illustrates the frustration experienced by those whose bodies do not match their gender identities.
An October 2010 survey released by the
National Center for Transgender Equality
found that 41 percent of transgender people in the United States have attempted suicide and in light of this statistic and many others like it, a beauty pageant seems almost audacious in the face of the seemingly insurmountable problems faced by the trans community. For those who've struggled with outward appearances all of their life, does it do any good to create an event in which trans women are judged on their looks and harshly critiqued using a point system? As a matter of fact — yes, yes it does.
Like many of the women who compete in pageants, Vi Puzon asserts that being a contestant has elevated her self esteem, given her self worth, and taught her discipline. Puzon took home the title of Queen USA in April and the only thing that separated her from the first runner-up was two points. Samala believes that what gave Puzon the edge was her emotional response to her interview question. Unlike straight pageants, interview questions are not only asked to get a sense of the contestant's personality or their knowledge of world events (or lack thereof). Rather, questions are intended to be educational and spread awareness and what might be a controversial question at a straight pageant, is pretty commonplace at a trans pageant.
Puzon came from a staunchly Catholic Pilipino family and spent her childhood attending an all-boys' religious school where she was bullied. Puzon decided to come out just before her high school graduation and the backlash was immediate. Not only did her family not understand her situation, but they did not support her transition. From then on out, everything Puzon did had to be done in secret.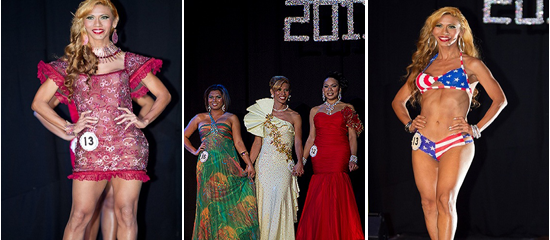 Contestants compete in the 2011 Queen USA Pageant
Fast forward almost two decades to the Circus Disco stage. When Puzon was asked what advice she'd give to trans youth who were being bullied and were considering suicide, she broke down and began to cry. Puzon shared the story of her own suicide attempt years prior and emphasized the importance of reaching out and finding a community that accepts you for who you are now, not what you will be in the future.
Though Puzon describes pageants as "cutthroat" and "educational" in the same breath, there's no denying the community building taking place. Women in various stages of their transition may be competing against each other for the title and crown, but they're uniting through more than shared makeup and beauty tips. They're also sharing their stories and they're building the accepting, understanding families many did not experience while coming out.
If nothing else, Samala's Queen USA and Queen of the Universe Pageants do one very important thing for transgender women: Portray them in a different light. Because of the obstacles faced by many in the community, many trans women are either portrayed as victims who've been pushed into prostitution and drug use by a family who has disowned them and a world that doesn't understand them, or as Samala says, they're "portrayed as screaming queens in the streets with no class or self respect." Like many stereotypes, there are bits of uncomfortable truth sprinkled throughout these characterizations (One only needs to hang outside the Frat House in Garden Grove, CA after last call to see the darker side of the trans experience.), but Samala's pageants are often the first time many encounter poised, articulate, and educated trans women. For those who participate in pageants, such as Maria Carmen Hinayon, this is an achievement in and of itself.
Hinayon grew up in the Philippines and was crowned Miss Queen USA in 2008 and Miss Queen Universe in 2009. She began her transition at 16, 13 long years after she first realized she was trans.
"I knew I was supposed to be a girl when I was three. I really thought that my transition was going to happen naturally, that over the years my body would slowly morph into that of a girl's," Hinayon said. "It obviously never happened, but I also never had a crisis about my identity. I never felt ashamed because it was natural to me; my wanting to be a girl felt natural because I knew I was supposed to be a girl."
Left:Contestants wait for the announcement of the winner. Right: Winner Vi Puzon reacts to announcement.
Hinayon was raised by women, as her father was in America and out of the picture. When she came out to her mother and grandmother, they were accepting and loving, but mostly because they didn't understand and were "weirded out" by the whole thing. It wasn't until her arrival in America at the age of 21 did Hinayon feel the rejection of a parent, in this case her long estranged father who left a son behind in the Philippines and discovered a daughter at the airport. After attempting to make peace with his disapproval, Hinayon gave up and hightailed it to San Francisco, a city she learned was a "mecca" for transsexuals, or at least that's what she heard while still in the Philippines.
"I wouldn't have made it without the community I encountered in San Francisco," Hinayon said. "I want to do the same for other young trans people who don't have a place to turn. By volunteering and mentoring, it's my way of paying it forward."
Hinayon is ambitious, courageous, and educated. Not only was she valedictorian of her high school, but she also receives straight A's at Cal State Long Beach and plans on being a human rights lawyer.
"Besides spreading awareness and giving us a platform to discuss important issues that affect our community, pageants also validate our identity as women- not just beautiful women, but women with poise and class," Hinayon said. "Every time I do a pageant, I become a better person. I used to be very shy, but now I have the confidence to hold my head up high. Pageants may seem silly to some people, but they break down the shame that most trans people feel."