Very rarely do the people in charge resemble those they serve. In West Hollywood, the gay and lesbian community makes up around 40 percent of the population. Not only does the city boast an openly gay mayor in John Heilman, but several gay councilmember's as well. Long known as the home for creative types, West Hollywood is very much a city where the LGBTQ community thrives because of a progressive local government that focuses on initiatives cities in other states wouldn't even consider. One such initiative is the Transgender Advisory Board, created to advocate for policies that would improve the quality of life for transgender people living, working, or visiting West Hollywood.
Originally a Transgender Taskforce brought forth by Heilman and Councilmember Jeffrey Prang in February of 2001, it was re-designated into an advisory board in August of 2009. Though other cities do have Gay and Lesbian Advisory Boards, the city of West Hollywood is the first in the world to have its own Transgender Advisory Board that operates independently and separate from the gay and lesbian board. Seven West Hollywood community members serve on the board, including Chair Karina Samala.
As gay and lesbian people become more accepted in mainstream America, those in the transgender community fight for the most basic of rights, like being able to use the public restroom of the gender with which they identify. Samala, an award-winning transgender activist, is now a prime example of an empowered and successful woman, but it's been a long time coming.
Samala grew up in the Philippines as the only son in a family with eight children. From very early on, she knew she was different. "Asian sons have many societal pressures. They are expected to get married and have children to carry on the family name, but I knew this was not a responsibility I wanted to have," Samala said.
Shortly after graduating from college in the Philippines with a degree in chemical engineering, Samala's family moved to the United States. She worked for Northrop Grumman, a leading manufacturer of military aircraft for nearly 13 years. Though she was happy with her professional life, her personal life was suffering.
"There finally came a time where I had to quit. I was hiding who I was and every day was a battle because I knew I wanted my transformation to take place," Samala said. "As an engineer I worked with government contracts and at the time, homosexuality was viewed as something negative; it meant there was something wrong with you. The contracts would ask if I was a homosexual and I had to lie."
Each morning Samala would go to work in a suit and tie and each night she would transform herself into a dazzling woman and compete in transgender beauty pageants in Hollywood. It was a double life that was at first, thrilling, but soon began to feel like a lie. Samala realized she need to make a change and left her job and double life behind.
Samala now serves on several boards, does charity work for countless organizations, is an
empress of the International Court Council
, and produces the
Queen of the Universe
and the
Queen USA
transgender beauty pageants, both considered to be the premier transgender pageants in the country. Now happy with her personal
and
professional life, it seems as if everything has fallen into place. Despite coming from a traditional Filipino family that includes two ministers, everyone eventually accepted Samala's transformation and family members now attend her pageants and her sisters routinely raid her closet.
Admittedly, the stories of many do not end as happily. According to Samala, two individuals in West Hollywood's transgender community committed suicide in the past two months and sadly, these aren't rare occurrences. An October 2010 survey released by the
National Center for Transgender Equality
found that 41 percent of transgender people in the United States have attempted suicide and 19 percent report being refused medical care because of their gender-nonconforming status. Transgender youth also face extreme harassment in school, even more so than their lesbian, gay, and bisexual peers. In an effort to escape their stifling towns, many run away from home, ending up in cities like Hollywood with no money, no family, and very little education. Living on the streets many turn to prostitution and drugs, finding it impossible to break free from a vicious cycle.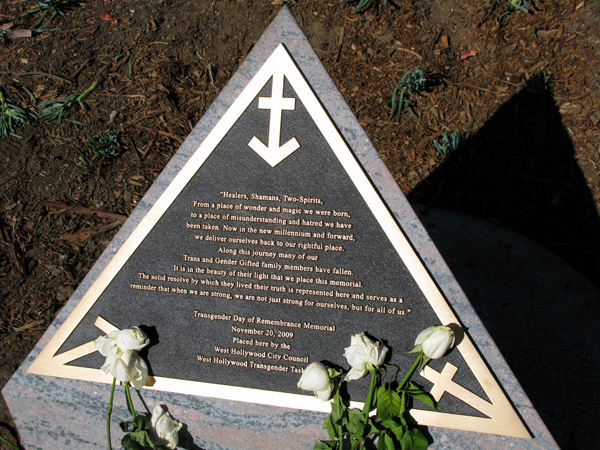 As a way of honoring those in the community who have lost their lives, the Transgender Advisory Board unveiled the Transgender Memorial Plaque in November 2009. The plaque is the first of its kind in the world and on each Transgender Day of Remembrance, a national holiday that honors those who have fallen victim to transgender hate crimes, members of the community will gather at the plaque to read the names of people who died that year and to recognize those still with us.
Samala obtained an education and became financially stable before coming out, a privilege shared by few others in her community. Because of this, her honesty, and kind heart, many young people in the transgender community flock to her and call her "Mother Karina," a new patron saint for a new generation of transgender youth.
"It's so important to mentor others in the community," Samala said. "You have to guide them on the right path because many of them have had their families turn their backs on them. It's not uncommon for parents to tell their transgender children that they'd rather see them dead than the way they are. I struggled with non-acceptance in my 20's and I know how it is, so I try to always make myself available to young people. They know they can reach me day or night and I'll be there to do what I can."
David Escobedo, Staff Liaison to the Transgender Advisory Board, believes that one of the biggest challenges the board faces is education, but more specifically, the education of the public. According to Escobedo, despite being a progressive community, West Hollywood still has some work to do.
One could argue that in a city as diverse and tolerant as West Hollywood, a Transgender Advisory Board isn't really needed and would be better suited in a small town where citizens struggle to accept different lifestyles. On the contrary, Escobedo believes that it is because of West Hollywood's reputation as a leader in diversity that the Advisory Board's influence can stretch beyond the city's borders.
"Not only is this city diverse and progressive internally, but our voice has the power to affect change externally," Escobedo said. "We hope that other cities follow our example, creating a voice for the transgender community nationally and globally."