Ketty Teanga is high femme. It was clear from the time she was nine years old, trotting in her Mom's heels. But it wasn't until age 15 that she decided to embrace being a woman. Ketty was still living as a man, but started dancing in a drag show. It was the 1960's in Puerto Rico, "The shows were spectacular, very famous. But back then it was not
femme
, you had to take off your wig at the end of the show to prove you were a man." The climate was rough: "In Puerto Rico, the police would stop you if you were in drag. We would get out at 4 am from a show, in street clothes, but they would press a napkin on our face to see if we had on make-up, if we did they would arrest us right there."
Her's is a story we don't often see in the media. When trans people do get a rare spotlight, it's often the stories of white trans people that are told. Richard Rodriguez, Associate Professor for Latina/Latino Studies Program at University of Illinois explains, "As anyone who grew up in a Latino community will tell you, there are always LGBT people around. Sometimes they are accepted and sometimes they aren't. What I find, however, is that LGBT Latinas and Latinos may find more acceptance among Latinos than white queers."
Decades later, Teanga is still a (transgender) drag performer. Her home is covered in glittering dresses, glossy photographs and LGBT awards. Teanga started what is known as the oldest Latino Drag show in the country, at Spanish speaking only, La Cueva in Chicago. But "Drag show" is a bit of a misnomer. Like Teanga, the performers aren't men in drag, but women—male to female transgender. While she no longer performs herself, Teanga can still be seen at the bar 4 a.m., as she watches the new crop of glittery performers. " I am gonna die in the show. That's my life," she says, her voice hoarse.
While so much has changed since Teanga's day, when each performer tells her story, the themes are similar to Teanga's. "I would play with my sister in Mexico. We played tea party and made cookies with sugar, pretending to be famous sisters and artists. My mom would get mad because I would wear her dresses. That's how my life started, my different life," says Vanessa who writhes around in skimpy dresses on stage, but off, is soft spoken. A fellow performer, Diana, who is animated with red streaked hair, agrees. "It never starts as anything sexual, because as a kid that doesn't make sense. You just know you like girl things, and that you are different."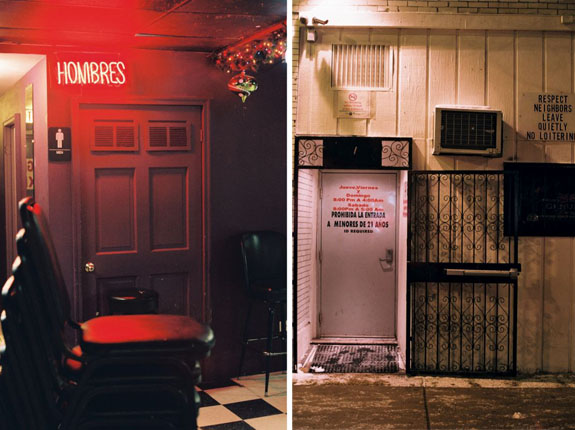 It was in the 70's, in New York City, that Teanga started transitioning — taking hormones. "Back then, you could do your transition and take hormones, but you still had to dress like a man. Only on the weekends, could you be a woman — this is in New York, not even Puerto Rico!"
There are other things that have changed, too. On a slow snowy night at La Cueva, two lesbian couples arrive just after midnight to cuddle at dark tables while gay men slow dance under the disco ball. At the bar, there are a few solo Mexican cowboys. But in the 80's when the show started, it wasn't as LGBTQ friendly.
The patrons were also more macho — back then the bar brought out straight males. "Now it is all gay and lesbian. In my day, it was straight men who came," says Teanga, a little longingly. "I was seen as a woman, so [straight] men came." It sounds sort of progressive, but the transphobia was also much higher "There were a lot of gangsters — they'd throw bottles and shoot at us with BB guns. You had to park your car and run inside," says Teanga. According to Manager, Ruben Lechuga, the bar itself was feistier, with less bouncers and more fights.
Working at La Cueva makes the performers visible and therefore vulnerable. But the bar is one place offering Latina transwomen work — which can be hard to come by. "I've been working for La Cueva for nine years and I never before worked doing what I do now. I worked in other places like restaurants and temp office jobs. But I was frowned upon, for applying with a male name but wanting to be a woman. They have issues with you going to the women's bathroom, things like that," says Paula, a petite performer with chiseled features.
Of course, transphobia is, in no way, limited to Latina transwomen, but it can be more intense. "Transphobia has to an overwhelming degree curtailed the employment opportunities of transgender individuals. Latina transwomen, like African American transwomen, are also subject to racism. But when you add language to the mix, Latina transwomen may find it increasingly difficult to find work," says Rodriguez.
Regardless of the language barrier — which is thick, the performers only speak Spanish — the U.S. is where these women
can
find jobs. "Before this, I worked out in the fields in Mexico, and I always dreamed about working in a place doing what I do now," says Vanessa. Diana explains it as feeling more safe. "I feel gays are more understood here." Mexico City may have legalized gay marriage but Vanessa and Paula assert that homophobia within the community remains. It seems as gay issues get press, this tension grows. "In Mexico they changed the law to where gay marriages are allowed, but they will still call you out on the street or yell dirty things, much worse than here," says Paula.

Rodriguez sees it as a larger problem. "While educating people on transgender lives is key, I also believe there must be a more concerted effort by queers and straight allies alike to advocate for rights and fair treatment for transgender people. Unfortunately middle-class, privileged issues like gay marriage continue to overshadow the blatant racial and economic discrepancies faced by those purportedly accounted for in the LGBT community," says Rodriguez.
But in her fifty years of being out as transgender, Teanga has seen a change in the attitudes of the Latino community towards gays. "Latinos are just becoming more positive and proud of gays but somewhat of transgendered people."
Rodriguez agrees, "I'm inclined to say the Latino community has become more gay — accepting, but this suggests that Latinos have always been homophobic. This is not necessarily true. While Latino religious and cultural values often stand at odds with homosexuality, many Latino families have accepted LGBT members. We are witnessing more Latino LGBT media representations (Ricky Martin, for example) that are, fortunately, raising awareness and igniting conversation about homosexuality in the Latino community."
When I talk to the performers, the importance of their work comes back to community. "We are all Latinos here. You can make friends here, talk, and overall have a good time. This is a place that opens its doors to the Latino gay community as well as anyone," says Diana.
For Teanga, it's about pinpointing the moment when things began to change, for all trans performers. "So, the saxophone was playing. And I started to take off my clothes. And my body was curvy from the hormones. That is when the shows changed. It became about femme, not men in drag."