For nearly three centuries, the great American city of New Orleans has marched to the beat of its own drum. An unusual mix of Spanish, Creole, French, African, Catholic and pagan influences, the Big Easy—with its famously and
infamously
debauched Mardi Gras festival—is deemed by many as the most unique city in all of the United States.
New Orleans is also a town that's had a long and seedy love affair with socially condoned transgressions, ranging from one of the nation's earliest red-light districts to being home to the country's first drag performers. A city that has always embraced gay culture, it boasts one of the nation's oldest gay bars and its decades-old gay celebrations, and so perhaps, it's in the city of New Orleans that the genre known as "Sissy Bounce" could emerge and thrive.
A form of Hip-Hop that was born in New Orleans' housing projects nearly 20 years ago, the style is characterized by rapid-fire beats taken from two samples, call and response chanting and rapping, and some of the most sexually aggressive lyrics you've ever heard. Sissy Bounce
is
bounce music, but with one major distinction: It's performed by gay or "sissy" rappers.
According to
Big Freedia
, arguably Sissy Bounce's biggest star, it's an important distinction to make. "The term 'sissy' isn't offensive to me; I am what I am," says Freedia. "The problem is that all bounce rappers are not sissy rappers. They're straight and it's very offensive to
them
to be thought of as sissies. They don't like getting lumped in with 'that gay stuff.' They're our colleagues, and I feel their pain, so I respect their stance."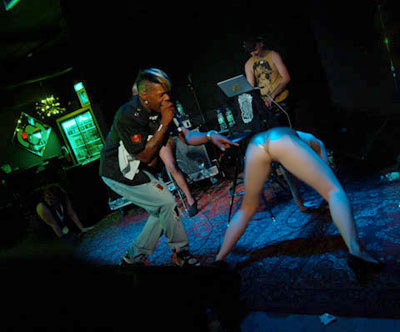 Freedia has made a name and a living for herself successfully straddling two notoriously heterocentric cultures: Hip-Hop and the American South. It's been a slow rise to the top—perhaps a sign of homophobia inherent to the scene—but that doesn't get Freedia down, and why should it? Her years of hard work are finally paying off.
As an openly gay man who prefers the pronoun "she," Freedia has managed to take a type of music born in some of the poorest areas of one of the most economically challenged cities in the country all the way to the pages of
The New York Times
and
Vanity Fair
, helping to establish the most prominent gay Hip-Hop scene in the country.
Big Freedia (who, during shows, bills herself as "the dick eater") was born Freddie Ross, and grew up in New Orleans' Josephine neighborhood. Initially interested in gospel music, Ross spent much of her time singing in the church choir. Despite the religious Southern mother and church-infused upbringing, the 32-year-old rapper had little trouble coming out.
"I came out at my 12th birthday party," Freedia recalls. "My mom basically already knew, so it wasn't a big surprise."
At New Orleans' Cohen High School, Freedia became a cheerleader, director of the school choir and fast friends with Kenyon Carter, a baton twirler who grew up near Freedia in the Melpomene housing projects. This relationship would prove to be one of Freedia's most important connections. Kenyon would go on to become
Katey Red
, one of the world's first transgender rappers, and New Orleans' first Sissy Bounce artist to get signed to a record label.
Freedia got her start dancing as a member of Red's backup group, Dem Hoes, but before long she set off on her own. She recorded her first album,
Queen Diva
, from which the track "Gin In My System" became a local hit, due largely to its catchy chorus of: "I got that gin in my system/Somebody gonna be my victim."
Despite initial notoriety, the transition from backup dancer to rapper wasn't easy. For the past 12 years, Freedia has been hustling, playing as many as six shows a week in her hometown. After Hurricane Katrina and the mass migration of many bounce-loving natives to cities like Atlanta and Dallas, word began to spread about NOLA's homegrown Sissy Rap scene. Freedia, Katey Red, Sissy Nobby, and other Sissy Rappers experienced new-found acclaim, but perhaps none more than Freedia.
A great deal of Freedia's success comes as a result of her largely straight, female audience, who notoriously get on all fours at shows, and perform what can only described as "pussy popping." And where young, beautiful, gyrating women "pop," men and audiences are sure to follow.
Thanks to Sean Carlson, a young Los Angeles concert promoter quickly becoming the city's biggest indie music proponent, Freedia is also developing a huge following in Southern California, where she's been shattering stereotypes about Hip-Hop and masculinity, and at the same time, ushering in a whole new demographic, blowing the minds and shaking the asses of countless Angelenos.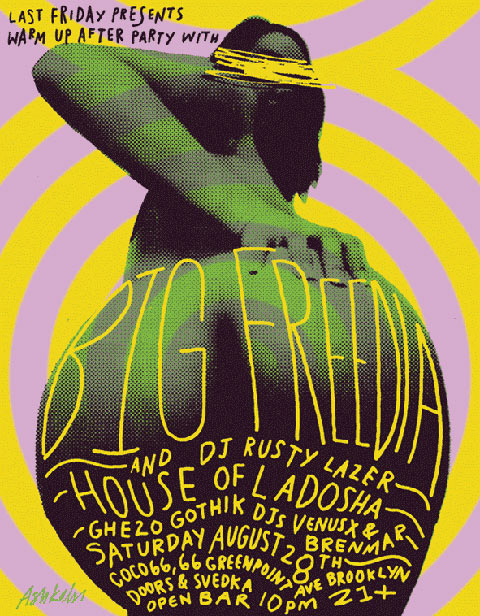 The poster for a recent Brooklyn, New York event.
Recently featured as part of Carlson's Dec. 11th Christmas party at the Glass House in Pomona, Freedia's DJ, creative partner, and manager
Rusty Lazer
is quick to point out that Freedia' isn't viewed strictly as a gay artist. "Does she talk about sucking dick and creeping, and does that make some people uncomfortable? Yes, but all Bounce music is sexual, and she's just seen as a bounce rapper."
Freedia has performed in
über
-trendy Brooklyn clubs and venues as far as north as Canada. The fans may seem worlds apart from the NOLA crowds—but they still know every word to every song. "She doesn't play gay clubs," Lazer reports. "I'd say a good 90 percent of her fans are straight. We're playing sold-out shows across the country and the audience looks different in every city."
After catching her act a few times there's no denying that Freedia's popularity isn't based on the novelty of a gay Southern rapper. At the Glass House she had young, white, straight kids battling one another in ass shaking contests. Never to be outdone, Freedia herself shook with the best of them, undoing her pants and bouncing her ass so vigorously that it revealed her underwear.
Freedia's backup dancer popped her pussy on a chair, on a ladder, on the stage floor, exhibiting uninhibited sexuality in a way a majority of the audience had never encountered—and more importantly, in a way that wasn't demeaning. The audience was transfixed, unsure of what they were experiencing, but unable to stop dancing.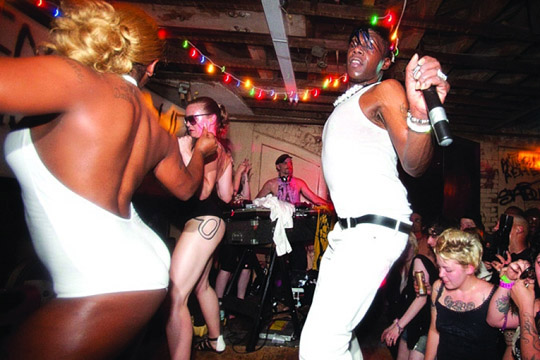 Big Freedia whips the crowd to a frenzy.
Despite crazed young things shaking what their mama gave them just a few feet away, it was Freedia who held everyone's attention, which in a town too often filled with blasé show-goers, speaks volumes about her abilities as a performer. There's no denying Freedia's star power, her swagger, or her ability to get people moving, sweating, and singing right along with her.
Just as crucial to Freedia's success as her infectious songs and gyrating girls, is her complete and utter lack of pretense. Hip-Hop today is all inflated egos, self-importance, and flash, but Freedia and her sister Sissy rappers are breathing new life into a scene long devoid of humor and fun.
The New Orleans native doesn't see the sudden interest in her music as a fad, and unlike other hip-hop artists who've suddenly found themselves the central figure in a burgeoning music scene, it's not her goal to rake in millions or build an empire—this bejeweled Southern belle just wants everyone to have fun. "I want everyone to experience a bounce show," Freedia says. "It will blow their minds…It's good music for the soul—and if you leave happy, I've done my job."