So ... a couple of weeks ago, when I woke up to a text message sent by the
Planned Parenthood Action Fund
informing me that the House of Representatives
passed a measure to end their federal funding
—It felt like being punched in the stomach.
Only 3 percent of all Planned Parenthood health services are abortion services and now, as a 26-year-old freelance writer, I depend on Planned Parenthood more than ever. I have no health insurance to speak of and I struggle to articulate how invaluable and necessary the services provided by Planned Parenthood are to me and so many women like me. Without them I would have no access to birth control, pap smears, breast exams, or pelvic exams.
I'm not the only one who understands the importance of Planned Parenthood. This was illustrated by the
Walk for Choice
event that took place Saturday, February 26. As the brainchild of Raven Geary, the event was originally scheduled for the streets of Chicago, but as word spread, cities across the nation banded together and created their own Walk for Choice events. From Los Angeles to New York City, men, women, and children walked the streets in support of women's rights and in defense of choice. It couldn't have come at a better time, either.
Los Angeles' Walk for Choice began in Downtown L.A.'s Pershing Square and it was co-organized by Jessica Roy, a 24-year-old freelance copywriter and creator of the blog
STFU Conservatives
. Roy and Geary were online friends through Tumblr and when Roy became aware of Geary's Walk for Choice event in Chicago, she decided to help put together the Los Angeles event, which drew about 300 supporters.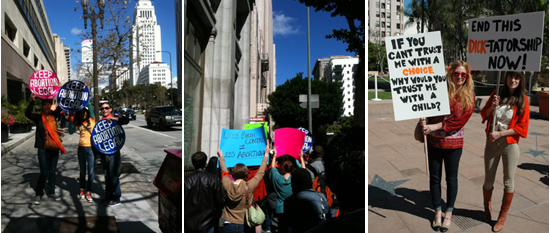 Roy, who grew up Catholic and of the mindset that abortion was only okay in instances of rape and incest, began identifying as pro-choice in high school and is "disgusted" by the GOP's blatant attempt to set women's rights back 60 years.
"The GOP has declared a war on women," Roy said. "They're truly trying to take our reproductive rights away. They're trying to
redefine what rape is
and Rep. Bobby Franklin from Georgia introduced a bill that would mandate state criminal codes to change the term 'rape victim' to 'accusers.' What's happening is disgusting and worrisome and we need to fight back."
These feelings were echoed by many women in attendance at Walk for Choice Los Angeles and like myself, Brandy Zzyzx, co-owner & art director of Los Angeles' Zzyzx Gallery of Natural Science, credits Planned Parenthood with helping her be the independent woman she is today.
Zzyzx grew up in a small town in rural Pennsylvania with abusive, working class parents and when she became pregnant after having sex just one time at the age of 15, Planned Parenthood was the only place she could turn.
"Where I lived there was only one place within a 20-mile radius for a teen girl to get any sort help with her reproductive needs—help that didn't require parental consent; help that was not religion-based; help that wasn't judgmental, and that that place was the local Planned Parenthood," Zzyzx said. "I came from a household of fear, control, and religion and I was uneducated about how to safely engage in sex."
Planned Parenthood referred Zzyzx to an out-of-state clinic that did not require parental consent and after her procedure, she continued to go to Planned Parenthood for reproductive services through her teen years.
"My parents did not supply or think to supply any reproductive health care for me. If Planned Parenthood wasn't there for me as a teenager, I would have never received a pelvic exam, a pap smear, birth control, or any other type of gynecological exam until I was an adult. It's sad, but it's the case for many young women from working class families," Zzyzx said.
Many young women today take their right to choose and the services provided to them by organizations like Planned Parenthood for granted. They are unfamiliar with phrases like "back alley abortion" and do not connect the dots between the struggles of early feminists and the services they have access to today.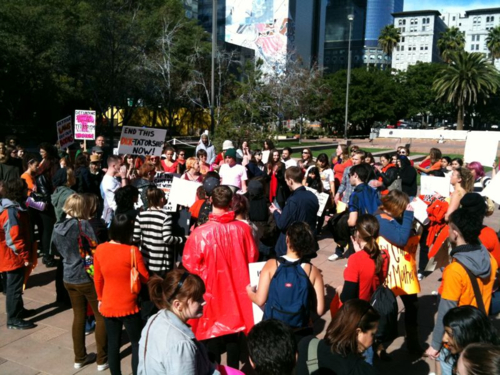 Thirty-two-year-old Zzyzx
chronicled her abortion
for I'm Not Sorry, a website that celebrates a woman's right to choose and she's concerned that people don't understand the seriousness of what's happening.
"If people do not wake up and speak out for the causes they take for granted, everyone will lose. Many people just don't understand what's at stake. They think it doesn't affect them, but it does; it affects everyone," Zzyzx said. "By providing reproductive and preventive services to teenagers, women, and the working poor, you are giving them options and providing them with control of their lives. This ability to delay starting a family is good for
everyone
. Children born to a stable home have a better chance at succeeding and productive families lead to a productive society. For a government to willingly ignore the basic needs of its poorest citizens to push through with a religious agenda is criminal."