Congresswoman Carolyn Maloney took the stage early on to set the tone: "It's not enough to just be here today. We have to move forward," she said, before giving the web address to her site,
www.womenmatter.us
.
On her site, she states, "The Republican's recent attacks on women's personal liberty and women's health are just plain wrong and we need to fight back. These attacks on women are stunning in their scope, appalling in their indifference, and outrageous in their arrogance. The Republicans in the House voted to deny Planned Parenthood all Title X family planning funding with the Pence Amendment. This bill threatens to deny millions access to HIV testing, birth control, and other family planning services—jeopardizing millions of lives."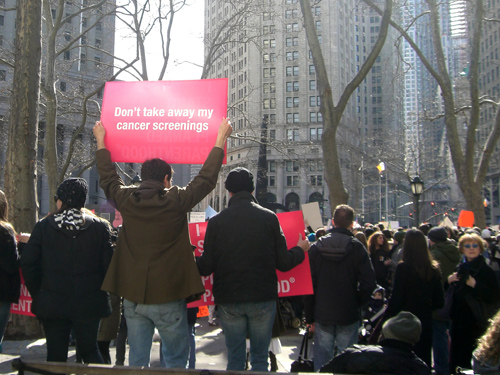 This is all in reaction to last week's House of Representatives amendment vote to cut federal funding for Planned Parenthood. The proposed cuts were introduced by pro-life Indiana Congressman Mike Pence, who said he wants to stop using taxpayer money to fund abortions.
Maloney, along with many employees and volunteers from Planned Parenthood, mingled with the crowd throughout the day asking supporters to sign that petition that would tell House Speaker John Boehner to let the Republicans who are supporting this bill know that they are wrong.
Other speakers at the rally included New York City Council Speaker Christine Quinn, Sen. Chuck Schumer, and notable guests Kathleen Turner, Gloria Steinem and Kathleen Hanna.
The overall message of the rally was that Planned Parenthood's program is not just about abortions. The organization says that abortions comprise only three percent of operations, and that its program also includes providing STD, HIV and breast and cervical cancer screening tests, and offering counsel and prenatal care to new mothers. Planned Parenthood states that more than 800,000 people use they services in New York alone.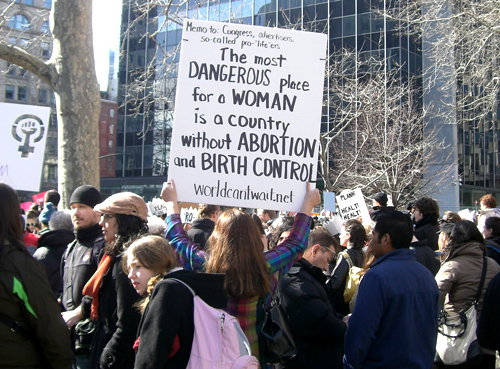 Creative, homemade, and sometimes shocking signs were held up proudly throughout the crowd, but the eye catchers were the bright pink posters that asked, "Will You Stand With Planned Parenthood?" which were displayed proudly by men and women of all ages and races.
Beyond the borders of the protected rally, pro-life supporters gathered in the surrounding areas to oppose the message. Others used the meeting of minds to call attention to the situation in Egypt, and recent state worker issues in Wisconsin.