Ricky Martin couldn't help but get personal at the GLAAD Media Awards on Saturday, March 19 at the Marriott Marquis in New York.
"A couple of months ago, I was being attacked by someone in the media in Puerto Rico, and I called GLAAD and I said, 'What do you do? Because I'm new at this, I really don't know what to do.' And they said, 'Don't worry, we'll take care of it.' And they hopped on a plane, and they went to Puerto Rico, and they did what needed to be done. And today, Puerto Rican television is one step closer to being free from hate, thanks to GLAAD," he said.
Martin received the Vito Russo Award that evening, presented to him by film and Broadway producer Craig Zadan. The award is presented to an openly lesbian, gay, bisexual or transgender media professional who has made a significant difference in promoting equality for the LGBT community—and Martin's decision to come out as an openly gay man has greatly impacted Latino youths and their families.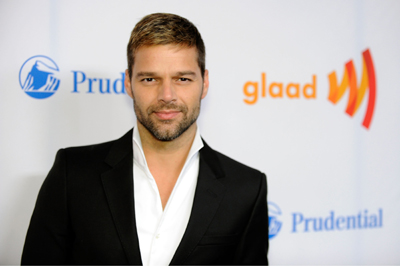 Vito Russo Award recipient Ricky Martin at the GLAAD Media Awards.
Overall, the reoccurring theme of the night was of hope, and moving forward to a world where members of the gay and lesbian community can be treated fairly, but can also have someone to turn to when they aren't. The awards honor media that has accurately portrayed lesbian, gay, bisexual and transsexual people in a fair way.
Outstanding Individual Episode in Television was presented by Pauley Perrette to "30 Rock" for the episode "Klaus & Greta", and was accepted by Tina Fey. "True Blood" won for Outstanding Drama Series, and Frank Rich of
The New York Times
was honored as Outstanding Newspaper Columnist. Other notable guests and presenters included Patrick Wilson, Denis O'Hare, Wilson Cruz, Jane Velez-Mitchell, Lawrence O'Donnell, Russell Simmons, and the evening's host,
Bravo's
Andy Cohen.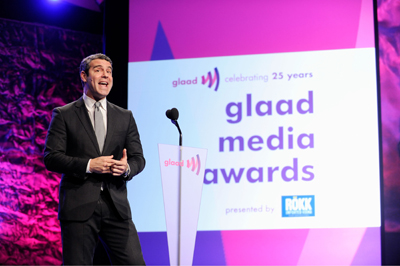 Bravo's Executive Vice President of Original Programming Andy Cohen hosts the 22nd Annual GLAAD Media Awards at the Marriott Marquis.
For more information on how to get involved with GLAAD, please visit
www.glaad.org.