Norwegian designer Elise Øverland took advantage of New York's chilly weather for the creative presentation of her Fall 2011 collection last week. In holding her show on the ice rink at The Standard Hotel, she mixed skate-wearing models with beautiful clothes, and a special presentation by Olympic figure skater, Johnny Weir.
Talk about bringing a presentation to life! Editors, buyers and celebrity guests were seated around the rink while the public gathered to view Weir's equally dramatic and flamboyant performance. What has been by far the most creative fashion show so far, we're only halfway through New York Fashion Week with lots of big designers yet to come.
On day one, Vena Cava called in the team at MAC Cosmetics to give the models the glitter treatment at MILK Studios. With their eyes practically covered in silver, gold and all metallic eye shadow and loose glitter, the collection was a bit of a glam take on the clothes wore in the 1990s—complete with a soundtrack featuring The Breeders "Cannonball" and Veruca Salt's "Seether" and other chick rock favorites. New "It Girl" models like Luisa Bianchin, Aminata Niaria, Alexandra Tretter and Misha Parkosz made grunge look girly for the show.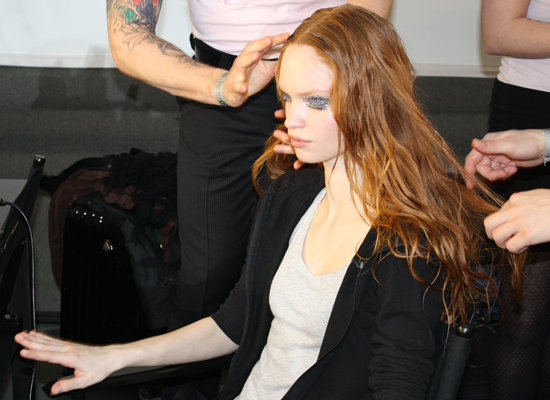 Backstage at the Vena Cava show with model Luisa Bianchin.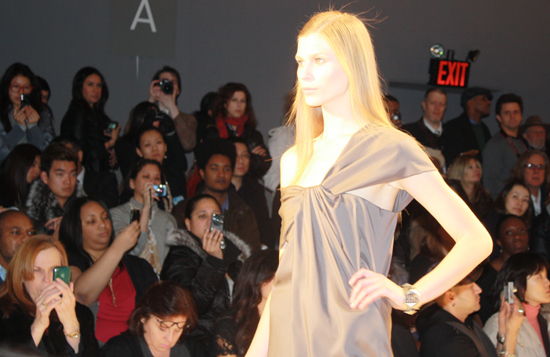 A model on the runway at Tadashi Shoji.
Someone who really knows a thing about rocking in the 1990s is Annie Lennox. The British singer left The Eurythmics, had babies, and then emerged that decade as a solo artist with the hit singles "Why," "Walking on Broken Glass," and "No More I Love Yous." She now has quite the connection to NY Fashion Week—one of those babies she had is now the 18-year-old Tali Lennox, an emerging model who walked the runways for Prada and Burberry in September and was seen this week in Doo.Ri's show wearing a grey one-piece suit and dark blue coat. The rest of Doo.Ri's collection was a bit more playful featuring sheer fabrics, and backless woven dresses.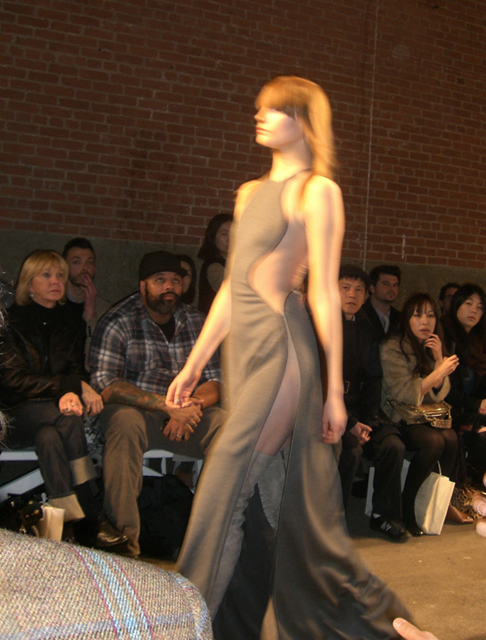 A dress from the Doo.Ri runway show, featuring a dress with nude material cut out sides.
Speaking of famous mothers, Fashion Week wouldn't be complete without a visit from 1970's supermodel and Studio 54 regular, Pat Cleveland, who reminds us that fashion still comes from a place of great pride and playfulness. With her daughter, Anna van Ravenstein, now on the runways as a model herself, it's easy to see that this daughter inherited her mother's good looks.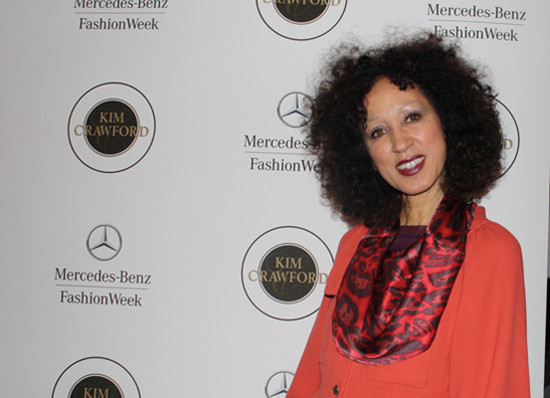 Iconic 1970's supermodel Pat Cleveland
"She's just having splendid time," Cleveland said. "My advice to her is to just keep going!"
Finally, at the G-Star RAW show we were treated to some of our celebrity favorites who are always fashion forward. Allan Cumming sat beside Jared Leto in the front row, along with British actress Gemma Arterton, Rosario Dawson,
Skins
star Danny Flaherty, and Mena Suvari.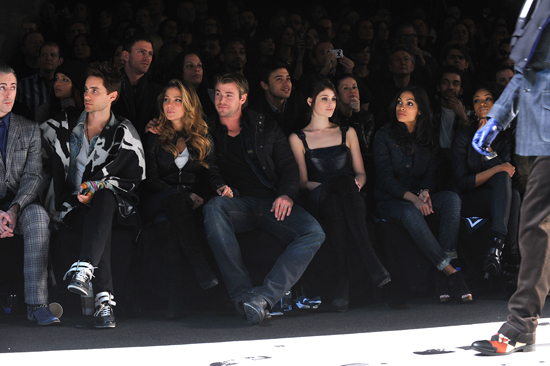 The front row at G-Star: Alan Cumming, Jared Leto, Elsa Pataky, Chris Hemsworth, Gemma Arterton, Rosario Dawson and Yaya DaCosta
The collection played with G-Star's usual denim/rock vibe, but with a touch of technology added, like 3D tailoring and weatherproof fabrics, fully living up to their reputation of unexpected combinations.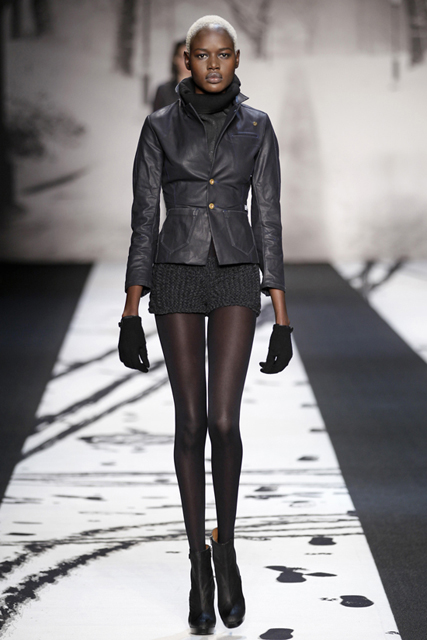 A womens runway look from G-Star