The first night of New York Fashion Week certainly ended with a bang as designer Richie Rich—who has previously featured porn star Jenna Jameson, Playmates Pamela Anderson and Anna Nicole Smith, and transsexual icon Amanda Lepore on his runways—had Ellen DeGeneres close his show at Lincoln Center. The lesbian luminary-cum-Covergirl-spokesmodel pouted her lips and did her best strut as confetti was blasted into the air to the delight and amazement of the unsuspecting audience.
Rich's "Popluxe" show, a mix of latex, leather and lace, featured chain collars, assless chaps, and tight black gloves interspersed with frilly frocks. The collection, although Rich's solo line, was very reminiscent of the Heatherette label he designed with former business partner, Traver Rains. The entire affair was as much a nightclub scene as it was a fashion presentation with a DJ spinning dance music—in honor of Rich's club kid days in the 1980s.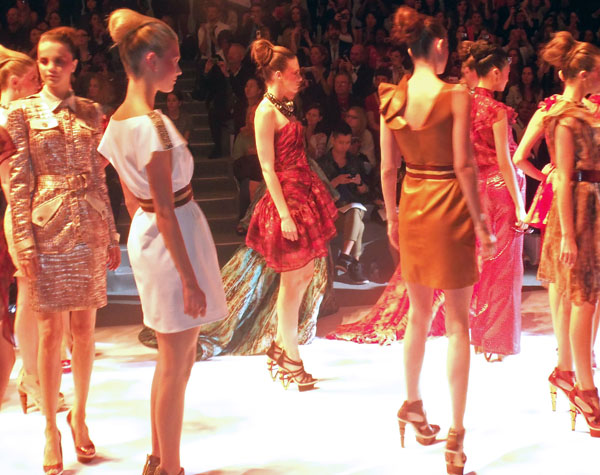 The finale of Project Runway winner Christian Siriano's show
Earlier in the day, season four
Project Runway
winner Christian Siriano once again showed off his "fierce" style to the packed crowd that included supermodel Veronica Webb,
30 Rock
star Katrina Bowden and the designer's long-term partner, Brad Walsh. The animal print-heavy show was a mix of cocktail dresses and giraffe pattered suits, and as always, three showy ball gowns.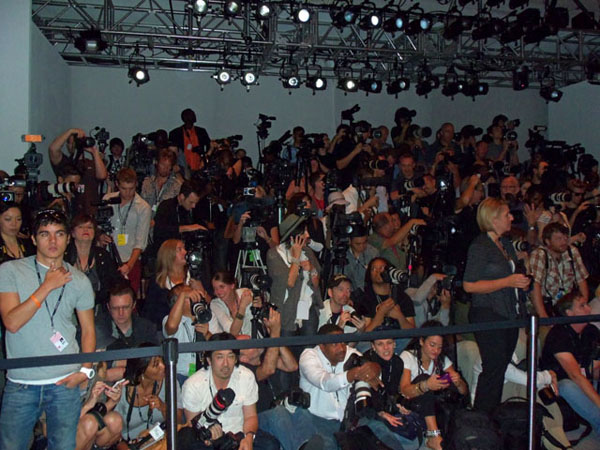 A shot of the many photographers ready to shoot the runway at Lincoln Center
Despite the stir he created two years ago when he was "outed" in a
Bitch
magazine editorial for his use of the phrase "hot tranny mess" (he quickly apologized to GLAAD for anyone he may have offended), Siriano, a former intern for Marc Jacobs, Vivienne Westwood and Alexander McQueen, continues to see a spike in popularity.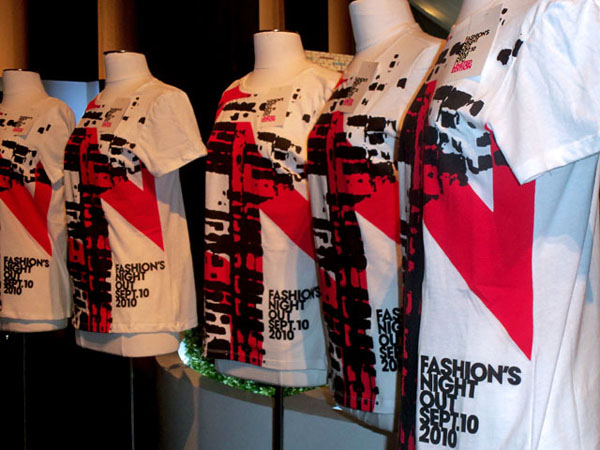 Fashion's Night Out shirts on sale before the big evening on September 10th
Today marks the second day of New York's Best-Dressed week, but many designers' shows take a back seat to Fashion's Night Out this evening, when most every fashion emporium in Manhattan keeps its doors open late and entertains the masses with free in-store concerts, DJs, cocktails, sales and a city-wide party that stretches from the Upper West Side to Soho. Highlights include Victoria's Secret bombshell Adriana Lima modeling lingerie at the Soho shop, Naomi Campbell helping Dolce & Gabbana celebrate its 25th anniversary, and pop superstar Janelle Monae performing at Ralph Lauren's West Broadway location.