The otherwise girly girl who has never been scared of platinum blond hair and red lipstick was all about the androgyny, putting women in strong suits in her show at Lincoln Center where her husband, Gavin Rossdale, watched with their two sons Kingston and Zuma. Since her first hit, "Just A Girl," followed by solo albums and a burgeoning fashion career, Stefani has been a strong role model for women trying to balance a family and a career.
The female empowerment trend was a theme throughout the week, with designers shying away from frills and lace and presenting fabrics and shapes for both men and women. Backstage, at Nanette Lepore earlier in the week, even the makeup and hair stylists were taking cues from this theme.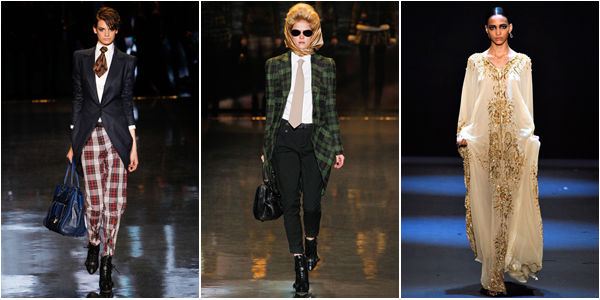 Left: LAMB menswear look for women by designer Gwen Stefani; Center: LAMB menswear look for women by designer Gwen Stefani; Right: A powerful look by India-born designer Naeem Khan. (Photos via Style.com)
"I loved the '30s and '40s. It was a time when girls were so modern and they were so cool and they were taking off their lingerie and being free," said the show's makeup artist, James Kaliardos for M.A.C. "But then the war came and screwed everything all up. Because the men left and they were working, and then they came home and had to go back in to the kitchen. I like to think that if the war never came, we'd be in a different place."
He accented each model with powerful red lips to accompany the collection, mostly of tweed jackets and pants and printed dresses, along with hair that was kept back in '40s-era braids. The show was viewed from the front row by
Boardwalk Empire's
Kelly Macdonald, actress Lilli Taylor, and
The Today Show's
Natalie Morales, who all exhibit strength in both the characters they play or in their daily professions.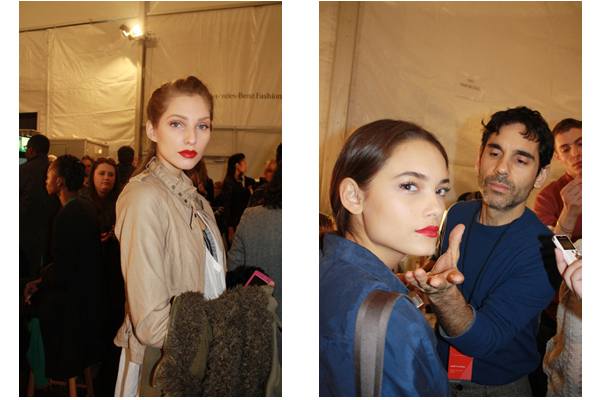 Left: A 1940s-inspired look backstage at Nanette Lepore; Right: The show's makeup artist explaining the powerful red lip look at Nanette Lepore (Photos by Renee Lucas)
Finally, the club kid Jeremy Scott—whose clothes are often more conceptual than wearable—sent a few different versions of Wonder Woman down the runway, along with some other looks that resembled Rainbow Bright and Jem. But beyond the sparkles and costumes, this show was all about social commentary and representing some of our culture's female figures who are recognized for not only their fashion sense, but for their ability to take charge.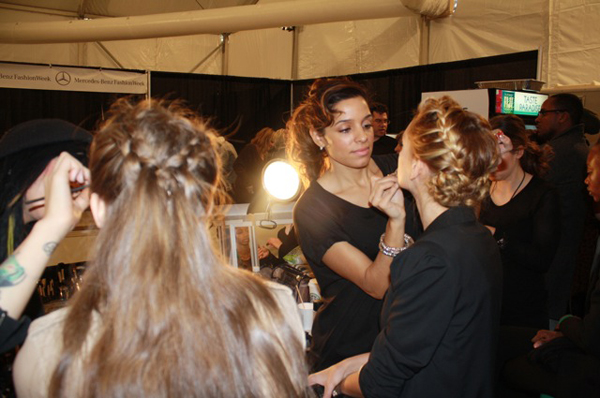 Hair and Makeup backstage at Nanette Lepore (Photo by Renee Lucas)