It wasn't easy but I managed to grab the über-busy young owners to dish about this delish corner of the SOMA district. Rose (or Mrs. Wicked Grounds as she's commonly known) is an attorney hailing from England. Her husband Ryan (Mr. Wicked Grounds, or Psychokitty) comes from the Chicago nightclub scene, and he is the public face of
Wicked Grounds
. He's seen pouring coffee or organizing things at the cafe most days of the week.
What is Wicked Grounds?
We're a kink café and boutique of the regular old-school comfy variety, which seems so rare these days. We take pride in serving high quality food and drinks. Adult art on the walls, adult toys and kink/BDSM/leather books are sold as well. It's age 18 and over, so you can feel free to talk about whatever you like without worrying what the people at the next table think. Sometimes, they might be sitting next to the table on the floor. Not everyone is nice enough to let their "pets" sit on the furniture.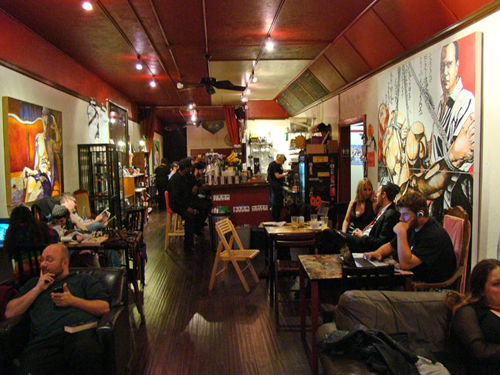 Visit Wicked Grounds:
Tell us what Wicked Ground isn't.
We are not a dungeon, so you can't get naked and frisky (but you can have a bit of a play, so long as you stay street legal clothes-wise!). We're a sober place, so there won't be any beer or wine service. There are plenty of other places you can go to get a beer with your naughtiness.
When and why did you decide to open the café?
About two years ago, and we started work on it six months after making that decision. We wanted to give something to the community—something that wasn't already there like a dungeon or a bar—something that was more like a clubhouse everyone could come to, where everyone is welcome and could interact.
So many different circles of people come to WG, it's beautiful.
Tell us about the labor and challenge in "delivery." The café's birth was very unique, as so many locals pitched in. How did that come together?
Money was the biggest challenge. We badly wanted to bring the café to the community, but there was no way that we could pay contractors to do all the work, so we enlisted the help of amazingly generous people in order to get everything done. In a way, the community brought the café to us as well as us bringing the cafe to them!
There were other challenges, such as city bureaucracy. At one point we had to go so far as dig up the concrete behind the bar to show off the original building plumbing. It set back our opening date almost a whole month. We got the plumbing sorted, the concrete re-poured, and got back to work, leaving only a few weeks before 400,000 people would be on our doorstep for the
Folsom Street Fair
. We opened our doors for the soft opening on September 16th, 2009. That gave us only two weeks of shakedown time before the fair.
Yeah, we barely knew how the place was going to be running before we were invaded by Folsom. Our first Folsom Fair was a hot one. The place had little in the way of ventilation. We called it the Folsom Sauna—though many people stripped down to their underwear because it.
We had new windows installed shortly after, ones that actually open.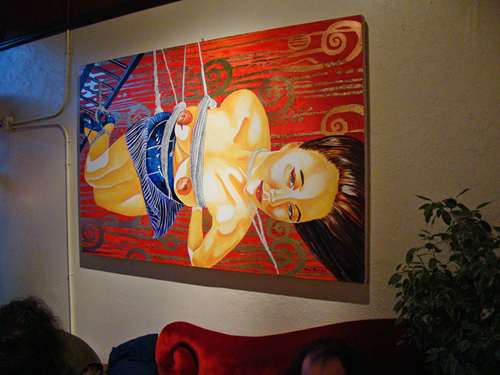 As a serious foodie, tea & coffee snob, I am truly delighted with your fine coffee, tea and unusual soda choices. Your sweets and savories are wonderful too. Why did you go for the fine café foods instead of the bar drinks and pretzels commonly associated with the pervy set?
It's all very well having a unique idea for a niche market, but if it fails in the delivery, then people will only come once to say that they've been and done it. We searched for quality suppliers to make sure people would keep coming back. With a strong desire to get things as locally as possible, we were very fortunate to be in San Francisco with all of its great third wave coffee production. There are several great local roasters in town and we went with one of the best. And Ritual Coffee led us to Red Blossom Tea. Both of them have a great passion for their products.
We're not just all about the sex positive community. We're about the local community as a whole.
What purpose and niche do you feel WG fills for the kink folks? What purpose and niche do you feel WG fills for San Francisco in general?
For the kink folks: somewhere they can meet, chill out, without the pressure to play, pay to get in, or drink alcohol. Somewhere they can eat before a date, or meet a new person in a safe place, with the freedom to talk about anything.
For San Francisco in general: somewhere that curious people can come and learn about what the kink community is all about, or for *good* coffee until 2 a.m. on a Friday and Saturday night.
Many other things happen in the café. Fill us in on some of the special events and regular functions that happen there.
The most common event we have are the munches—casual meeting for people with similar interests. Our most popular is called Rope Bite. It packs the place with people who like rope or want to learn more about it. By the end of the night many are in ropes, showing off knots and sharing what they know and generally just fit to be tied. Another is Stampede, the pony munch, for people who like to play as ponies, from the pretty pony to the working horses. We've had some great one-night events as well: The Kinky Comic Carnival with several local artists and authors who sold their own books, art, sign stuff, socialized and had a great time.
An amazing massage guy sets up a few nights a week, as well as games nights, boot blacking, and of course, the general debauchery that perverts can't help but to commit.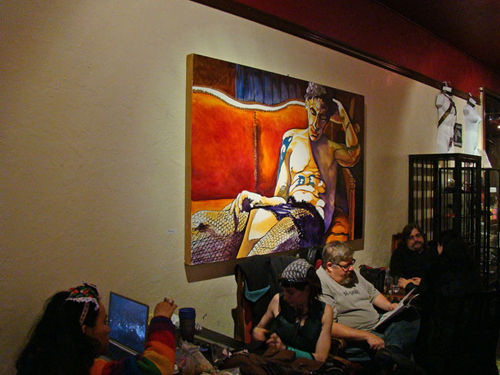 How do new customers and tourists react?
Some walk right in and out again once they've realized what kind of cafe we are! But that doesn't happen all that often. People who remember the gay, leather, biker bar, the Hole in the Wall, that was here before come in and comment on how different it looks and ask about the big candle that was on the bar (which is long gone!). Other people say how they've been excited to visit since we opened, or compliment us on how what we're doing is wonderful. It's a lovely thing to hear!
Who were the most memorable or unusual customers you've had?
One of our more memorable customers comes in regularly to have tea dressed in head to toe latex having to drink their tea through a straw.
Tell us about your unique furniture and "architectural features". I love your tables!
Our tables were one of the donations from the community's hard work. We bought plain wood tables and people decorated them! One shows some basic rope work. We also realized how the gaming and kink communities are very intertwined, so sunk in some game boards on a couple of tables.
The bar is the original from the Hole in the Wall, and we're very glad to have that history as part of our cafe. Our bathroom feels quite medical. We know how people love the creepy and cold feeling of old hospitals, so we integrated that into our bathroom, including an X-ray light board.
There are a few secret suspension point and hitching points. We have one cage so far, and are planning on getting more.
What's fun, new and exciting in the near or far future for WG?
The far future is a well-guarded secret for now, but we have some really exciting ideas. Keep your eyes out for our sexy parties to come!