Yesterday, President Obama named Elena Kagan, "one of the nation's foremost
legal minds
," as Supreme Court nominee amid cheers and controversy.
Painted by
conservatives
as an "idealist" and a "radical," Elena Kagan is the second female nominated by President Obama to the Supreme Court, the first being associate justice
Sonya Sotomayor.
But allegations have also been made by conservatives that Elena Kagan has had "
possible life experience
as a gay woman" and commentator Andrew Sullivan is calling for Kagan to be interrogated about her sexual history, presumably during her Senate confirmation hearing.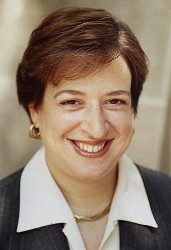 Solicitor General Elena Kagan has never identified herself as a lesbian, but her actions in criticizing the military's
anti-gay policies
may have driven conservatives to such conclusions. President Obama doesn't seem to be concerned who she's sleeping with—the President stated he believed it was "
very important
" to have a justice to interpret the Constitution as protecting individual's rights, including female reproductive rights.
But Kagan is on record as saying she detests "polite and restrained" confirmation hearings, calling them a "vapid and hollow charade," so there's a good chance we'll soon be hearing a lot about her
political views
—whether or not she chooses to disclose aspects of her personal life that would have no bearing on her ability to perform the job.