Many people want to try anal play or anal sex, yet they are hesitant to do so. There are many reasons for their hesitation. One major concern is having "funny things" come out during anal play. Now although it is only natural to have "things" come out on the toy, or the partner's penis, this does not mean that you can't avoid it. The best thing to do is to prepare yourself for anal sex beforehand. Unlike vaginal sex, anal sex is usually better when it is planned than when it is done spontaneously, this is because the receiving partner has less things to worry about, which helps her/him to relax and enjoy the activity.
Decide, with your partner, on a date that you want to perform anal sex, or anal play, on. This will give you more time to get yourself physically ready for it. Of course, this does not mean that you cannot have spontaneous anal sex with your partner, as long as both of you are comfortable with it and have a full understanding with each another.
For those who prefer to prepare themselves for anal sex beforehand, there are many things that you can do. First, drink plenty of water daily. Water is very good, not just for anal sex but for body health in general. Drinking plenty of water is important as it can help flush out all the toxins and waste out of your system, and it also makes your poop softer. Having softer bowl movements helps when you are flushing your rectum with an anal douche. Another important thing is eating plenty of food that is rich with fiber and whole grains. You might wonder why this is important, but the fact is that fiber-rich foods are important for your intestines and bowl health. Fresh fruit, vegetables, whole grains and unroasted nuts are great examples of high fiber food. All of this helps make your poop softer, which in return makes the process of flushing out your intestines faster and smoother.
Additionally, you should flush and wash your anus from the inside before anal sex. In order to do so, you can use a rectal syringe or an "anal douche" product. Make sure to place lots of lube on the tip of the syringe and also don't force it inside, otherwise you could scratch your rectal wall which could lead to serious health problems. To avoid that, place some lube on one of your fingers, insert it inside your anus and then slide the syringe along side your finger slowly. Make sure to fill the syringe with fresh clean water (I would go with cold/semi-warm water since rectal tissue is very sensitive and you don't want to burn yourself) then, once it's inside, release the water from the syringe. Be warned: nasty stuff will come out so don't be alarmed. Do this process 4 times, and make sure to place plenty of lube every time on both your finger and the rectal syringe. The image below shows a standard anal douche that you can use to clean out your rectum.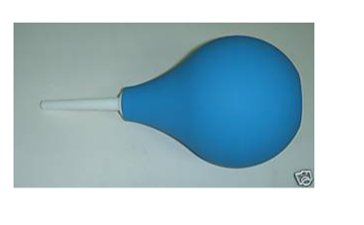 (Link for image in bibliography)
Moreover, playing with your anus, using a finger or a toy, on a regular basis will help dilate and relax your anus. Now for the beginners out there, you have to understand that anal sex is quite different from vaginal. No matter how aroused and stimulated you will be, your anus will not dilate that much and so it will help if a couple of days before doing anal sex, you start playing and massaging your anus with your finger or a small size butt plug. This will get you in the mood and will also help your anus start relaxing and getting used to having something inside there. You can do this in the shower. Also, make sure to do this before engaging in anal sex. Foreplay and anal play is usually the best way to start preparing for anal sex, and getting both your partner and yourself aroused and in the mood. In addition, make sure you always wash your butt after you go to the bathroom. Toilet paper doesn't cut it ladies, and this is not just for anal sex but for personal hygiene in general. Make sure you wash your butt, after every time you poop, which should be a healthy once a day.
Anal sex gets better in time so be patient. As I said before, anal sex is different from regular sex, so you have to give it some time before you start enjoying it. Always make sure you are relaxed and not tensed up to ensure that you don't suffer pain, and the more times you try it the better it will be, so please ladies and gentlemen be patient and take it one step at a time.
These are my steps for getting ready for anal sex, and I hope they help as many of you out there as possible. If you have any questions please feel free to email me or place a comment below, and I will make do my best to answer your question.