"A gypsy fire is on the hearth, Sign of the carnival of mirth; Through the dun fields and from the glade, Flash merry folk in masquerade, For this is Hallowe'en!"
A Short History of Halloween
Halloween, or All Hallows' Eve, is an ancient religious holiday that has become a secular tradition in America and many other countries. Religiously, All Hallows' Eve is the evening before All Saints' Day, proclaimed to be November 1st by Pope Gregory III (731-741). While some believe that All Saints' Day was purposefully placed to overlap the pagan holiday Samhain, others contend that the feasts overlap was coincidence. Regardless, by the end of the Middle Ages, many of the traditions of Samhain, originally the Gaelic harvest festival, had been incorporated into the religious holiday of All Saints' Day thus merging the sacred and secular days.
Although the Protestant Reformation attacked many traditional Catholic holidays, Halloween survived as a secular holiday in Ireland and Scotland. Early America largely ignored Halloween; it wasn't until the influx of Irish and Scottish immigration that the holiday was widely celebrated in North America. By the early 1900's though, Halloween was a staple holiday of American society.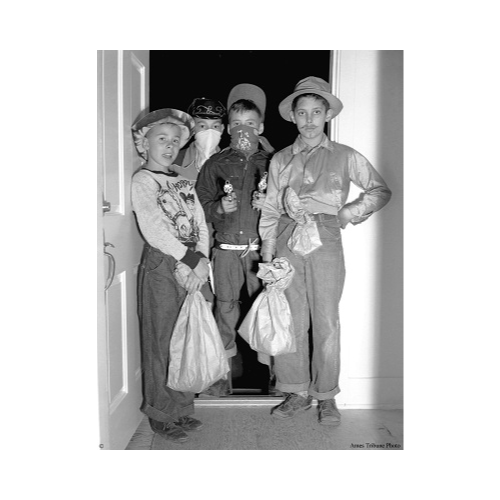 Short, skimpy halloween costumes have been documented for a hundred years, going all the way back to the silent film stars of early Hollywood. It wasn't until much later that mainstream America embraced the super-short, super-tight costumes - beginning in the same era that brought us the micro mini. While the 60's may have been the advent of sexy Halloween in America, it wasn't until the 90's that the trend began to climb beyond large metropolitan cities and into homes across the US.
By today's standards the "sexy" costumes that began it all, such as Muriel Evan's unamused witch from the late 1920's, aren't considered risqué at all. As shorter hem lines and tighter outfits have become standard wear, costumes have continued to press boundaries, resulting in barely there outfits that show far more than they conceal.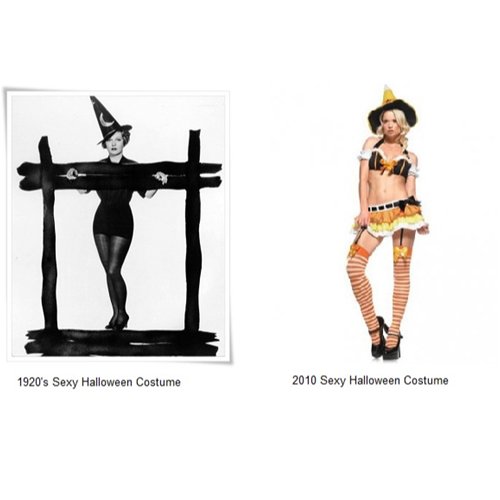 While the Halloween trend of skin certainly raises ire for promoting gender stereotypes and inequality, it's not the sexy witch and slutty nurse costumes that are at fault. It's us. Costume companies make costumes to sell. If they don't sell, they stop making them; supply and demand, probably the simplest economic principle in existence. As long as we're buying these sexy costumes, supplier will keep making them. And realize that if the longer hemmed, less skin-baring costumes sold as well as the short, sexy costumes we'd have more of them on the shelves.
But what is this trend telling us and where is it going? Is the evolution of Halloween sexy going to end up with us wearing nothing but body paint as costumes? No. We've reached the pinnacle of barely there costumes, as evident by the massive push-back in the last couple years against the trend. Does that mean we'll all be in ankle length costumes in a few years? No on that one too, but expect to see more mid-length hemlines in the next few years as suppliers try to offset the backlash they're currently getting.
The interesting thing about these sexy costumes is that the most popular of them are either licensed costumes, cute costumes, silly costumes such as the "Sexy Watermelon", or costumes that, while skin-baring and sexy, are symbols of strength and equality for women. A popular lingerie website, with an extensive sexy costume selection, lists their #1 selling costume for this year as a SWAT costume, and while no real SWAT officer would be wearing that little on the job, the symbolism behind the costume speaks volumes. We maybe be bearing nearly all for Halloween, but we're doing it in the guise of strong women and professionals, adorable animals, joke-style costumes, and even the Statue of Liberty - which happens to be #4 on the aforementioned website's list.
Are we being sexually objectified at Halloween? Sure we are. And it will continue even if the hem lines reach our ankles. You cannot dictate the thoughts of others, and some people will always see women as objects more than people. Instead of worrying about what others are thinking, wear your costumes for you - short or long, tight or billowing, it doesn't matter as long as when you look in the mirror you see a confident, complex woman and not just an object of sexual interest. Let others think what they will. The devaluation begins only when we think of ourselves as less than what we are.
Sexy Halloween costumes aren't what's affecting our youth. Short hemlines aren't going to damage our children. There is nothing about the human body that will destroy our kid's decency and morals. The problems lie in how we act and react with respect to our bodies and those around us. And it isn't limited to Halloween. In fact, I'd go so far as to say Halloween, sexy or not, is probably on the bottom of the list of problems.

The need to seek outside approval, and idea that happiness is what others think of you is the issue that's plaguing our youth today. Girls need to be pretty, they need to be liked, and those feelings aren't coming from within. So they turn to make-up and clothing and objectification to supplement what they aren't getting from themselves: a feeling of self-worth. The sexy costumes and short skirts aren't at issue - it's why they're wearing them that really scares us as parents.

Instead of worrying about the length of a skirt (beyond decency anyway), concern yourself with why our youth feel the need to bare all. If they're embracing their body and enjoying the freedom of movement a short skirt provides, what's the harm? If they're seeking attention, or doing so because that's the only way they feel "pretty", however, there's a problem, but a longer hem isn't going to solve it. Learning to accept and love themselves, embracing their mind and body for their intrinsic value and not external approval, and gaining confidence and self-esteem are the answers, but it's a lot easier to blame sexy costumes and short skirts than to tackle the deep problems at the root of the issue.
I sat down with my 8 year old daughter and we browsed some adult costumes, first of the longer variety and then of the shorter variety. True to her personality, she preferred the cutest or the most glamorous looking outfits, irrespective of hem length. She liked the bouncy short skirts and the petticoats peeking underneath, she oohed over the long gowns with their glitzy belts or pretty hip shawls.
When comparing scantily clad gypsies with their long-skirted counterparts, she invariably preferred the full length skirts. Why? Because "they look more real." I asked her to choose between sexy Marie Antoinette and historically accurate Marie Antoinette. She asked if they had a long skirted one in the shiny colors. When I said no, she chose the short version. Apparently shiny tops real. And for a final comparison I pitted floor-length gown Lady Dracula against mini-skirted Lady Dracula. Her favorite? A floor length version with a thigh-high split.
The few outfits I showed her that were extremely short or overly revealing she didn't like. In fact, when I asked her if they were sexy she shook her head and told me, "It's not sexy to show off your private parts like that." And for the record, they didn't quite, but a sneeze might have done it.
The moral of this story? Kids see what you teach them to see. Teach them that self-worth is beautiful, and sexy is loving yourself, and that their value comes entirely from within and when they grow up it won't matter if they're wearing
Teacher's Crush School Girl Set
or a historically accurate Queen Elizabeth gown - you'll know they are happy, healthy, and as beautiful inside as out.
So bring on sexy Halloween. Hem lengths don't change the fact that it's really just about having fun.