I chanced upon Jess C Scott's
erotic stash
during a Google search for "quality erotica."
I thought the stash was a rather interesting and well-curated personal collection. Scott's bio page stated that she is "the founder of
jessINK
, an innovative publishing company that focuses on substance over current fads and marketing hype," which made me curious enough to look into her erotic works.
So I downloaded a copy of
The Art of Erotic Writing
, Scott's free eBook on quality literature.
The old-world and tasteful cover was appealing. There is "nudity" on the cover, which the painting depicts in a more sensuous than lewd way.
In the introduction to the eBook, Scott shares how the following two quotes reflect her belief in the need for quality erotic literature that deals with sexuality in an enriching, authentic way:
(1) "...Indeed, it makes it vital for good erotica to be published, so that we can see for ourselves the difference between the life-enhancing, and the sordid and destructive..."
--Erotica: An Illustrated Anthology of Sexual Art and Literature, by Charlotte Hill and William Wallace
(2) "Real sex is the sort our culture and most mass media propaganda don't recognize: not that intercourse, or masturbation, or genital kisses aren't real sex, but some other things are real sex too, which people need, but which don't excite our time and age..."
-- The Joy of Sex, by Dr. Alex Comfort
These two quotes reflected my own long-time jadedness with pop culture. Once in a while, I truly get tired of hype and wish to find something unique.
Perusing more of the jessINK website led me to Scott's YouTube channel, where she posts book trailers produced under the jessINK brand, which at present, is a one-woman operation handling writing, editing, publishing, book cover design, as well as book trailer production (!).
This is a tantalizing synopsis for
4:Play
, Scott's multiple genre-crossing first erotic anthology.
Scott's kind and inclusive stance is evident when she talks about the writing process for this anthology, which features taboo sex, incubus/succubus sex, LGBTQ relationships, amongst other sexual situations.

About this anthology, she writes: "When it comes to original/innovative fiction, I don't believe that a book should be only about gay fiction, or only about urban fantasy, etc. I'm all for diversity, open-mindedness (however one wishes to define that), and having the freedom to be who/what you are with yourself and others."

This is another video based on a poem that appears in 4:Play. The old-world charm and tasteful aspect of the text and choice of visuals were reminiscent of my experience with first coming across the cover for The Art of Erotic Writing.
I then chanced upon another one of Scott's free mini eBooks, titled
PLAY / BDSM: Walkthrough
.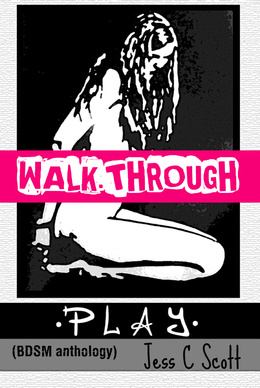 This was a joy to discover, as the stories depict a wide-ranging and authentic portrayal of what real BDSM is like, in terms of "daily action" among regular people who are being experimental with their approach to sex and sexuality. These five stories cover themes such as a rape fantasy, BDSM switches, knife play, along with shibari and mild erotic asphyxiation.
What I noticed about the erotic fiction at jessINK was that most of the stories did not follow the "fairytale" happily-ever-after ending in many contemporary erotic romances. I think this is a significant feature of the erotica at jessINK, if readers are seeking open-minded erotica that is more creative than shallow and predictable.
In the introduction to
PLAY / BDSM: Walkthrough
, Scott asks whether porn is really the way we should define our sex lives. When asked to define the difference between erotica and porn, Scott replied: "As with all good literature (in my humble opinion), quality erotica tends to have some kind of social value and artistic/literary merit involved. Pornographic writing is pretty straight-forward: the primary purpose is to make a profit via the stimulation of arousal from selling sex (from the depictions of graphic sex acts). Plot, structure, and style, cannot ever get in the way of this commercial aim of the product."
If you're seeking fifty different shades of billionaire erotica, you'll be able to find them in abundance online. If you get tired of that some day and would like to try something different, swing by jessINK and browse around online. Some of the freebie eBooks and sample chapters should give you some important things to consider and think about—intrinsic values that are a world of difference from the stuff the hype-fueled mainstream media prefers to promote.