Dave Gammon, the lucky scoundrel, got to spend some time talking with Jessica Drake, a porn actress and director from San Antonio, Texas. And he got to do it on her birthday. So just what was "the wickedest girl" in porn thinking about on her birthday? We'll let her tell it.

DAVE GAMMON: A very special, warm welcome Ms. Jessica Drake to EdenFantasys. Today marks a special occasion, not only to have the opportunity to chat with one of adult film's living legends, but I understand today is your birthday. And a very happy birthday indeed! Any special festivities planned for later today?

JESSICA DRAKE: Well I just got back from brunch with some loved ones and I'll probably go to the beach later on today. That's all I could ever ask for.
JD: It depends what I'm wearing and what I look like. On my off days, most times, I run around in jeans and a wife beater and not a whole lot of makeup. The die hard fans recognize me even without makeup. When I'm dressed up, I'd say at least once a day if not more.

If I'm in a really public place, like a night club, or the airport, or sometimes if a shopping mall is really crowded it ups the chance of being spotted.

But I got recognized in the grocery store by my house. I'd been going there for a really long time, and thought I was being pretty low key about it because no one ever said anything. One day I had a bag boy follow me out to my car and got me to sign a brown paper bag.

I asked, "Oh, so I guess you know who I am?"

And he said, "Oh we've known who you were since the day you started coming in here. Why do you think the store's always so quiet when you appear? We're all up in the break room watching you."

DG: Wow that's flattering but a little eerie all at the same time.

JD: Yeah, it just goes to show you, you never really know who is watching. It's not just watching me, but watching everybody. It's a really small world sometimes. You just never really know. Usually everybody is really cool with me about it though.

What I don't like is when people see me out in public and I think maybe they're too nervous to say anything. So instead they just kind of lurk. They'll follow me wherever I am, and just keep a bit of a distance, but they're still following me.

That's not cool. They should just come up and say hi. You know? That's cool. I like that.

DG: For those of us who have been under a rock, or just newly enamored with the xxx world, what would you say Jessica Drake is most noted for?

JD: I'm the wickedest girl. That would probably sum it up. I'm really approachable. I'm really accessible. I love sex. I'm a workaholic. I'm super creative. I have my hand in a bunch of different projects all at one time. I try to do it all, even though it doesn't always work.
JD:
Awhile ago, I noticed a shift in the demographic of people coming, not only to see me, but all of the Wicked girls at our appearances. We do conventions all over the world, book store signings, host parties.
I noticed I had an influx of women that were very, very comfortable with whatever venue I happened to be appearing in. Three to four years ago, when I was doing signings in these adult stores, I would see a few women that were there with their partners, but they looked a little out of place. Now, with the trend leaning more towards boutique stores for retail places, I think they really cater towards women. They make them feel a lot more comfortable when they're shopping.
I began to notice that, and I began talking with a lot more women when they were coming to see me at these signings, and answering their sex questions. They always came to me for advice like how to give a better blow job, how to dress sexier, or how to know if your husband is cheating. He wants to have a three-some, should we?
I started doing seminars on those topics, called the Wicked Woman. I do some that are very specific. Fellatio and blow jobs, and I'm working on a new one called Six Steps to Seduction. And doing those, it was only natural to consider a line of instructional DVD's. So, I approached Wicked over a year ago, and I told them that I saw a place in the market for what I was trying to do.
Obviously I'm not a doctor. I'm not a rocket scientist. I'm not super critical in these things. But I do have a basic sex education. I'm taking some classes right now, as well, to sort of add some legitimacy to being a sex educator. But I'm also drawing on a lot of life experience. Not just my time in the business, but before.
I'm very supportive of my friends asking me for advice about sex in their relationships. It's always been something that's come very natural to me. So my goal was to get into something instructional. I want to carve out a very firm place in this market. The women that come to me just absolutely inspire me.
The Nina Hartleys, Tristan Taorminos, the Candida Royalles, these are women that have made such a difference in the sexuality of women and the sexual exploration of couples. I'm very honored. I'm a little intimidated. I'm very honored to follow in their footsteps. Hopefully I will join their ranks.
DG:
I appreciate where you're coming from. I don't think there's any need or reason to feel intimidated. I think you can safely say your name in the above mentioned in the same breath and it still holds validity. Do you have a name for the line and are any of them available on the market as of yet?
JD:
Oh absolutely. The name of the line is Jessica Drake's Guide to Wicked Sex. They're called Fellatio, my first volume, Anal, Positions and I'm in post-production* on Masturbation.
DG:
What has been your proudest achievement on the other side of the camera directing, and what are some of your biggest obstacles while on set?
JD:
It's really tough. I think what I'm most proud of is the way that my career continues to evolve. I get restless and sometimes I get bored easily, which is why I try to have as many things going on as possible at one time. I'm very proud that I took a risk at making the first instructional.
I went really outside the box. I shot with an entirely different crew than what Wicked ordinarily uses. I shot on a different camera. I was not one hundred percent sure this was even going to work, to be honest.
I had a very clear idea. I was concise in what I wanted from my performers, my crew and my editor in the long run. I just went in believing that it would work. When we looked at the first screener for Fellatio, something clicked. I thought to myself, this is exactly what I want to be doing. Then it was just a matter of refining it from there and getting it down. When I saw the first screener for the anal edition I was very, very proud of that.
In terms of obstacles I haven't really encountered any. In the very beginning, I think I fought a bit with, not so much fought maybe that's not the right word-just sort of establishing my new foothold as a director; not just because I'm a woman, but I think a lot of the people I work with are used to seeing me as a performer.
Not that I was ever just a performer but I did a lot of things with Brad Armstrong's movies, so I was able to learn a little bit about the business than somebody that was just talent and never anything else. It really wasn't that big of an obstacle. I certainly overcame it very quickly.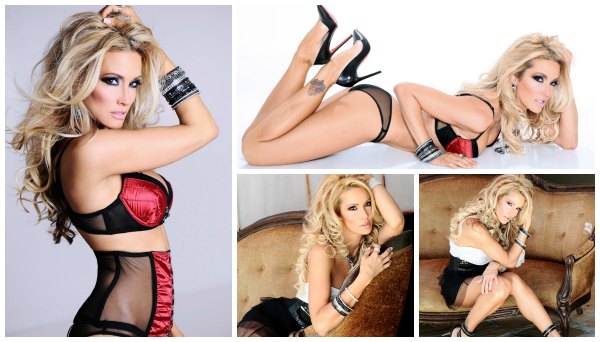 JD: Oh my gosh, there are really a lot of them. As far as the instructional videos go, I was shooting a couple that doesn't really have a lot of experience in general. She got the giggles really bad. It was an anal instructional so we're using all of these anal angles and techniques. She was laughing her ass off. Then it was catching and everyone else was laughing too. I was like, "Come on guys, focus," but it was really funny too.

I've had people get into the sex so much that they fall. Stuff like that happens all the time, though. I have a lot of fun on my sets, for the most part. I let people have the sex that they want to have. I put people together, I'm very careful with my casting. I try to get better sex that way, you know. I think part of having better sex is just being able to laugh at what's going on. If it's funny, of course.

DG: Describe one unusual fantasy. Do you have any kinks to call your own?

JD: Huh, well I don't think that I have any kinks that are strictly my own. I would love to find myself in a men-only place whether it's a men's club, a country club, cigar bar or locker room or something, and just have sex with everyone.

There's a lot of kink to me, Dave. I love trying new things, and one of my favorite scenes of all time is an orgy scene. Wicked, and especially Brad, are famous for putting really, really big orgies together. We did an orgy in a Rocky Horror hard core parody with eighteen people. We did one for 2040 that I think had fourteen people. We did one for my favorite film of all time Fallen. It had maybe twelve, thirteen, fourteen people in it. I really, really like that!

DG: That was the scene in the fetish club, right? I know that one well. Yes I remember Fallen.

JD: Favorite movie ever.

DG: It was spectacular. Reflecting on your decorated career, is there anything you would have done differently?

JD: Absolutely not. Well, if there is anything I could've done differently, I would have signed with Wicked sooner. At the same time, I think everything happens for a reason. I think maybe that I just wasn't ready.

But that`s about all. I`m really proud of my career and the decisions that I've made. But I don't really have any regrets. I'm not really one for indecision. You know some girls come and walk away, but luckily that never happened.

I always stay very firm to what I believe in. I've been condom-only my entire career. I ended up with an amazing company behind me to support me and encourage me in every way not in just the what are you going to do next as a performer, we're all cared for as people, as individuals. We're encouraged to go out in all different areas.

DG: As far, I mean from what I can tell Wicked is very well known for treating their contract stars very well. It's extremely closely knit family. It seems like a very good fit.

JD: They are the absolute best in every single way. Some people don't know this, but I was in negotiation with another company right before I signed with Wicked. Wicked called me and said, "Hey we heard you signed with so-and-so. Is this true?" .

I said I was about to and they said, "Please do us and yourself a favor and come in and talk to us." So I went in and spoke with the owner of Wicked on a Friday, and I left the office knowing that is where I belonged. It was really hard for me because I didn't want to let the other company down.

But I went in to talk to them and said, "Look, I've changed my mind, and this is what I'm going to do and why." Never once have I regretted that decision.

We have an amazing team of people. We have amazing girls. Stormy Daniels is phenomenal. Alektra Blue is one of my favorite girls of all time. Kaylani Lei….these girls are so talented in many, many ways. Every girl that we've ever had. Julia Ann, Stephanie Swift, Devinn Lane, just to name a few. They've all been really outstanding girls and performers. But they're so much more than that too.

It doesn't just stop with the talent, the camera men are the best. Our lighting guys are the best. People that work in the office at Wicked, in the warehouse, the sales department, just everywhere. It's a really great group of people. For the most part they're pretty consistent as well. I'm still working with the same people as when I came in and that's great.
JD:
There have been a lot!
Well, first it began as scary, that stands out in my mind. I usually have nonstop flights anywhere I go, but this one time, for some reason, I didn't and I found myself changing planes in Phoenix. We had absolutely no time to spare.
I travel with a body guard, normally. He's running ahead of me to get to the gate and do a little bit of recon. He's moving a bit ahead and two guys start chasing me through the airport. I didn't really know what it was about. They were definitely running behind me.
So I'd pick up the pace, go a little bit faster. They'd go a little bit faster. Then they caught up to me in the middle of the concourse and said, "Oh Ms. Drake, thank you for stopping. We just want your picture really bad."
But my favorite thing is when I meet people at the conventions or book stores that I've already been dealing with online whether it's through
my website
, or
my twitter
, and when they already sort of have a rapport with . When I finally get to meet them in person, and finally get to put a face to a name, I love that. And when I take pictures with them and I give them a big hug in the picture or put my hand on their chest when I'm posing, and their heart is beating so fast, I love it. It's exciting to me to know how excited they are.
And oh my gosh, I just got an email last week from this guy that said, "Thank you because you are at least partially responsible for the birth of my two daughters." I guess him and his wife were working with some infertility issues. They got to the point where sex felt really just like more of a chore. They'd discovered my movies and that's what they would do. My movies would get them in the mood and now they have two daughters
DG:
It's pretty gratifying to make a difference that way. There often poses a debate between stuck in a technological age where a lot the intimacies of face to face and voice to voice contact is lost but in some cases I think it makes the world a smaller place for circumstances such as this.
JD:
You know I think it really can, and I think that something has happened with all these new developments and technology. I think we went through a period of time when people isolated themselves and only worked from home. People played online games, or in computer chat rooms, or on Facebook. You know they were just doing that, alone, by themselves.
Now people are beginning to reach out and even if that originates online, they're looking for that personal interaction. I think I've really seen that ramp up in the past couple of years.
DG:
Yeah, dawn of a new era, for sure. What's on the horizon for Jessica Drake in 2012?
JD:
Funny you say horizon. I just had a big movie come out called Horizon. A lot of new movies, a lot of new instructional videos. My passion is international travel. I've got some really great trips coming up. I do some charity work on the side. It takes me to some pretty amazing places. I just want to keep on doing more of the things that make me happy.
I woke up this morning at about six thirty. I wanted to watch the sunrise on my birthday, as silly as that sounds. So, I'm drinking some coffee and watching the sun come up in my backyard and I'm thinking I should make my resolutions on my birthday rather than New Years. I was thinking about all of the things that I've accomplished maybe in the past two years. I got into thinking what I still want to do and mostly it's just things that I really love. Things that make me really happy; have some great sex, make some great movies, do some more instructional videos, travel the world, eat lots of bacon and drink some coffee.
DG:
Any special message for you fans and what is the best way to reach out and touch Jessica Drake?
JD:
I think more than anything I would like for fans to know how much I truly appreciate them, and to really thank them for their loyalty. I've had fans that I've had since I very first got into the industry. They've seen my career change and seen it go through many, many stages. They've supported me all the way through. And for the new fans, I'm really glad to have them. You guys are the reason I'm here. If it weren't for the fans I'd still be that little girl from Texas. Thank you. I just wanted to express my gratitude.
There are so many ways to get a hold of me.
Jessicadrake.com
,
Wicked.com
, I also write a very candid blog. It has some information about my trip to Africa. It's called
insidejdblogspot.com
. I do a radio show on Playboy radio called In Bed With Jessica Drake. That's on Tuesdays 2PM PST. It's available on Sirius 102. I also host a podcast on iTunes called STFU. It's a free podcast available Monday, Wednesday and Fridays on either iTunes or STFU.com.
Oh, and I have a
real doll
, and we are just launching a website to showcase all of the instructional videos and that is called
Guide to Wicked Sex
.
DG:
Oh that's great. It's been a real pleasure talking to you Jessica. It's been insightful, very entertaining, enlightening and fun. Have a wonderful, wonderful birthday.
JD:
Thank you. I'm going to head on down to the beach for a little while. But I shouldn't rub it in your face. I know the weather isn't the greatest there right now.
*As of publication date Jessica Drake's Wicked Guide to Anal Sex is indeed available and is not in postproduction as stated in earlier in the article. For a full list of titles available in the Jessica Drake's Wicked Guide check out
www.guidetowickedsex.com
.