How To:
First you must sign up for an
EdenFantasys account
. Only Advanced Reviewers can request products; the first step is becoming an Advanced Reviewer. Once you register, be sure to completely fill out all the prompts and all the information you're comfortable with. To have a completed sign-up, we'll need the following information:
Personal info
, a
verified email
, an
Avatar
,
Product type
and
material preferences
, and a published
public profile
. When your new account is completely set up, you are a Basic level member of the EdenFantasys review community.
Because of the sheer numbers of products on the market, a dud is bound to come up every now and then. As a matter of policy EdenFantasys does not host reviews on defective products. If you received a product that broke, please contact EdenFantasys customer service (if you bought the product on EdenFantasys) or the manufacturer to see if a replacement can be sent. Please keep in mind that one reviewer can only have up to 3 active assignments simultaneously.
Not Assigned Reviews (aka "Not verified", Basic and Advanced Levels ):
Get ready to write your review! First, make sure you are signed-in to your account. Next, find the product page for an item you already own / have already used. Now click on "Grab It" to add this product to your "Assignment Cart". Once you've grabbed the item, click on "Assignment Cart", then click on the item once it's in your cart and click "Write a Review". It will take you to a page where you can write a review of this product.
Please remember to fill in all fields, including: Stars, Vrooms, Bees, the main body of the review, Pros, Cons, and a Summary. Once you have done this, and spell checked your review, you have the ability to publish the review yourself by clicking "Continue". The review will then go live on the site, and you can find it on your contributor page, on the product page, and under the type of product on the sex toy review page
Assigned Reviews (aka "Verified", Advanced Level):
The Assigned Review writing process consists of four major steps: Grab Product, Request Assignment, Accept Assignment, and Write Review.
Step 1. Grab product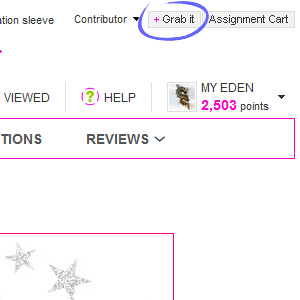 In order to receive an assignment, you need to choose the product you would like to review. Sign into your Advanced level contributor account, and click on the tab "Contributor." At the top of the page, you will notice the Contributor Toolbar with a button for your Assignment Cart. Go to any desired product and find the "Grab it" button in the Contributor Toolbar. By clicking on the "Grab it" button, you add the product into your "Assignment Cart", which is its temporary place before your assignment is created.
Please note that for different reasons, some products may NOT be available for review. For example, they might have already been reviewed or have been assigned to other contributors, or simply be out of stock.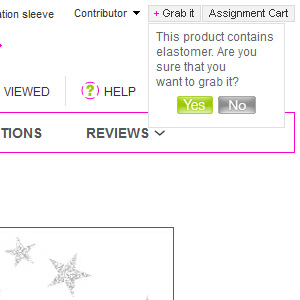 If the product you are trying to grab contains materials you indicated in your Material Restriction List, you will get a warning. However, you will still be able to add such a product into your Assignment Cart. If a product has two or more variations, such as color or size, you will be asked which variation you would like to review.
Step 2. Request Assignment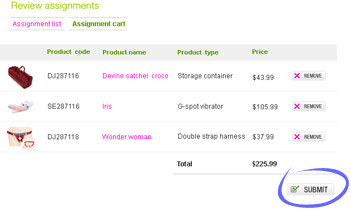 After you have added one or more products, you may click on your Assignment Cart and decide which of these products you would like to review by selecting the item. Leave this product in your Assignment Cart and delete all others. Be advised that we currently only allow ONE product per assignment. Once you have only the selected item in your cart, click the "Submit" button and an assignment will be created. The rest of your list will be deleted; we currently do not have the capacity to create a long term queue of requests, so be aware that you cannot surf the site and create a "wish-list" of products you would like to review in the future. You can only request your CURRENT product for review.
You can add or remove products in the Assignment Cart anytime, but you CANNOT modify the Assignments, although you may cancel the entire assignment anytime before products are shipped. Additionally, our administrators can approve or decline the assignment. In any case, you can accept or decline the assignment, regardless of who created it.
Step 3. Accept Assignment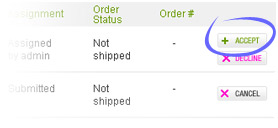 This extra step verifies that you are still interested in reviewing the product because there may be a time lapse between when you requested the assignment and when it was assigned by the Administrator. Once you accept the assignment, the administrator will ship the product as soon as it is available.
Step 4. Write Review
Once you receive the product for review and have used it, please go to the "Assignments & Reviews" tab then to "Review Assignments" and click on the button "Write Review" for the appropriate assignment.
Please note, that you cannot start writing a review on Review List, only on the Review Assignments.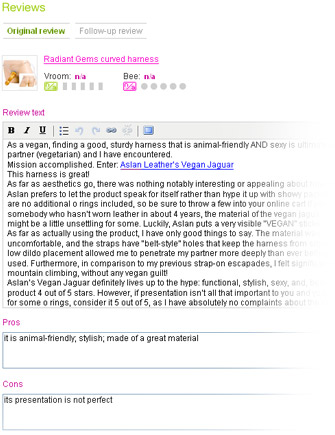 Writing:
After you click on the button for Write Review, the Review page will open. This is the main place where you will work on the product reviews.
You must complete an HONEST review, 300-800 words, of the product that you are reviewing. You should choose a short but fitting title for your review that sets the tone of what you are saying. The main body of your review should be about the functions, and your impressions, of the toy. The Experience section can include an account of when you used the toy. The Pros and Cons sections should be just a few solid points about the toy. The Summary is very important as it is essentially an introduction and lives above your review on the website and is easily the most influential portion of your review. The summary is 1-3 sentences of the review; how you felt about the product overall, whether you would recommend it, and a highlight/lowlight, etc - it should not be a copy/pasted portion of review.
We want your honest opinion; please do not make your review sound like you are trying to "sell" the toy. This is our job, not yours. Please feel free to make your review positive, negative or neutral; however, if you were unhappy with the product, we ask that you provide creative criticism.
We'd like your review to be well thought-out, and include the proper use of grammar. Please copy-edit your review before turning it in to us. Yes, we will edit Assigned reviews before they are made live on the site, but we are not your high school English teacher; we shouldn't have to spend all our time correcting your grammar. Also, most word processing programs come with a spell checker; please make use of it. If your review is riddled with errors, we will send it back to you to be revised.
What is your favorite quality or feature of the toy? How well did it work for its intended use? Are there other ways to use it? What are your sensory experiences of it - look, feel, taste, smell, sound? How does your body react to it? What part did it play in your sexual experience? Did you use it in conjunction with other toys? What material is it made of, and how does that affect use? Cleaning? A note on materials: please do your research in the toy material (simply click on the material name in toy profile and read about it on our site!) and be accurate in your reviews.
For example, if you talk about sharing jelly toys, also mention that you cover them when doing so for health reasons (because you do, right?). If a toy has silicone in it, mention that silicone lube is not safe for use with that toy. For couples: We love having partner reviews! Keep in mind, though, speaking for your own experience, and having your partner do the same.
These questions are suggestions - a beginning point, if you will. Please don't feel that you need to write direct answers to them (but do include this information), and don't be limited by them! And remember, this is an adult site, so feel free to be specific and explicit in your language/descriptions. This review is a chance for you to share (and others to read) about personal experiences with our toys- invaluable information that can't be found in toy descriptions or elsewhere.
RATING:
Please rate the product overall, up to 5 stars.
Likewise, please rate the intensity of a vibrating toy:
1 Vroom = Very mild, extremely low level vibration, great for newbies, foreplay and extra sensitive areas.
2 Vrooms = A lower-level intensity that provides light stimulation but can be still felt in most internal and external spots.
3 Vrooms = Moderate vibration, good for overall body usage, average in intensity and probably suitable for most individuals.
4 Vrooms = Strong and easily felt vibrations that powerfully stimulate but are not "earth-shaking".
5 Vrooms = This car's outta control! Extremely strong, highly intense powerful vibration, probably too intense for most.
If the toy does not vibrate, click N/A.
Again, we also are looking to get your rating on noise level. For rating the noise level of a vibrating toy:
1 Bee = Whisper quiet hum, barely can be heard, virtually silent from behind a closed door.
2 Bees = Low, soft, "white noise" hum, similar to a cell phone's vibration alert, that can be heard through covers but not through a closed door.
3 Bees = Moderate noise level, similar to a small appliance, can heard through covers and probably through a closed door.
4 Bees = Fairly loud, comparable to a large appliance, definitely heard through covers and easily heard through a closed door.
5 Bees = Extremely noisy, the neighbors can probably hear this power tool cranking!
If the toy does not make noise, click N/A.
These ratings are required.
Overview
TYPES OF REVIEWS:
Not Assigned reviews (not verified):
these are reviews submitted by contributors who already own the product, no matter where they bought it. These can be done by anyone at any time, whether you're Basic or Advanced level. These reviews are automatically published live on the site when you submit them. They will receive an editorial rating and occasionally some editing if there is serious misinformation; however, they are not verified reviews.
Not Assigned Off-Site reviews can also be done by any of our contributors who have an existing blog. The review screen and requirements are slightly different, as differing text lives both on our page and on the contributor's blog. For full information visit
Off-Site Reviews
.
Assigned reviews (verified)
: these reviews can only be done by Advanced level contributors. The reviews are assigned to contributors one of three ways.
Review Assignments, which is a product that is chosen by the contributor within the pricing guidelines and requested through the assignment cart. The administrators may approve or cancel your requested assignment based on whether the product is in your price range (see Pricing Guidelines) and if the product already has reviews. If you are requesting a lingerie/clothing assignment, please check out this thread. If the product already has reviews, we typically do not approve the request unless there is a compelling reason. Whichever the outcome, you will receive email notification. If it is approved, you must then accept the assignment before it will be shipped to you. Assigned Off-Site reviews are done by contributors who have an existing blog and are part of the Off-Site Review Program. As mentioned above, the review screen and requirements are slightly different, as differing text lives both on our page and on the contributor's blog. For full information visit Off-Site Reviews.

Buy Out Assignments. We offer a 30% discount on an item in exchange for a review. The review submission process is the same and the review is verified.
Description Review Program. We have a select group of reviewers who receive new products and write objective descriptions from their experience. We only include reviewers who are reliable, write well, and can complete the reviews in a timely fashion. The Description Review Program Guidelines for this program outline the process.

Along with your reviews, you can optionally submit a message to the Administrator. After being submitted, your review will be approved, returned to you for revision, or declined by the Administrator. Assigned reviews are manually published after being read, edited if needed, accepted, categorized, set up for linking, and rated.

Once it is approved, it will be published on the website within a week or two. If after 3 weeks, you do not see your review live on the site, please feel free to contact the review program staff.


Becoming an Advanced Reviewer:

Community Vote -
Once you have submitted at least three (3) reviews of products you've already tried, you may request to be upgraded to an Advanced level reviewer. Your request goes live on the Community Homepage once it is submitted. Upgrade requests are the decided by the community over a 2 week period. You need to receive at least 5 votes to be approved for Advanced Level. Votes are based on writing quality and overall activity. During this time (and after!), you should continue to submit reviews of items you've already tried and be active in the forums.

If you do not receive sufficient votes in the 2 week period, your request is removed and you will be able to resubmit a new request after you have submitted at least 3 more reviews. This gives those who do not get enough votes the opportunity to improve their reviews and become more active in the community.

Mentor Program -
You can also enroll in the Mentor Program. You can find more information on what the Mentor Program can do for you here.

Basically, you pick a mentor and write three reviews for them. You will be eligible to receive three free review products (one at a time) to review for their class. The products must be under $30 and have fewer than 3 reviews on them. The $30 limit applies to the regular listed price, not a discounted price.

Advanced reviewers are also welcome to join a mentor's class, but the mentor won't receive the $25 gift card for the class.

Everything you do as a contributor adds to your rank. You earn ranking points for the votes you receive and the votes you give. You gain points for all activity in the forums, leaving comments for other contributors and of course, for your reviews!

If you have any questions about the process, please submit a support ticket.
All other questions can be sent to: partners@edenfantasys.com