How To Choose Anal Beads And Bead Off With Os
A massive wave of arousal and delight taking you to the edge of climax - this is what you will feel every time you pull out the string of your anal beads. Are you ready to indulge your booty in the exquisite pleasure that only this amazing toy delivers? Read this guide and find out why anal beads are so popular, what makes perfect beads so perfect, to begin with, and how to play with them until your knees start trembling from shaking orgasms.
1

What's Special About Anal Beads?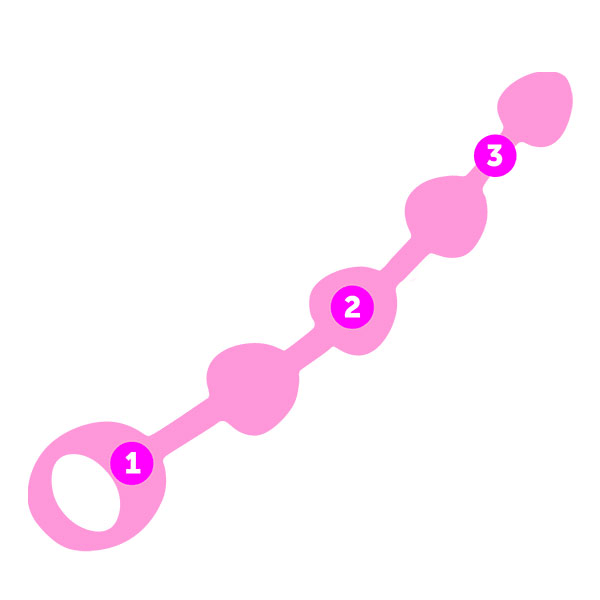 T-shaped, ringed or flared base allows pulling out on the very edge of the climax
A gradual increase in girth ensures safe and satisfying stretch
Large spaces build-up arousal
The secret to why anal beads feel so good is in their seemingly whimsical, necklace-like shape. The classic beads are made out of spheres of different sizes and styles that are connected through a string. By inserting the beads one by one, you get the same feeling of "fullness" that an anal plug provides, except that in case of beads insertion, it's just a warm-up before you get to the real bliss when pulling the beads out. The movement of differently sized spheres stimulates the backdoor nerve endings, making you literally scream in orgasmic delight with every bead motion.
Sensuous silicone anal beads
Sensuous silicone anal beads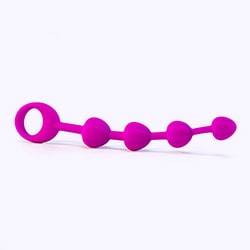 2

How To Bead Off For Pleasure
Take it slow. Relax and give your sphincter some time to readjust.
Apply lots of lube. Before you start playing, lubricate your bumhole and the toy. Make sure you use only water-based lube for silicone beads, otherwise the toy can be damaged.
Insert gently. Push the first and smallest bead inside. Once you get used to the sensation, insert the second bead. To make your session more straightforward, hold the beads with one hand while keeping your sphincter open with the second.
Pull them out. When all the beads are in the right place, wait for a bit to feel how they are rolling over inside massaging your hot spots and leading you to a finish. When you feel you are ready to climax, pull them out bead by bead on your own - or assign this sweet mission to the partner, and experience waves of explosive pleasure covering your body.
3

Can Anal Beads Go Extra? Yes!
Girth
Think your tushie is ready for more? Consider broadening your boundaries with girthier beads. They create intense stimulation by being merely inserted - and, what's even more thrilling, on their way out.
Colossal silicone anal beads
Colossal silicone anal beads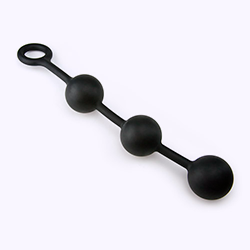 Vibration
Vibrating beads provide a much more profound spur to the sensitive nerve endings in the butt, creating deep, rumbling sensations. One set of anal beads may have many vibration patterns and functions so that you could find your favorite path to ASSgasm.
Triple explosion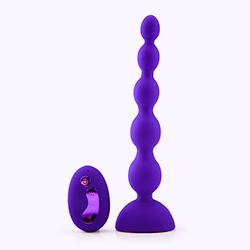 Length
Long anal beads of different materials can be a treat both for beginners and advanced users alike. Large spaces provide breaks between moments of stimulation, gradually building up your arousal.
Passion beads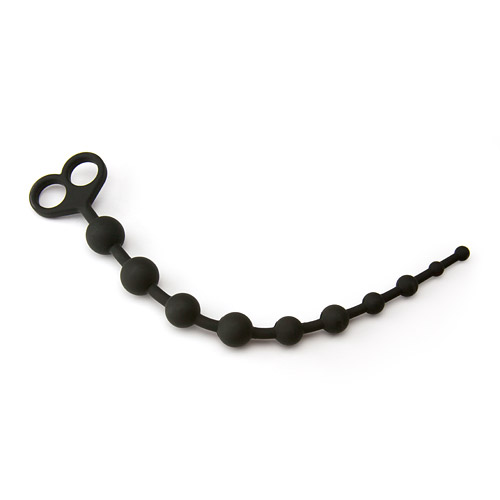 Getting Ready
The preparation for beading off actually comes in only two steps - prepare yourself and prepare your beads. To prepare your booty, take a shower and keep a bottle of anal lube with a thicker consistency closeby. Make sure you cleaned the toy in line with the manufacturer's specifications.
Staying Safe
Don't rush, be patient, and go slow. Start with a gentle massage of your booty to prepare it for the backdoor session. Increase girth gradually. If you are a beginner, opt for smaller sized beads.
Use Only Anal Toys
Since sphincter muscles contract involuntarily, if the toy doesn't have a wide base or ring at the end, it can slide inside the rear. Use only specifically designed anal toys for your safety. Remember that regular stringed beads are a no-no - they are not sanitary and do not withstand pressure. Anal beads that are made of certified and safe materials will guarantee your safety and pleasure.