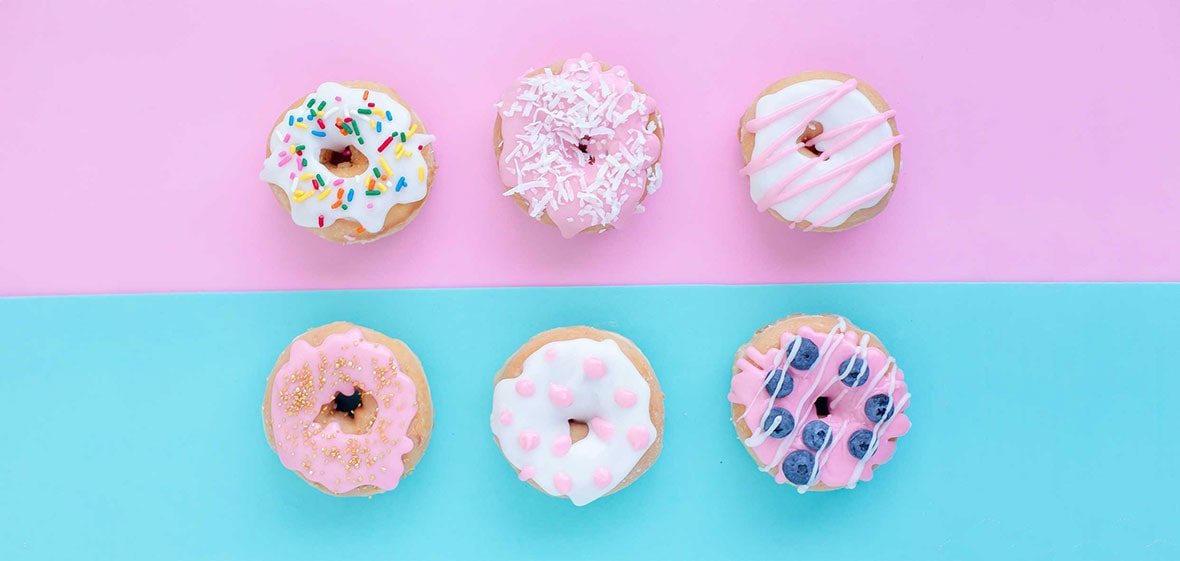 Double Penetration Techniques I Use With My Wife For 2X Fun
Do you ever have trouble deciding which of those sweet holes deserves to get a pleasant little poke today? With double penetration - a.k.a. "DP" - you don't have to choose! If you're ready to double your orgasmic pleasure potential, read on for expert advice and recommendations. I'll let you know firsthand which sex toys deliver the maximum double excitement, detail the most satisfying tried-and-tested DP sex positions, and share tips on how to savor DP in all its sweetest combinations.
What Kinds of Double Penetration (DP) Are We Talking About?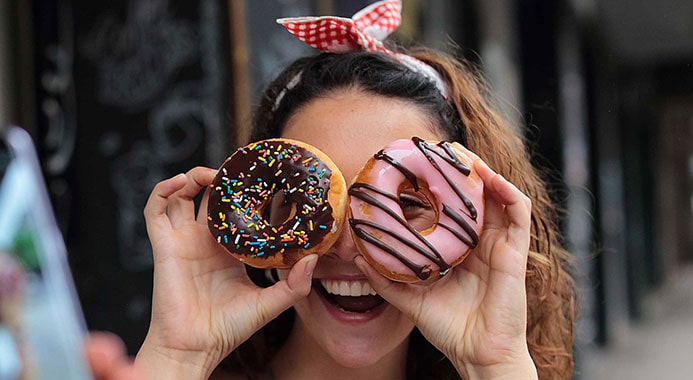 The definition of DP we're talking about here involves the simultaneous penetration of a woman's vagina and anus. While it's not only possible but pleasurable for women to achieve DP in a solo session, we're going to focus on partner interaction. The most obvious solution - an MMF (male-male-female) threesome - is certainly one answer, but it's not without its problems.
Finding a third person isn't always easy, plus, many couples prefer not to introduce that dynamic into their relationships. So, how can couples still enjoy the orgasmic pleasures of DP without the physical and emotional risks of involving a third party? The answer is toys - creative, fun, orgasm-inducing toys!
DP 101 - How to Get Started - The Easy Way
Our first explorations of DP were simple PIV sex with a butt-plug (vibrating or not). The pleasure here was in added tightness, but also the plug helped angle my penis to enhance G-spot/A-spot stimulation for her. As with any type of anal penetration, lubrication is vital. However, if you overdo it, the plug can pop out at a most inopportune time - at orgasm!
This is where your sense of humor comes in handy!
We did try a plug vaginally with anal penetration by me which was ok for me but didn't do much for her. But hey, you should try it! You may have just the right vibrating plug to get your G-spot going!
Next Steps - Boosting The Pleasure Curve
For us, the next step was to combine a vaginal dildo or vibrator with my finger(s) during anal penetration. This easy technique worked exceptionally well for my wife. I was able to push against the dildo with my fingers that were inside her anus to create more G-spot stimulation than would have been possible with just a dildo alone.
The trick was to find the right combination of dildo size (vibrating or not), style, and the optimum number of fingers. This process alone provided us with hours of Fun exploring what worked best.
If you want a sure bet for having a DP success story, I suggest test driving a curved probe for maximum G-spot engagement. When you combine its focused stimulation with the additional pressure of a finger in her backdoor, you're likely to find yourself delivering gushing G-spot orgasms like a true superstar.
Not So Fast Cowboy - Listen To Your Partner
(Or tell him what works - he's not a mind reader.) Sometimes I get a bit over-excited in seeing how my lover responds to all of the attention. When that happens, I tend to move both the dildo and fingers vigorously. Although that's fine some of the time, often she'll ask me to move just one-at-a-time.
Alternating vaginal thrusting with anal thrusting allows her to focus on one sensation at a time - which brings me to the obvious point - COMMUNICATION is vital. To some extent, she needs to guide you, and it will be different almost every day.
EdenFantasys recommends:
Just be aware that what she wants in one sex session can be entirely different from what she desires the next time. So you need to be ready to mix things up at a moment's notice, and your partner needs to keep you posted on what's working NOW!
Double Penetration Without A Penis
Even after several months of fun, frolic, orgasms, and G-spot gushing, there's still room in your sexual repertoire to grow. Even if full-on anal sex still isn't on the table, there's no need to worry when there are toys to the rescue! Start with a couple of dildos, lube them up, and let the experimentation begin!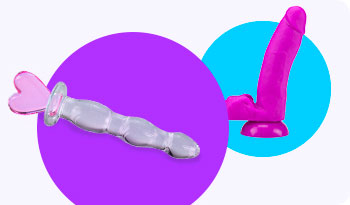 Penetration
As a practical matter, I suggest you start with the anal dildo. (We've found that a softer silicone works best anally in combination with a dual-density silicone dildo used vaginally.) But even before you begin, make sure you've prepped her bunghole with plenty of lube, some external anal massage, and finally a finger or two. Once she's okay with two fingers or a modestly sized butt plug inside her, she's ready to move on to trying a small silicone dildo.
Pausing after initial anal penetration is always a good idea: the mind and body need a chance to adapt to what's going on. My wife gives me the go-ahead when she's ready for more. The trick is to begin slowly, and pay attention to her cues - verbal and physical - in order to adjust the pace from there. (Although, I do have to say that I appreciate a verbal head's up when she wants me to speed up or slow down.)
Time to go DP!
Once your partner has adapted to the anal penetration - it's time to go DP!
Penetration
Start out modestly in both size and speed. Even if your lover doesn't normally use lube for vaginal penetration, having some handy can be a good idea since the extra glide factor can really enhance the DP experience.
Experiment with moving each shaft separately, then both together to find out what she likes. Moving them together can be done in two ways: either alternating with one going in as the other pulls out, or you can thrust both of them in and out in unison. Other than to make sure you have plenty of lube and expect to reapply it as needed, there's really no formula. Girls, don't be afraid to remind him when it's time to reapply lube! This process can definitely become part of the fun.
Double Penetration With A Penis & Dildo
Based on your experiences getting to this point, you should have a good idea of what size dildo to use as your second penetrator. If you're truly ready to get this DP party started, you have some options to consider.
Will the anal penetration be penile or with a dildo? She might prefer a smaller dildo for the backdoor entry, while you give this double-penetration cock ring a go in her pussy. Combined with a petite shaft for anal entry and vibrating clit attachment, it guarantees bursting climaxes and a next-level pleasurable experience for your partner.
Some women have the flexibility to operate a dildo vaginally; others do not. That means you may have to get a little creative, and for that, there's no better tool than a harness. Believe me, we know!
Our Most Favorite Sex Positions For Double Penetration
Since the permutations for DP are almost unlimited, here's just a brief description of some of the things we enjoy.
Double penetration In Missionary Sex Position
For us, the most common DP position is a Missionary. After some loving anal preparation, I slip in a silicone dildo in her vagina while simultaneously penetrating her anally with my cock. In this position, my pubic bone nudges the top of the dildo against her A-spot and the base against her clit. If you want to provide some extra clit stimulation, you can try putting a vibrating cock ring on the dildo.
Extra intense tickler ring
Double penetration In Cowgirl Sex Position
With her on top riding Cowgirl, she lodges my penis inside her vagina, and after she's comfy, I slip the dildo in her bumhole. In this position, my wife typically grinds her clit against me while enjoying deep stimulation from her two penetrators. She has control over speed and rhythm, and those are the keys to success here. For girls who like to be in charge, this is definitely the way to go.
Double penetration In Doggie Style Sex Position
When we go Doggie Style, we opt for penis-in-vagina and an anal dildo. It's a fantastic combination because it allows her to use her favorite clit wand to bring on a great big finish!
Double Penetration Enhanced With Sex Furniture
Purpose-built sex furniture can help you enjoy DP in some truly incredible positions and crazy angles - and still feeling super comfortable at the same time. Which pieces of sex furniture you select will be a matter of personal taste, but we recommend a position pillow as the first item to try out. Position pillows provide your lover with sturdy support while allowing you to more precisely thrust your penis in the direction of her hot spots.
Turnabout Is Fair Play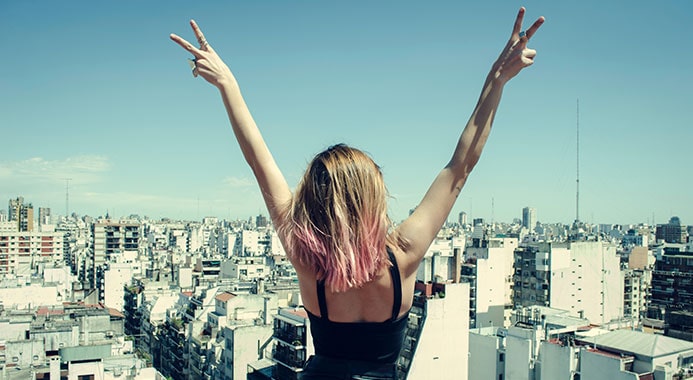 I tend to be a nerd (engineer type), but I know my wife appreciates the attention to detail and nuance. Remember that anal sex and DP are not a good place for Neanderthal thrusting.
Girls, by all means, tell your partner what's working or not. He may be a rocket scientist, but he's not a mind reader!
I suggest that every man should experience anal penetration similar in size to what his partner will experience. Understanding what's going on back there can give him an appreciation for both the challenges and joys of anal penetration. Share your experiences below and go to the Eden Fantasys Forum and communicate with other contributors on the tips and tricks they use to create a 2x the fun!