Tips and Poses to Have a Fuckfest With a Sex Machine
Dreaming of a lover that never tires? Always has the perfect angle? Thrusts you hard and deep just the way you like it? The sinful awesomeness of sex machines is undeniable. They are supreme sex toys that are a little bit taboo, a bit intimidating, but overall absolutely irresistible. There are many different styles and shapes of sex machines, perfect for different purposes - so let's explore how to use sex machines and find out what are the best positions for a sex machine positions. Okay there's one thing you gotta know right now: they are flawless & tireless automatons that will fuck you breathless.
What Are the Horniest Sex Machines Positions?
A screaming, back-bending orgasm is guaranteed, whichever fuck machine position you choose - however! Some sex positions work better with a specific type of love machine. It means some positions allow you to hit different stimulation points better, or it takes less effort to perform. So let's dive in!
Choose Classic Horndog - Do Doggy
When you picture a sex machine, this is what comes to (dirty-dirty) mind. A classic little gadget with a big AF dildo that will drive into you until you beg for mercy. This style of self-thruster is also a favorite choice for forced orgasm play, effortless to control and impossible to dodge away from. Taking his hard pounding is best in Doggy style - this sex position opens the possibilities both for vag and anal, allows you to move your hips to meet him, and gives perfectly explicit access to clit or nipples for more stimulation - tease and torture alike.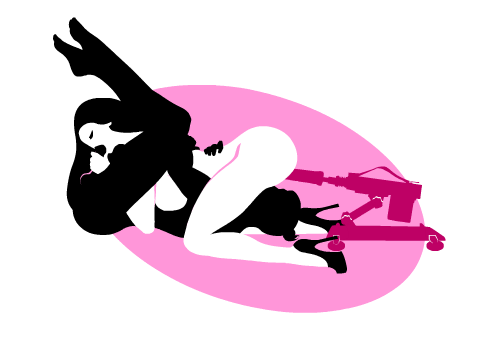 Lay Back - Moan In Missionary
Big and flamboyant, this style of sex machine is more akin to furniture than it is to sex toys. It's a whole armchair of lusty delight, allowing you to either melt into it and let it have you or perk up your body in the most delightful and comfortable way for your partner to join in. Best for the most advanced fucking machine positions, this cutie also offers a unique experience of 1+ lovers in the mix.
Get Drilled - Take It Sideways
Laying lazily and taking the hard and throbbing pounding - sounds delightful, almost fantasy-like, but 100% attainable with this small and smart sex machine style. Any way you want, you're getting it with this thrusting bad boy that has a suction cup that holds on for its dear life. It's the smallest of classic stationary sex machines and therefore is chef's kiss perfect for a little selfish love session. Plus, it's the epitome of what you want in the best sex machine position - you do nothing!
Ride Rough - Be On Top
Gaining good momentum when riding a dick can be a tough nut to crack - hard on your muscles, too. But this unique inflatable and bouncy beauty allows you to drive that hard length inside you while literally jumping up and down. Not a sex machine per se, since it doesn't move on its own, this bouncing vibrator lets you get that impetus for impeccable penetration - and some can argue this is the most orgasmic sex machine position. Effortless and really really fun, it's a bouncy castle dream come true, but for the big girls and boys.
Shoot Your Baby Down - Surrender And Kneel
Yielding this deadly little number of a sex machine, you can literally aim and shoot with orgasms. Aim and fill your lover's orifices, those that are longing to be filled, nail them down with the intensity that no man can mimic and the determination to deliver an orgasm that is positively superhuman. Just aim that thing and watch them beg for mercy. Maybe it isn't a fuck machine position like the others, but it's meant to be on a less classic, BDSM-ish side. Holding this dildo gun feels powerful; staying on the receiving end of it feels overpowering.
attachments usually come with the sex machine, so their gyrating power can be channeled thru a dildo, a pussy, or even a tongue imitator.
Straddle The Mister - Come In Cowgirl
Take control and straddle that bad boy. A smart mechanism drives the whole impressive length of the dildo inside you, while you rest comfortably on the chair. We love the Cowgirl straddling because the G-spot pressure it delivers is sublime, but the effort and the thigh power needed often deteriorate the pleasure. Not with this mechanic sex machine, oh no - it raises you to meet the delightful inches of that veiny dildo, putting it exactly where you crave it.
Let Her Come To You - Get A Lap Dance
Sex machines ain't always about driving the dicks inside - they can also be about driving the chicks over. This hand-held sexy lady wraps herself around your inches and the tireless motor will keep her moving up and down your boner. Milking you in the most delicious way, this babe will do all the work while you lay there and explode. This is the most effortless sex machine position for men, although you can experiment with sensations by being on top.
Spread Asscheeks - Lower Yourself
Dropping yourself onto the hard shaft to get the craved ass pressure may be a bit hard on your knees - so it feels much better when the thrusting length comes to you. Invading your booty with one hard thrust after another, this compact anal sex machine allows you to stay completely still and just take the pounding.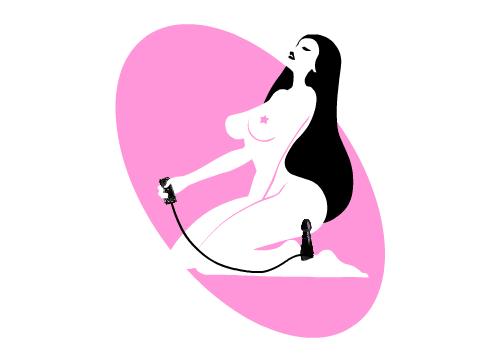 Any Sex Machine Position Is 100% Orgasmic
Of course, you can enjoy your sex machine in whichever position feels more comfortable or more effective to you. Use these as an inspiration to switch it up when you play with your fuck machine and "dance" around it for maximum pleasure.