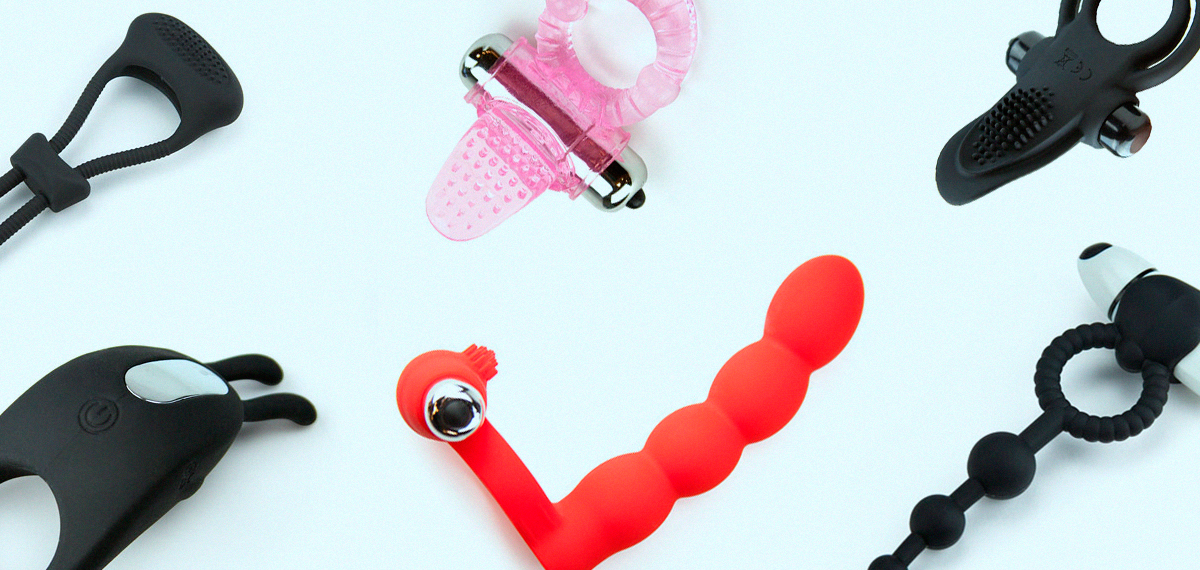 How To Choose A Vibrating Cock Ring
We all fancy traditional cock rings, but there are far more this little trifle holds if pumped with features. By adding buzzy vibes to a classic love ring, you can transform your penis into a powerful vibrator. Just go through the features of vibrating cock rings and choose your favorite type of pleasure.
1

What Is A Vibrating Penis Ring?
Vibrating rings are similar to a simple cock ring, except they hold a vibrating bullet. The ring part is usually very stretchy, so it fits any penis girth easily. Of course, its main purpose is to slightly restrict blood flow, making a stronger, longer lasting erection (so don't go looking for the ring that won't squeeze you in at least a bit). Thus, it boosts sexual stamina, makes the penis harder, bigger, and more sensitive. The peculiar part of the buzzed-up loop is the bullet. Typically. it is strategically placed to hit the lady's clit without any adjusting, absolutely hands-free.
Vibrating penis ring was the first couple-friendly vibrator ever invented - and it remains the most versatile by this day.
2

Why Do You Need A Buzzy Love Ring Today?
Vibrating rings are marvelous little tools that are super effective at closing the so-called "orgasm gap" - that fabled period of time that occurs after an average man reaches the climax and before the woman reaches said climax. On the way to simultaneous pleasure, this gap is quite an obstacle. Vibrating penis rings resolve the issue by making him last longer with the witty use of the loop while making her orgasm much faster thanks to the direct clit stimulation. Did we mention the stimulation is hands-free? No strings attached to your Os anymore - only rings.
3

How To Choose A Vibrating Cock Ring?
Single Looped Vs. Double Looped Love Rings
You can wear a typical single looped cock ring either around the shaft or behind the balls. You can also freely move it around to position the vibrating clit attachment for the aimed spur. However, if you feel like you need a tighter grip at multiple places, opt for double-looped penis rings - they'll hug anywhere you want, even if they don't give the same freedom with the spurring of the clit.
Cock Rings With Big Attachments
Large and in charge, the vibrating attachments for clitoral stimulation are meant for giving her the hands-free and fuss-free orgasmic treat. So, if you want to reach the fabled simultaneous orgasm - a serious vibrating cock ring is your pick. Bear in mind, that the larger the attachment is, the mightier is the vibration.
Love Rings With Two Bullets
Want more vibration? No problem. Vibrating cock rings with two bullets are ergonomically designed to treat both partners to the erotic thrill, aiming her clitoris and his balls - or perineum, depending on how you wear it.
Rechargeable Vibrating Rings
If you're betting on luxury, invest in a rechargeable penis ring. Such a toy will be by your side whenever you need it, with no battery issues, fully submersible for bathtub or shower play, with a velvety luxurious lining of a high-class silicone. Steady, reliable, silky to the touch, a lavish vibrating cock ring is you dream bedroom companion.
Double Penetration Vibrating Cock Rings
When looking for the feeling of fullness, the over-the-limits pleasure, DP vibrating cock rings are top of the list. Combined with a realistic dildo and a vibrating bullet for clitoral stimulation, dual penetrator penis ring transforms into a sex machine, delivering three types of pleasure at once: vaginal, anal and clitoral.
Vibrating Lasso Cock Rings
If you want classic, but with a touch of playfulness, choose a vibrating lasso ring. They are super adjustable - that's what makes them unique. You can easily fit the ring over your penis and or testicles, no matter what's your size and anatomy.