I'm looking at sex toys on Ebay (EBAY!) and I ran across these toys. They are "strapless" strapons (like the
Feeldoe
, ]
link
| Share], and
Nexus
lines, which are typically worn vaginally), but with one difference. These also have an attachment at the back that allows the woman wearing it to hold it anally at the same time!
I'm wondering if anyone has tried either of these. I mean, I have trouble holding my Feeldoe without a harness, which is something I wish I could do. These look useful, but at the very least, the realistic one is extremely expensive! I can imagine having both orifices holding the toy would help it stay in place, right? But I want to know whether it works before I spend that much!
Thanks in advance for any conversation or input!
Toy #1:
Fetish Fantasy Strapless Strapon with Anal stimulator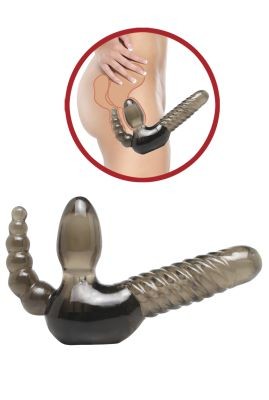 Toy #2:
Vibrating Strapless StraponAnal Stimulator Double Penetration Penis Dildo