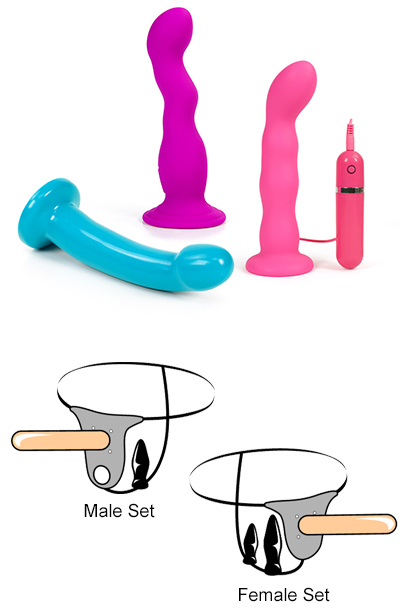 The crux of any harness and the very purpose of its existence is the strap-on; that's why we've included a quick dildo tutorial in this guide.
First off, you need to ascertain that any dongs you purchase are harness compatible, i.e. they have a wide flared base by which to be secured. You should also keep in mind that the width of the dildo has to be smaller than the width of the harness's O ring to fit through it. Most O-rings are at least one and a quarter inch wide, but you should still always check the measurements. Some harnesses come with different sized O rings; these include the Leather rider luxe and The revolution.
Weight is another factor that plays into the mix; if your harness isn't so sturdy you don't want to exacerbate the situation with a dildo that will sag.
Another consideration you should take into account, and the most important yet often overlooked, is that dildos can work for the harness-wearer too. For example, some harnesses sport an interior butt plug lock-in system.
Make sure you use somewhat soft and reasonably-sized dildos when embarking on an anal sexcapade. You can really stimulate any part you normally would during sex, from the prostate to the clitoris, as long as you have the right dildo, or even a vibrator, and harness.
And lastly, features like shape, material and look are all up to you, so the possibilities are endless.