Welcome to this week's Weekly Releases thread! Curious what new products are hitting (and will be hitting) EF's virtual shelves for your purchasing pleasure? Here's your one-stop resource!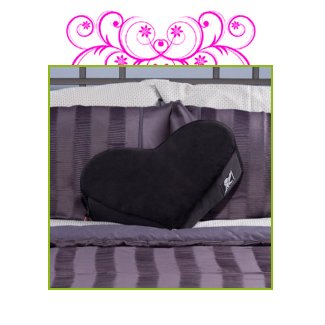 We've had a lot of excitement over the
Liberator Heart Wedge
, but now you can get extra excited because we're offering it in black! My bedroom's colors are black and red, so I think I want a new little set of these sex positioning pillows. They work well to elevate your hips or provide support during sex positions.
Lara
agrees as well: "It provides firm support, a lusciously soft and easily washable surface, and is a terrific tool for creating a wide range of positions and angles." You can never have too many
Liberator Heart Wedges
.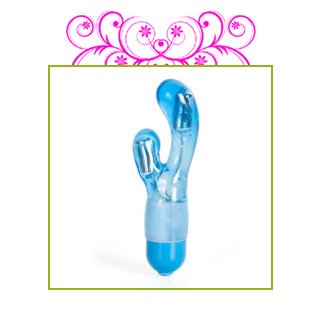 The
Lucid Dream no.12
? Sounds like a pretty sexy name.
Looks
like a pretty sexy toy too. It's a vibrating dual stimulation rabbit sold by Doc Johnson that is quiet and waterproof and includes multiple speeds.
Happeegrl03
is pretty impressed with it too. In her review, she says: "It can take me to heaven in under a minute! I absolutely LOVE it! It is a definite winner to me and will have a permanent home in my nightstand drawer."
Lucid Dreams no.12
? In my cart you go.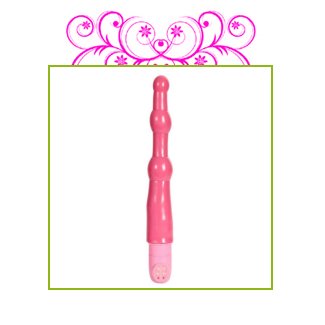 Belladonna's Gangbanger
traditional vibrator has received some pretty good reviews as well. This PVC vibrator is waterproof, includes multiple speed functions, and it also available in a black version called the
Titanmen Crankshaft
.
BigDaddy10
had a great experience using the Gangbanger on his wife: "I remember hearing her screaming because it was giving her such a good orgasm." Maybe the
Belladonna's Gangbanger
will be on your list?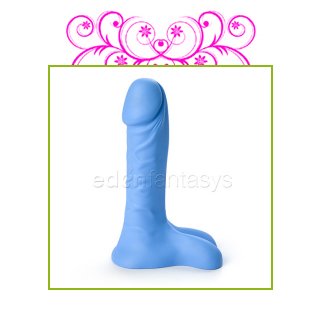 The
Softee Ballsy Super Cock
is an 8" realistic dildo that comes in some cute colors. (C'mon, it comes in blue. Who doesn't want a Smurf penis?) It's a large, flexible dildo that also is harness compatible.
Beaners
absolutely loved how the Softee Ballsy Super felt: "However, the Softee feels AWESOME. I sort of just want to lube it up and stroke it all day." She does include a warning though: "If you know that you can handle this size of a toy, I think it would be great for you." Looks like the
Softee Ballsy Super Cock
is best for size queens or lovers of filling sensations.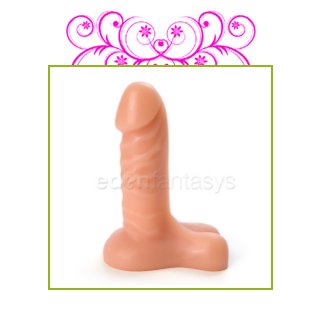 The
Super Vac-U-Lock
dildo is a Doc Johnson toy that's compatible with their Vac-U-Lock system. It's a realistic dildo that is made from silicone and is about six inches long. I love the fact that, while it comes in the skin-tone, it also comes in that cute, vibrant pink too. It's a very cute pink color.
V. T. T.
wrote a review over this Vac-U-Lock dong, and she says: "If you like texture and sensation, this is likely going to be a great dildo for you." Vac-U-Lock +
Super Vac-U-Lock Dildo
= Love.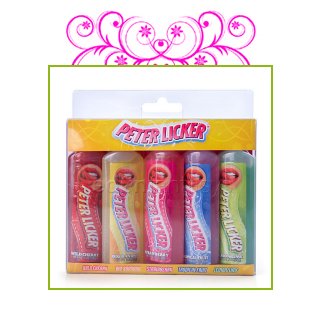 Interested in some flavored lubricant to make oral sex even more fun? The
Peter Licker 5 Pack
is a recently-released pack of Doc Johnson assorted lubes to make oral sex more sexy. The flavors of the
Peter Licker 5 Pack
include Cherry (My favorite!), Strawberry, Lime, Banana, and Tropical Fruit.
OhMami
likes the flavors saying: "All of the flavors tasted pretty good."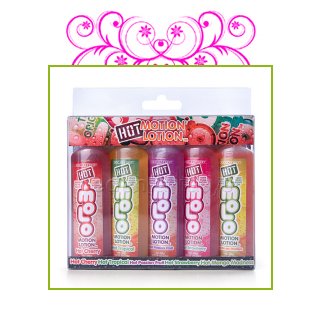 The
Hot Motion Lotion
is another set of lubricants from Doc Johnson, but this set actually includes a warming additive as well. The flavors include Hot Cherry (I don't know if I like "hot" cherries), Strawberry, Passion Fruit, Tropical Fruit, and Mango.
RedVinylKitty
enjoys using this as an oral lubricant, and she says: "This set is great for oral sex, and reasonably good for massage applications." All the reviewers agree that
Hot Motion Lotion
tastes good too.
Doc Johnson
uploaded an
EdenLink
product as well. That means that, while it's not purchasable now, this product will be hitting EF's shelves in the future! In case you enjoy glass vibrators, this
Reflections Glee
is got you covered. I've tried a couple of Doc Johnson's Reflections series glass toys, and they're pretty good toys. I know I'm looking forward to this release. (For a small preview picture, check out the
EdenLink Doc Johnson
page.)
What new releases are you excited for this week?