What amazing products hit our shelves this week?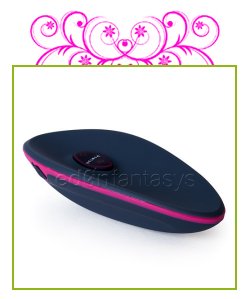 First up, we have the luxurious
Bsoft
! One of Bswish's newest products, the Bsoft is a clitoral vibrator that is built with a new design in mind from their past Bcurious vibrator. This one has a plethora of features including being multi-speed, multi-function, soft and sensual, rechargeable, and waterproof! The interesting, concave shape is very promising, and the new color scheme (pink/purple) looks downright cute. I know I want one of these!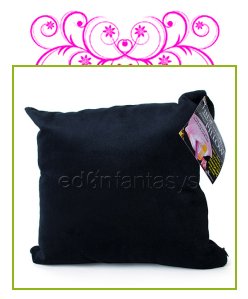 We also are now carrying the
Hide Your Vibe
storage pillow. This Sportsheets pillow is soft and plushy, but secretly, inside the pillow, you can easily hide your sex toys away from view. The discreet zipper gives you a way to get inside this plushy pillow, and the pillow includes enough padding to keep the pillow from looking too lumpy. Need a new, discreet method of storing your toys? Sportsheets has you covered!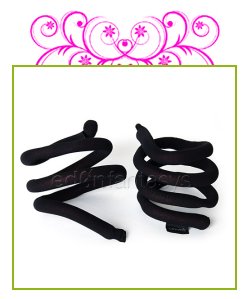 What need bondage item is this? It's the
Twisted Love Ties
! These little foam ties can easily be bent into different shapes to add an interesting playfulness to your bondage sessions. The outside material is soft against the skin, and with these coming in both a red and black color, you have a choice for the perfect bondage color for the scenes with your partner. What a neat idea!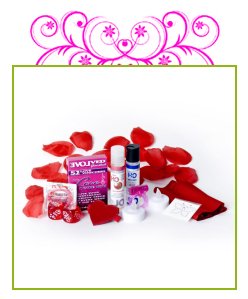 Have you seen the new,
Pure Romance Collection
? You have to want this! I know I do! It comes with a lot of amazing things! You get lubricants, Vajazzling gems, a vibrator that has a one year warranty, a heart-shaped stinger, silk love ties and blindfolds, a vibrating ring, a condom, 52 Love Vouchers, rose petals, two electric candles, and romance dice. That's a lot of new, amazing items in this collection. Wow!

Along with all of the great products that I've already announced, we have a ton of other great toys that are now available for purchase as well. You can buy the:
Neck and Wrist Restraints
,
X-Rated Ring Toss
,
Pleasure Feather
,
I Like it Doggie Style Strap
,
Leather Leash and Collar
,
Vibrating Egg 10-Speed
,
Sedeux Beginner's Pink Strap-On and Dildo Kit
,
Soft Blindfold
in pink, and
Soft Cuffs
in black.
Look at all of the upcoming products that our EdenLink companies have announced! These are products that aren't available for purchase quite yet, but they can be added to your wishlist, so you'll be one of the first to know when they come out!

Pipedream
announced a ton of new upcoming products this week! What do you have to choose from? Well, there's the
Gelatine Boobie Shooters
, the
Gelatine Pecker Shooters
, the
Mia Isabella Tuggin' Tranny
, the
Mia Isabella Create your Own Tranny Strap-On Kit
,
Fetish Fantasy Series Suede Fantasy Kit
, and the
Mia Isabella Thickening Cream
.

What about
California Exotics
? Well, they uploaded new products as well. You can check out:
Let's Party Play Time Veil
,
Let's Party Play Time Wand
,
Let's Party Play Time Tiara
,
Body Charms Stars
,
Body Charms Butterfly
,
Hide 'n' Seek Peni-Popper Play Apron
,
the Matador
, and the
Figure 8 Stimulator
.

Fleshlight
is bringing in some new items as well! Stay tuned for their new items including the
Fleshlight Girls Misty Stone Backdoor Fantasy
, the
Fleshlight Girls Tori Black Backdoor Fantasy
, and the
Fleshlight Ice Clear Lady Crystal
.

Other companies are added some of their new amazing products to the mix as well! Tantus announced the
Realdoe Feeldoe
which has gotten a lot of positive feedback from you guys! FunFactory is now offering their Teneo Uno balls in
green/white
. Hustler has the
Hustler's Little Helper
and the
Dare Devils
items coming out soon.
What a
lot
of amazing new products!
Which one of our new, purchasable releases are you looking most forward to?