Want to know what came to our virtual shelves this week? I'm sure you do! I'm pretty excited about these releases too.
We managed to get our hands out the
Jopen Vanity Vr1
which is a new insertable egg that resembles most vaginal exercisers. It has one of the neatest technologies that I've ever heard of. In order to change the vibration strengths (and yes, it's rechargeable), you just squeeze your kegal muscles! How amazing is that? It's waterproof like the rest of the Vanity line, and with no crevices, it should be a cinch to clean. I'm not sure if I'll buy this one, but darnit – it's pretty amazing! Just look at the
Jopen Vanity Vr1
.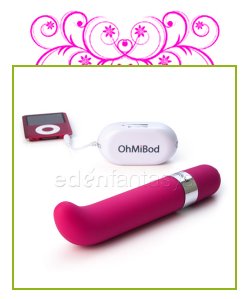 Did you ever have a chance to try the original OhMiBod Freestyle? Well, now you can try the g-spot version which is the
OhMiBod Freestyle :G
. It's wirelesss just like its predesscor, and it comes in a beautiful pink or purple color. This sexy toy is rechargeable, and it vibrates in time to the music you set it with. Is that unique or what? What's keeping you from the
OhMiBod Freestyle :G
?

This is also the "week of the Little Secrets" as well. We just started carrying the majority of the Tantus Little Secret line this week. This is a new Tantus line that includes a little bullet sleeve on a strong bullet. I own one of these, and I'm really impressed by how sexy and plushy the silicone sleeve is; it's really, really soft! Currently in stock we have the
Whisper
,
Tease
, and
Spoon
. Early next week, we'll have the
Touch
and
Kiss
in stock, so add those to your sexy little wishlists!
Which one of these new vibrators are you looking forward to?