Did you ever get a chance to try the ClubVibe from OhMiBod? No? Well, now you can try the Club Vibe 2.OH! Coming in a beautiful black and pink, the Club Vibe 2.OH has found new features! Now wireless, the ClubVibe 2.OH now also is rechargeable and the remote and vibrator can fit together nicely for storage. Make sure to enter the
EdenCafe giveaway
to get your chance to win this neat vibrator!
With this giveaway, you get a chance to win some pretty amazing prizes!
First place
is going to win an
OhMiBod ClubVibe 2.OH
!
Second place
will win an
OhMiBod classic vibrator
!
Third place
, not to be left behind, will win a
Naughtibod vibrator
! That's three amazing vibrators that are music-driven and fun to play with; you definitely want to get in on some of this action at the
EdenCafe
giveaway!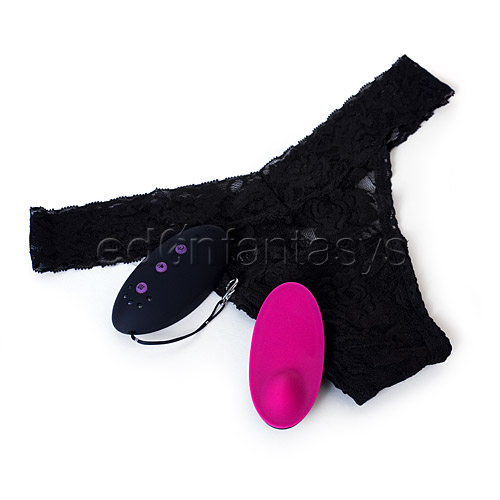 What features does the ClubVibe 2.OH have to offer you?
Wireless fun
: Getting rid of the cords of the past, the ClubVibe 2.OH is wireless to make your fun even
more
fun! Whether you want to play in public or just don't want to hassle with cords, the remote controlled vibrations are now wireless for more flexibility with your fun!
Two fun modes
: Want to play with this vibrator like a regular vibe? Go for it! Not only can this vibrator vibrate to the noise around the remote, but it also can be used just like your own average vibe. You can control the strengths using the buttons on the remote to make this vibrator fun for solo play and partner play.
Lots of fun accessories
! Not only do you get this vibrator, but you also get a privacy pouch, a battery to start you off, a custom one-size-fits-most thong, a privacy pouch to keep them all in, and the vibrator and the remote! Plus, it all comes in some pretty snazzy packaging!
Rechargeability
! The vibrator of this set is rechargeable through USB! How amazing is that? With 2/3 hours charge, you get 4 hours of fun! That's enough fun for quite a few adventures!
Varied Intensites
! Want to enjoy fun from afar? The OhMiBod ClubVibe 2.OH's range goes all the way up to 15 feet! Want some good, varied vibrations? There are 5 variable speed settings too!
First off, go enter the
EdenCafe giveaway
. Then you should totally follow
OhMiBod on EdenLink
, and after that, come back here and let me know what features of the ClubVibe 2.OH you're excited about!