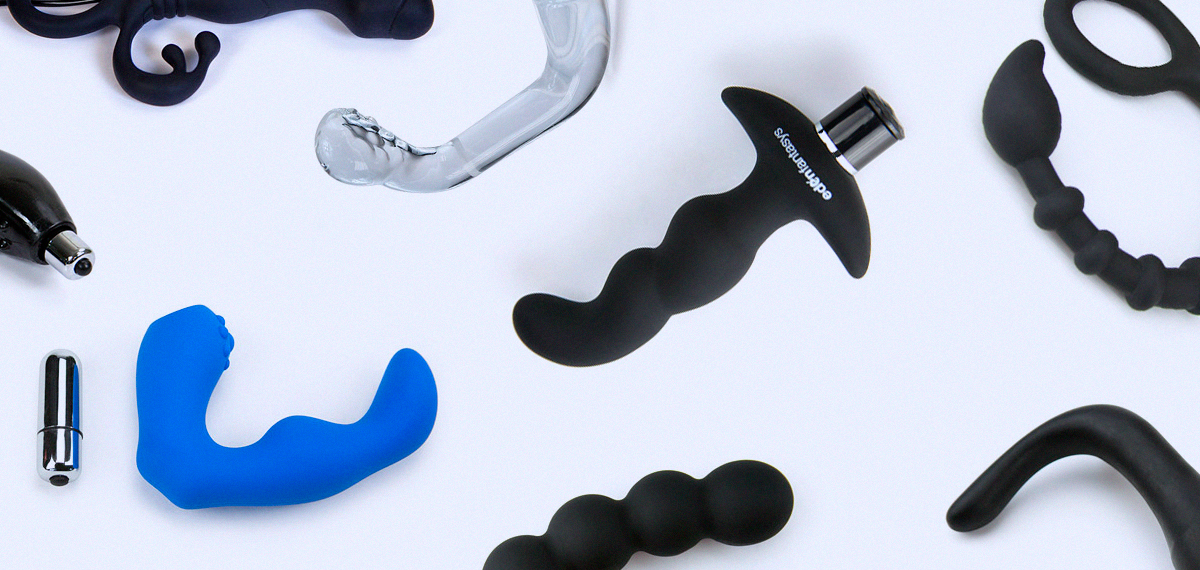 How To Choose The Best Prostate Massager
While there are still some men who feel embarrassed when it comes to prostate stimulation, millions of others gratefully take this kind of mind-blowing pleasure as their unique, gender-specific right. The truth is that well-performed prostate massage is the source of incredible pleasure that is impossible to reach through other types of stimulation.
At the point, when you are ready to explore the bliss of prostate massage, what can be more disappointing than being unable to find the P-spot? You can loosen up now - a good P-spot massager is your guarantee for a well-performed massage. Let's explore how to pick the best P-spot massager that'll send you straight to another orgasmic dimension.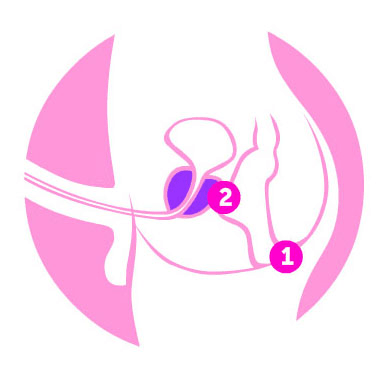 Anus
Prostate
Prostate or P-spot is a walnut-sized muscular gland located internally underneath the bladder. It's about 2 knuckles deep and most easily reached via stimulation through the rectum and perineum. The main reproductive purpose of this male organ is to secrete a prostate fluid that nourishes semen, so that sperm can swim more freely. Stimulating the P-spot brings non-ejaculatory, full-body climaxes ("Super-Os") that last longer than usual orgasm and can be experienced time and again. As a nice bonus, prostate massage helps to keep the gland healthy, which is extremely important for men's health in general.
Prostate massage provokes incredibly pleasurable sensations and is different from what you feel during a traditional finish. While a penile orgasm seems to maintain constant pleasure, a prostate orgasm feels more like continual waves of bliss resonating over and over each time it gets stimulated, which keeps on building higher and higher pleasure levels.
3

What's Special About Prostate Massagers
In theory stimulation of the prostate is a simple process - you just find the right spot, apply moderate pressure on it, and enjoy. Here is where things become tricky - every guy is a bit different, every prostate is different, so beginner often gets stuck on finding the right prostate location and providing it with enough stimulation.
Specifically designed prostate toys make it easier to reach and stimulate prostate thanks to their particular shape and specialized functions. Although P-spot massage suggests anal stimulation, a dildo with a traditional plain form is not as effective as massagers that are specially designed with the male anatomy in mind.
4

What's The Best Prostate Massager Shape?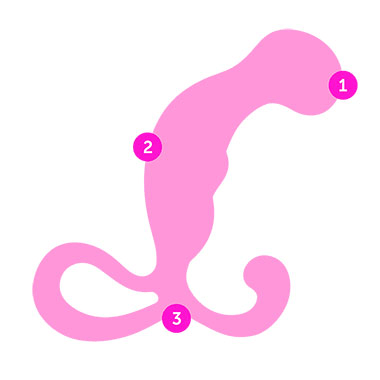 Bulbous shaft presses against the P-spot
The ergonomic curve slides in effortlessly
Longer handle for ace control and perineum spur
A good prostate massager has a tapered soft curve and bulbous head specially designed so that the toy could hit the prostate just right. Most toys also feature a nice handle or a base to ensure comfy controls and safety during play. Prostate massagers come in a variety of textures and features so that you could pick a toy, which best suits your prostate.
As for the size, if it's your first P-spot toy, you may want to start with something slimmer - around 1-2 inches in diameter. And for the length, consider the no less than about 4 inches long so that you can be sure the toy will reach your P-spot.
Whizzo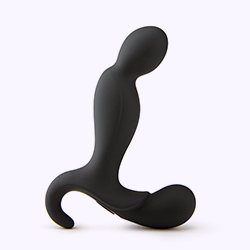 5

What Are The Best Positions For P-spot Stimulation?
One-Leg Stance
While standing, pull one of your knees to your chest - to make it more comfortable, put one leg on a chair. Such a position makes it very easy to insert the massager and direct it to the right spot.
Prostate expert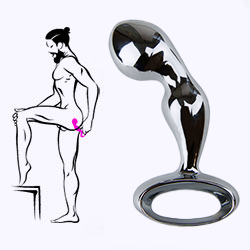 Feet Toward The Butt
Simply lie flat on your back and pull your feet toward your butt. For better access, raise and spread your knees apart. Tip: put a little pillow under your butt to raise it well and make the access to the rectum easier for you.
P-spot stir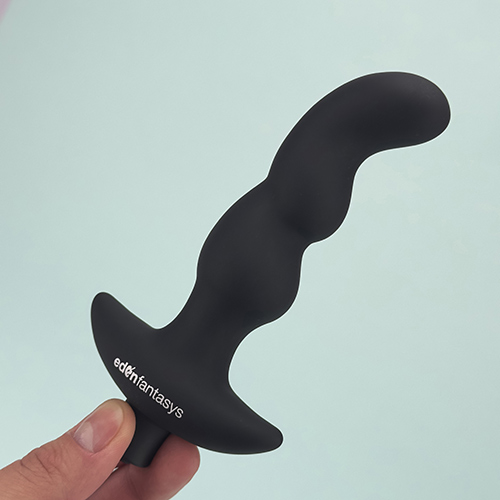 Staying On Your Forth
While staying on your hands and knees (or elbows and knees), use one of your hands to hold the massager. To make the position more comfortable, you can bend over the end of the bed or table so as not to be burdened by your bodyweight.
P-spot driver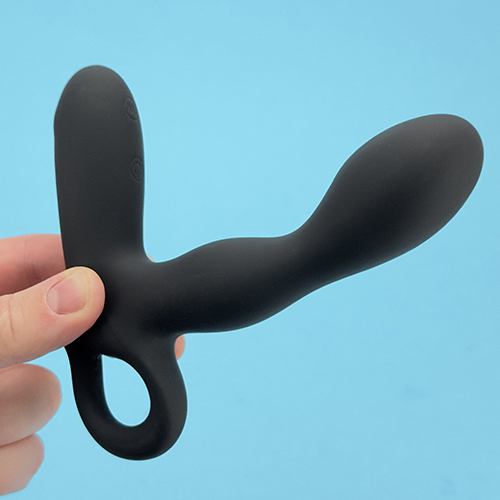 6

How To Use A P-spot Massager?
Relax
Prostate play is not a quick process - the key to a successful session is the ability to stay completely relaxed when you have a lot of free time and can focus solely on your sensations. Take a long hot shower to make sure you are absolutely clean for the session. It will also help you relax your backdoor muscles.
Moisturize
The gold advice for stimulating the P-spot: if it feels nice without lube, it will be even nicer with it. So use plenty of lube. Put a bottle of lube and the toy closeby before you start so that nothing could distract you from the process when you begin.
Press
Using the handle, make a gentle rocking motion to provide pressure on the area. The sensations may feel strange at first - if it is hard for you to get in, relax, wait for a second, and try to insert the toy again.
7

Can P-spot Massagers Go Extra? Yes!
Prostate Massage + Perineum Stimulation
When it comes to P-spot massage, the main focus of our attention is internal stimulation, though adding extra spur through perineum tissues can significantly enhance the sensations and will help you reach that super orgasm much faster. A win-win choice would be a C-shaped model with an elongated bulbous base for simultaneous internal and external massage.
Prostate Massage + A Cock Ring
How about enjoying a multifunctional prostate massager that in addition to its main functions, will enhance your erection and help you last longer in bed? Prostate massagers with cock rings do just that. While the anal plug thoroughly massages your P-spot, cock ring on the shaft makes your penis rock-hard, transforming you into a restless love machine.
Lanco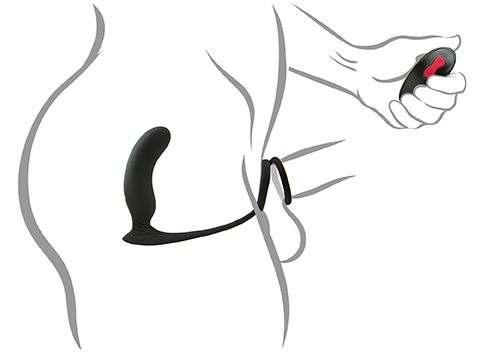 Prostate Massage + Vibrations
If you are familiar with sex toys, you know that adding extra buzz to your session can be the absolute game-changer, which is also true when it comes to prostate massage. Deep, rumbly vibrations gently but insistently buzz on your prostate, sending you to a new orgasmic dimension. Minimum effort - maximum pleasure. All you need to do is relax and let the toy do the deed.
P-spot massager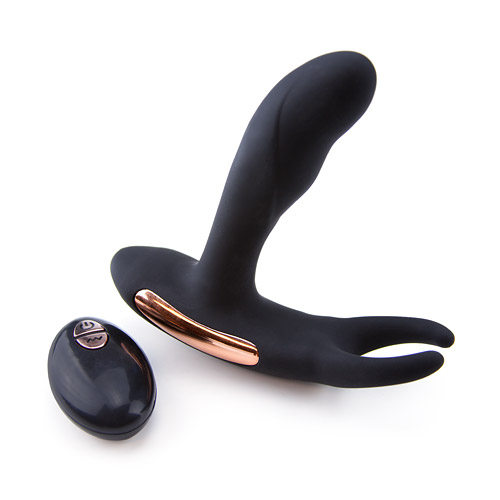 8

Add Prostate Spur To Your Couple's Play
Prostate massage is always fun, but the fun you share with your partner is always doubled! Allowing your partner to stimulate one of the most vulnerable zones of the male body is a unique experience that strengthens your bond and gives the deepest sexual satisfaction. Let her hold the massager and direct the toy towards his most sensitive hot spots, or explore together the thrilling world of pegging - a sexual practice in which female partner penetrates him with a strap-on dildo. Dive in this guide to learn how to peg.
Use Only Anal Toys
Use only specifically designed anal toys for your safety. Since the sphincter muscles contract involuntarily in the moment of orgasm, make sure your P-spot massager has a wide base or ring at the end, so that it couldn't slide inside the anal rear.
Apply Thick Lube
Since anus has no natural lubrication, always apply plenty of lube on the toy and backdoor orifice. Use special anal lubes with a thicker consistency and avoid numbing lubes because you don't want to miss all the pleasure of the massage, do you?
Care For Your Health
In case you have medical backdoor-related issues, get in touch with a doctor before you start practicing P-spot stimulation.