I just read
this article
on one of my favorite sites (
link
) and found out that I have puffy nipples! What type are you? See illustration below and descriptions!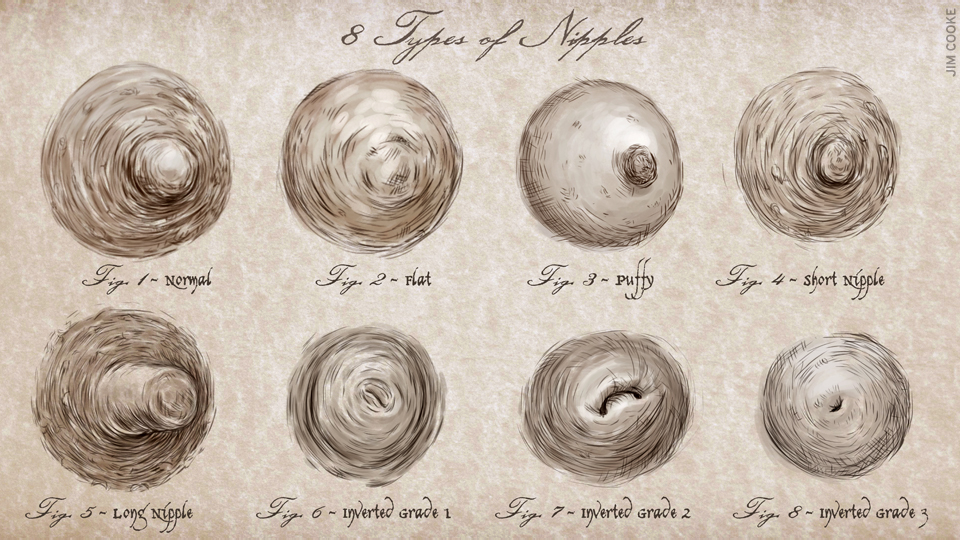 Normal
These nipples protrude a few millimeters from the areola at their regular state, but protrude further upon arousal, temperature changes, or tactile stimulation.
Flat
Flat nipples are not everted at their normal state. They are just like they sound: Flat; blending into the areola. Flat nipples will protrude, albeit less so than "normal" nipples, upon stimulation, temperature changes and arousal. Flat nipples have the ability to turn into "normal" nipples when breastfeeding draws them out.
Puffy
Puffy nipples have most of the same characteristics of "flat" nipples, the only difference being that in "puffy" nipples, the areola is raised up off the breast.
Inverted
Inverted nipples occur when the lactiferous ducts do not get properly stretched during puberty. Inverted nipples have a dimpled appearance, folding into the areola. Much like with flat nipples, inverted nipples can be drawn out from the body either through cosmetic surgery, breastfeeding, nipple shields, or sex toys like nipple clamps, all of which loosen up the tissue. There are three subcategories, or "grades," of inverted nipples.