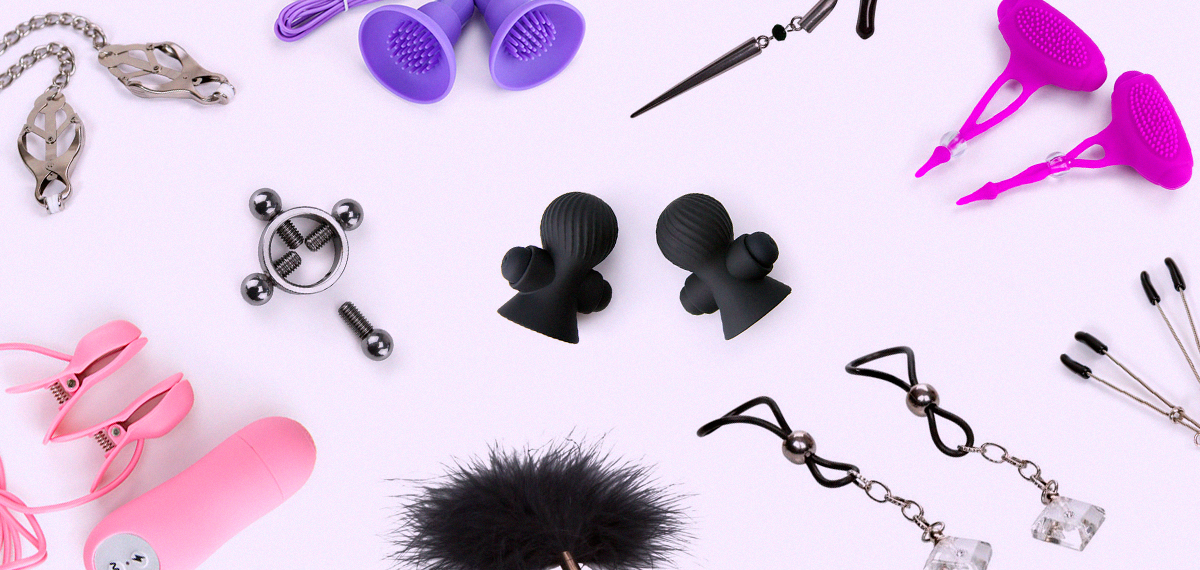 How To Choose Best Nipple Clamps For Ace Breast Play
Even if you're not the boobies-kind of guy or girl, you can't underestimate the awesomeness of nipple play. All that stroking, licking, tickling and pinching gets our blood pumping, but if you really want to take your breast play to the next level, sex toys are a way to go.
Simply put, nipple clamps and sucker and ticklers are capable of such intense stimulation neither your tongue nor your fingers can dream of.
Even better, nipple sex toys free up your mouth and hands to get naughty elsewhere. Another cool thing is how big of a spectrum of breast sex toys there is. You can get anything from hardcore BDSM to adorable little vanilla - all in one scoop! So go ahead, take your dive and pick a pair of beautiful clamps your nipples have been longing for.
Why should you get a pair ASAP?
The awareness of being naughty
How we see ourselves plays a huge part in how we present ourselves. It would be nice to appear explosively beautiful and attractive all the time, right? A little BDSM asset hidden under your clothes can do just that. Many nipple clamps are perfect for discreet wear, so you can send off those bursting vibes even during a meeting, and no one will know about your naughty little secret. Expect for you, You will know, and it will empower you, making you feel really good about yourself, confident, and ready to bring on the best sex game.
Visual stimulation and so much more
A pair of tight clamps gently pushing on your nipples is a strong visual message to send to your partner. It's exceedingly alluring and sets off many series of sizzling hot images in our brains. There is a lot in this visual - the beauty of your body, the suggestive hint, even the type of play you're in the mood in. Who will be in control? How far are you willing to take the pain to intensify the pleasure? The shared experience of breathtaking sensation, the taste of dominance, of being "bad" together, gives many couples a deeper sense of trust that enhances intimacy and guarantees your lustful needs will be met.
Surprisingly heightened sensitivity
It's no secret that nipples are highly sensitive on their own. Some have extremely sensitive nipples, some have less, but the fact stays - nibbling on boobs turns the boob-owner on. Nipple clamps softly restrict the blood flow around the areola, numbing the tip of the nip creates immense sensual pressure. But the cool part is what comes afterward - once the clamp is removed, the blood rushes back to the nipple, making it super erect and responsive to any kind of stimulation that comes next.
The fabled nipplegasm
The "nipplegasm" is literally "the cherry on top" of an already delightful sexual concoction. In a recent study that tested the way in which men and women react to nipple stimulation, a startling discovery was made. Data recorded from an MRI scanner revealed that, when nipples are stimulated, the sensory cortex of the brain is activated, which in turn sends arousal signals directly to the genitals. The medically proven ability to climax solely as a result of nipple stimulation is called "nipplegasm." People don't normally associate orgasms with nipple stimulation alone, perhaps because the state is rarely achieved via traditional oral or manual stimulation. The likelihood of becoming "nipplegasmic" is greatly enhanced by the use of dedicated sex toys for breast play.
Nipple clamps materials make all the difference
In case you were wondering what makes a nipple clamps kinky and what leaves it in the vanilla zone - it's the material. Usually, there is a mix of such, but metal most of the time indicates some level of kinkiness, while silicone always helps to tone down the intensity. other materials are mostly complimentary. Rubber can replace silicone in tip coatings, plastic can hold a vibrating bullet for heightened sensations, fur, beads, and glass are used for embellishments. It's safe to say that each material in the nipple sex toy body plays a role, and you will experience it.
How To Choose A Type Of Nipple Sex Toy
Simple Nipple Tweezers
The beautiful basics, nipple tweezers are a perfect noob choice for those who want to try the best of both worlds - a little bit of pain, a little bit of delight. Because of the vertical clamping principle, tweezers can't squeeze real hard, but the pinch they provide is quite enough for mild blood flow restriction. Once they're removed, the circulation is restored, bursting a firework of sensation to the nipple. Pressure can be easily adjusted from non-existent to soft pinching.
Adorable Nipple Suckers
The cutest and the mildest of nipple toys, nipple suckers are an amazing option for people who love some lips-on-nipple type of action. Suckers are very gentle, so you don't have to worry about too much pressure. When the bulb on top is squeezed, the toy draws in a piece of skin, stimulating blood flow and making the area very receptive to touch. Some of these cuties even feature vibration - to take the stimulation up a notch.
Is the optimal time for a nipple clamp session. After 15 minutes, it's best to remove the toy, restore the circulation, then pin it back on.
How To Use Nipple Clamps Right?
The smaller the amount of skin a toy is covering, the shorter the period of time you should leave it on.
Wear nipple toys for 15 to 20 minutes at the most, then remove them to restore circulation and let the skin breathe. You can use these "time outs" to experiment with levels of sensitivity.
Nipple toys can be used on other body parts, such as buttcheeks or thighs. These areas are less sensitive and allow for longer use.
Even if you're not the one who will be wearing the nipple enhancers during play, try them on first to get the idea of how they feel, and what you can and cannot do.
Wearing nipple enhancers is pretty straightforward, but taking them off can be more tricky. Try to remove them as gently as possible, gradually allowing the skin to return to normal, and don't rub any spots that are irritated, as it may actually worsen pain.
Clothespins are for laundry. Nipple clamps are for nipple play. Although they may seem like a cheap and reasonable substitute for purpose-built nipple toys, clothespins are not designed for bedroom play, and may actually cause physical injury to the wearer.