I've got to Hand it to you…
I can't believe that I've lived so long without realizing what my sex life was missing. Available in multiple different sizes and styles, there's something to suit absolutely everyone! I can't wait to post pictures of how hot my girlfriend looks in her sweet new outfits, (nor can I wait to see how her best friend looks in them).
Pros:
Soft, stretchy lace
Figure-flattering
Revolutionary
Cons:
May require frequent washing
Rating by reviewer:
Are you a Redditor? An Imgurian? Do you spend a lot of time browsing 4chan? I, too, am a victim of No Girls on the Internets, and this new line has absolutely changed my life! Gone are the days of searching high and low for that perfect present for my girlfriend. Introducing

This revolutionary new lingerie line will add a touch of femininity to even the roughest of bodies. The soft lace caresses the skin and hugs every curve, emphasizing the beauty that lies beneath. No more will you find yourself having to look away as she pleasures you – these provocative pieces will leave you breathless and wanting more.
Available in six different styles – gothic lace, sweet innocence, natural beauty, sultry seductress, ice queen and vintage floral – there is sure to be something to suit everyone. These beauties come two styles to a pack and are available in men's sizes small to extra-large.
I chose the medium size based on the size chart, which can be seen
here
, and selected the gothic lace set, which was comprised of a Lolita-style pair and a Corseted pair. I found the fit to be true to size – my measurements were as follows:
Corseted
Total length: 7in
Length of fitted section: 5.5in
Circumference at base, stretched: 11in
Unstretched: 10in
Circumference at palm, stretched: 16in
Unstretched: 15in
Lolita-style
Total length: 7.5in
Length of fitted section: 4in
Circumference at base, stretched: 11in
Unstretched: 10in
Circumference at wrist, stretched: 10in
Unstretched: 9in
The pieces arrived from Handgerie in clear cellophane packaging, and as such are not discreet. While there were no extraneous labels and the tags were quite small, it is very easy for any passerby to remark upon your purchase. There is a very faint smell of crushed dreams and loneliness upon opening the package, but it is completely gone after washing. The tags included were emblazoned with distasteful stock photos of hand models wearing these pieces, however as they are simply pinned on, they're fairly easy to remove. They include no actual information on the product, though the tags inside provide ample care instructions. The tags are located at the base of each right glove, and it is suggested that you remove them before wearing – the stitching is quite loose, so any pair of small scissors will do.
These gloves are made of a soft stretch lace composed of 90% Nylon and 10% Spandex. It is recommended that you have your girlfriend wash each piece and lay it flat to dry. I love that they included both a right and a left glove, because there are those nights when I find myself craving something new and can't help but long for the touch of another. The inclusion of both gloves also allows for those who enjoy threesome action, and makes it a very simple purchase for either a right- or left-handed individual.
The Corseted gloves are comprised mostly of a soft, black floral mesh lace. Along the top, there is a cordoned-off area just under two inches wide through which a purple satin ribbon has been woven. At the base of the hand, the ribbon is tied in a bow. There are two small purple roses on each glove at the bottom of the corset, along the arm, and a scalloped lace ruffle that is designed to gently brush against the skin of the wearer's palm.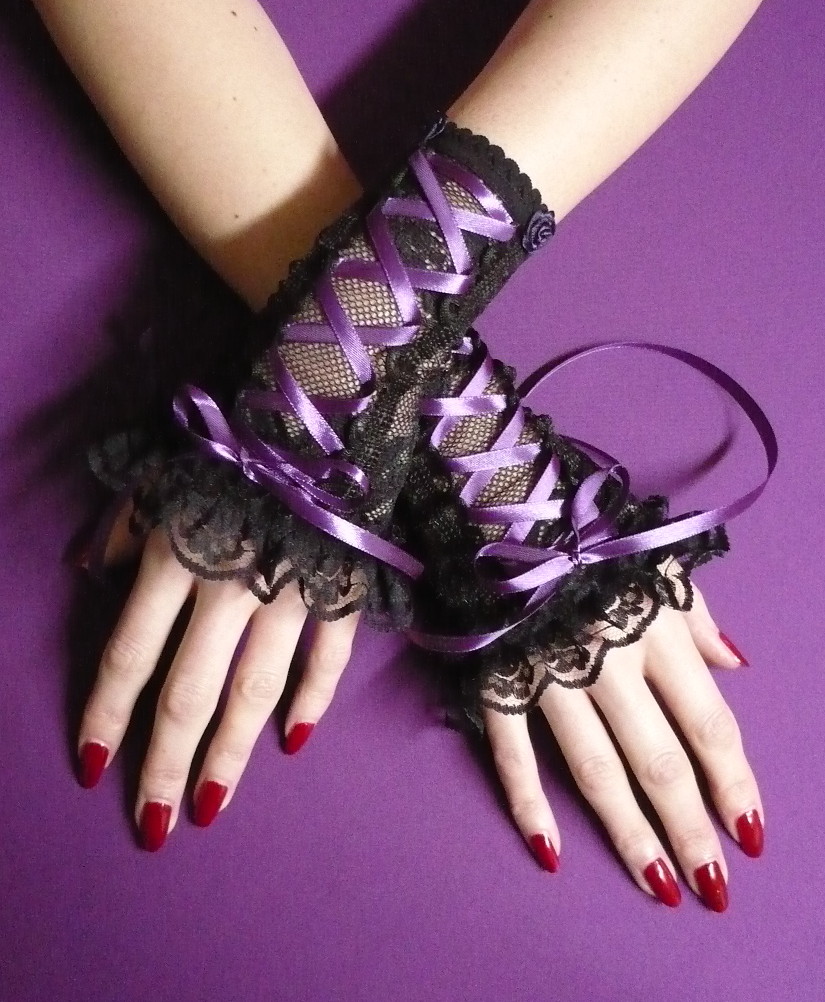 The Lolita-style Handgerie is my favorite of the two. Both the bottom and top of the fitted section are again, black floral print, but this time the space in between is simply a small black mesh. This is particularly sexy, as it allows for a good deal of skin to be easily seen through the fabric. The lace scallops, which have somewhat of a vintage look to them, are much longer, and the black bows around the wrists draw attention to the soft curves of the wearer's hand. They can really cause a tiny wrist to pop, and I think that even those whose girlfriends have larger wrists will find this pair flattering.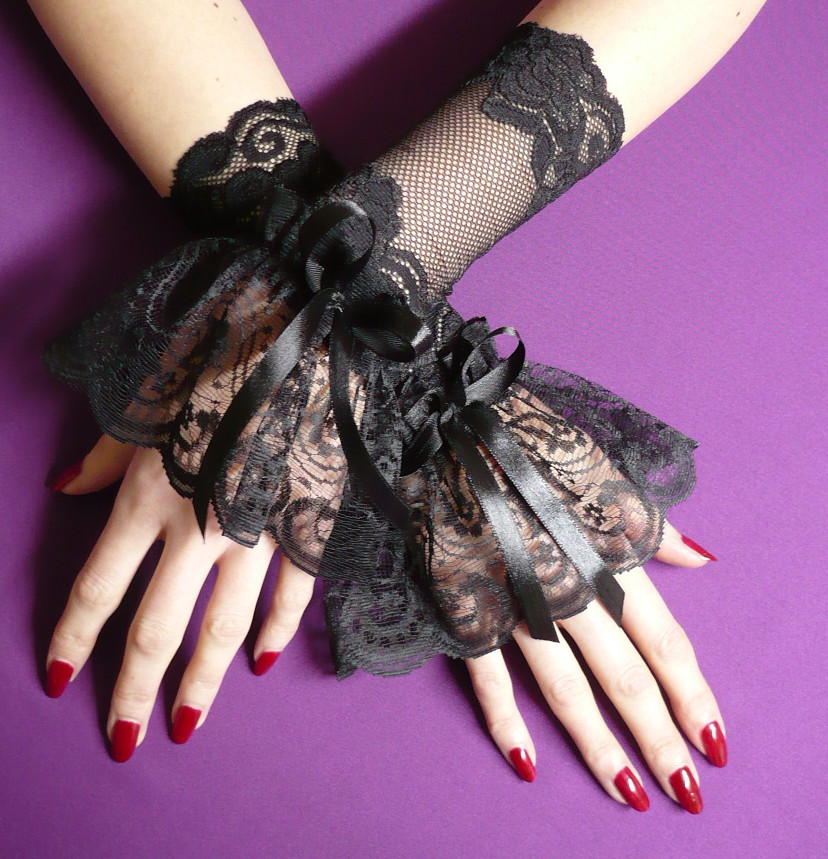 Because of its soft, stretchy nature, the lace is very comfortable against one's skin. The open palm of the outfits allows for a display of maximum palm surface area, which greatly increases pleasure. The sex appeal is undeniable – the long scalloped edges of the Lolita gloves and the racy criss-cross of the Corseted Handgerie are enough to make any man weak in the knees.
Experience:
I bought these as a surprise for my girlfriend on our shared birthday (it also happens to be our anniversary! Imagine that!). I drew her up a nice, soothing bath, washed her lovingly with scented hand soap and patted her dry with a fresh towel. Having never seen her in something quite so fine, I was anxious to see where the evening would go! We opted to watch a delightful movie together, but I couldn't last long seeing her in that little number. It fit her so well that it seemed as if it was made for her, and with the application of a nice, soothing moisturizer to her skin, she truly was the complete package. The soft lace of the Lolita style Handgerie brushed against my penis as she worked her magic, and I truly believe that she helped me achieve a whole new level of pleasure. There was a bit of a mess once we were finished, but with the help of some tissues, that was quickly resolved.
These new pieces from Handgerie are a godsend, and I can't wait to try the rest of the line!