I attended a
Krampus
-themed party this week.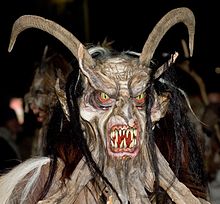 Krampus is Santa Claus' counterpart and is responsible for punishing naughty children. He's relatively obscure in the United States. Other characters Americans rarely see are
Black Peter
,
the whipping father
,
Belsnickel
, and
Knight Rupert
. Is anyone familiar with these characters or any others? Much of the American depiction of Christmas stems from popular song and Coca-Cola ad campaigns.